Why should you use Social Media for Your Business?
There was a time when social media was just a tool for passing time but it has evolved to become one of the most important tools for marketing, branding, selling and much more.
It doesn't matter if you own a small business or a multi-national company, social media is no longer an option. It has become an important tool to reach customers, get valuable insights and take business from local to global.
Even if you are not a businessman and looking for ways to earn passive income, then also Social Media can help you. One of the best ways to earn passive income is affiliate marketing. Here is a list of the best affiliate programs to get you started. Social Media platforms are very useful to promote affiliate programs as well.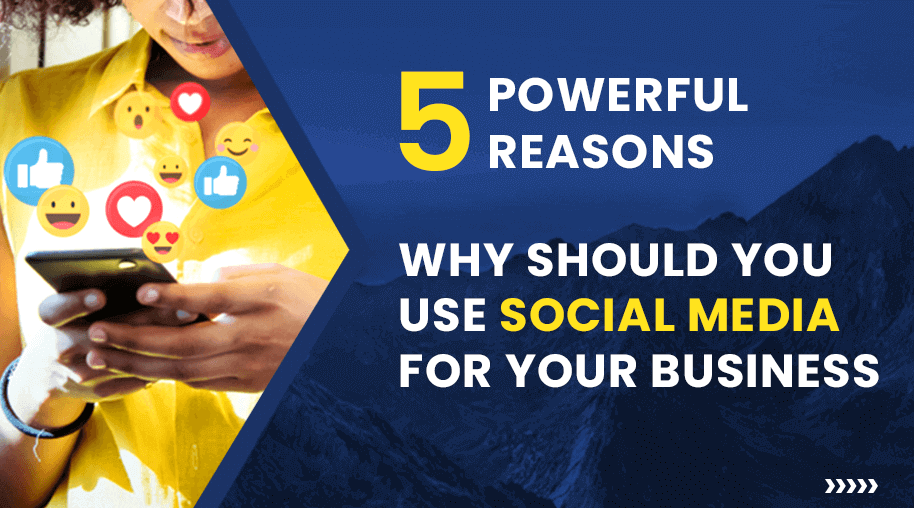 So, why should you use social media for your business? According to a survey conducted in 2021, there are more than 4 Billion active users of Social Media in the world concluding with a total of over 55% of the world's population. Here is some data to get a clear picture of how many people are using social media:
Facebook

Facebook has a total of 2.89 Billion active monthly users. These are people that use the platform atleast once a month. It is the most used social media platform in the world.

YouTube

YouTube has a total of 2.3 Billion active monthly users aggregating to 57% of total social media users.

WhatsApp

There are roughly 2 Billion monthly active users of WhatsApp.

Instagram

Instagram have 1.3 Billion active monthly users making up 32% of the total social media active users.

Twitter

There are more than 400 Million active monthly users of Twitter in the world.

So, if your business is not using these social media platforms for promotions then it is missing out on the easy, fast and reliable opportunity to reach more than half the population of the world. Let's take a look at how social media can be beneficial for a business.

Benefits of Social Media for Business

The benefits of using social media for your business are limitless. Many surveys conducted around the world have proved that an average social media user spends at least 20 minutes per day using Social Media.

During this time, every user comes across a ton of advertising and it is a fact that people consume more advertising online than in print media, television or Radio. So, Social Media is very useful for any business and here are some benefits of Social Media for a business.

Builds Brand

Social Media has the potential to build any business into a recognized brand. It helps your business to:

1

Increase Brand Awareness

More than 80 percent of Instagram users have confirmed that they came across new products while scrolling through Instagram. With more than half of the world's population using social media, top social media platforms such as Facebook, Instagram and Twitter become the best place to reach new customers.

To increase your brand awareness, you've to be social and post about your products/services letting potential customers know what you are offering and why you are better.

According to a survey conducted all over the world, 7 out of 10 people have admitted that they use Social Media sites daily and some admitted using them multiple times per day. Here is some data from the survey:

| | | | | |
| --- | --- | --- | --- | --- |
| Platform | Several times a day | Once a day | Only sometimes | Daily Users |
| Facebook | 49% | 22% | 29% | 71% |
| Snapchat | 45% | 14% | 41% | 59% |
| Instagram | 38% | 21% | 41% | 59% |
| YouTube | 36% | 18% | 45% | 54% |
| Twitter | 30% | 16% | 54% | 46% |

71% of the Facebook users admitted using Facebook Daily and out of those 49% were those who were using it multiple times every day
Snapchat is being used by 59% of users daily where 45% were those who were using it multiple times every day
There are 59% of users that use Instagram daily
54% are using Youtube daily
46% of Twitter users are daily using the platform

Evaluating this data with the current numbers of users of these platforms, one thing is for sure Social Media has tremendous potential for marketing and it can not be overlooked.

2

Making your brand a thought leader

It doesn't matter what your business niche is, Social Media has the power to establish your brand as the thought leader. A place where users will go first to get any information on the topics related to your business niche.

3

Authentication

Authentication builds trust, trust builds a loyal clientele and free promotions in itself thus generating more business. It also shows how you're embracing your brand values, how you're putting your customers first and how your products/services are helping everyone.

4

Stay in minds of potential customers

People use social media every day and if you keep your business posts informative and entertaining, people will love to see your posts in their feeds. Thus, keeping your business always on top of their minds when they think of making a purchase.

---

Business Growth

Social Media has the potential to help the growth of your business. Over time, social media has proven itself the best tool to grow business online. Everybody knows the importance of SEO (Social Media Optimization) in the growth of any business but one should never undervalue the SMO (Social Media Optimization) in growing any business.

1

Increase Website Traffic

Social Media can also increase traffic to your website. Social media ads and posts are not just a great way to interact with your followers but also a great way to drive traffic to your business website.

Just include your website address in every post and all your social media profiles making it easy for followers to get there.

2

Generate Leads

Lead Generation is a crucial aspect of the growth of any business and social media is the top tool to generate leads for your business.

Many social media platforms provide special advertising formats and tools that are helpful for businesses to generate leads and track those leads.

There are numerous tools provided by various social media platforms that can help you to generate new leads and keep a track of them.

Facebook is the leading social media platform and it offers the best lead generating tool. Facebook Ads manager tool is an all-in-one tool that lets you create ads, manage their running, track their performance, choose an audience and get real-time insights.

Some other great Facebook marketing tools are:

MobileMonkey: Prime Facebook tool for all Facebook messenger marketing efforts
WordStream: Unique Facebook tool specially designed for small and medium-sized businesses
Perfect Audience: A total solution for retargeting all your audience
Perfect Audience: A powerful Facebook ad creation and management tool

3

Boost sales

When you get more leads and more traffic to your website, it will definitely boost your sales. Social Media is a powerful tool to boost sales as the number of social media users and its potential is growing day by day.

4

Influencers

There are thousands of social media influencers that have millions of followers and these followers listen to influencers. You can also partner up with these influencers to let more people know about your business and generate more qualified leads.

There are more than 10 million influencers around the world over different platforms. These influencers have a special power that their followers believe them and if you also want to let people know about your products or services. Then, these influencers can help you like they are doing for many businesses out there.

---

Communication

Social Media was created for communication itself, it can also help your business to communicate with your potential customers.

1

Reputation building

Your customers are already talking about your business whether you notice and respond to it or not. So, it is always better to pay attention to what customers are saying and interact with them. It will help you know what things customers love about your business and what are concerning them.

It will not only solve the queries of the customers but also help you to address any issues before it becomes a major problem. It helps in building a good reputation for your brand.

2

Audience engagements

Social Media gives your business a platform where you can directly engage with your customers and likewise, your customers get to directly communicate with you.

Unlike other marketing tools where customers get to know about your business only, Social Media is a two-way street where you will also get to know about your potential customers. There are many major brands that interact with all their customers.

---

Gain useful insights

Social Media can also help in gaining useful insights from your customers for your business.

1

Get to know your customers

On Social Media, a business can get to know so much about their customers and use that information to make better business decisions. Even social media platforms offer various analytics to understand the demographic information of your customers and target them accordingly.

One of the best tools we came across for social media insights is Facebook Audience Insights tool.

It lets you know your audience better than before
It also gives a demographic overview of your audience
It helps to learn more about your audience's interests and hobbies
It provides a gender and age breakdown, education levels, job titles, relationships and much more
It combines various data to suggest the type of people that are interested in your business
2

Keep an eye on your competition

As much as it is important to know what people are saying about your business, it is also important to know what people are saying about your competition. On Social media, you can always monitor your competitors and get useful insights about them too.
---
Advertising
Social Media advertising is a very powerful tool for generating more leads and boosting sales.
1

Targeted Advertising

Social Media ads cost very little as compared to other ads. In addition to this, social media platforms also offer great tools for targeting the right audience by making the most out of your budget.

Promoting your business becomes very easy if you know where your potential customers are from and many social media platforms offer great tools to analyze everything and set up your campaign strategy accordingly.
2

Retargeting

More than half the online carts are left abandoned because something turned people off at the last moment. These people are definitely your potential customers because if someone invested this much time to visit your website, browsed through products and selected one, they were here to buy. These people can not be ignored.

You can use various social media tracking tools to retarget these people with specific products using social media ads.

Conclusion: These were the reasons why you should use Social Media for your business. Social Media is by far the best tool to take your business to new heights. As discussed at the beginning of the article, affiliate marketing is the best source of passive income and the Bluehost affiliate program is the best affiliate program on the internet giving up to $130 per sale.
Discount Coupons
FREE Pro Account worth $99.95 for 14 Days.
---