How to send auto reply in Outlook
In this tutorial, I will demonstrate how to send auto reply in outlook? Automatic replies in outlook are fixed designated replies send back to the sender. Whenever the receiver is away from the computer and wants to send an auto reply to the inbox messages, this tool can be useful.
In this blog we will be heading to step by step guide on how to send automatic reply in outlook and you don't need to worry about anything as it a real cakewalk.
1 First open and login to your outlook account through any internet browser.
2 Click on the gear icon on the top right corner of the page.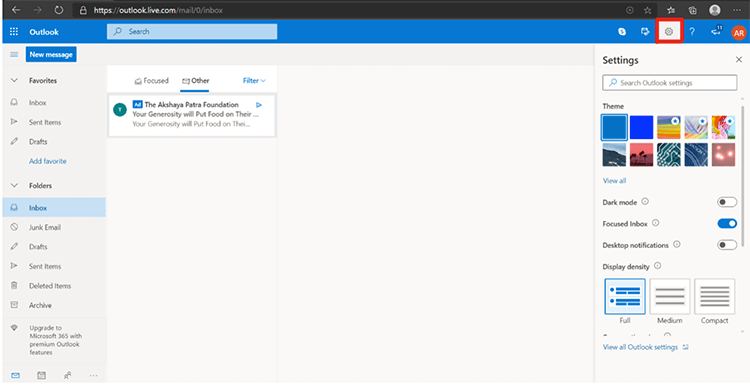 3 A partial Setting filed will open as you can see in above step. Now click on 'View all Outlook setting' a dialog box will open.

4 In 'Mail' select 'Automatic Reply'. This is the step which will set the automatic reply.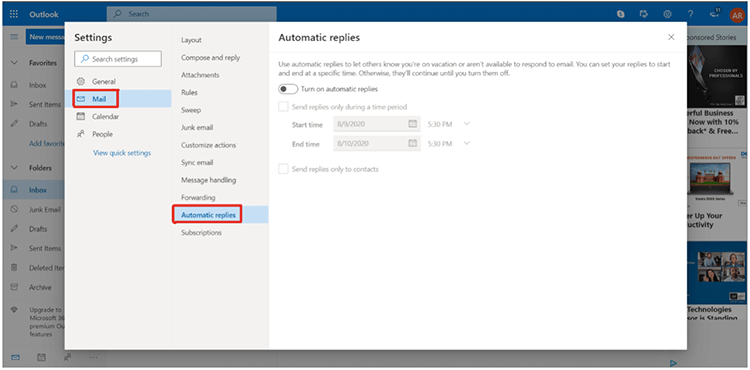 5 Turn on the Automatic replies by dragging the switch.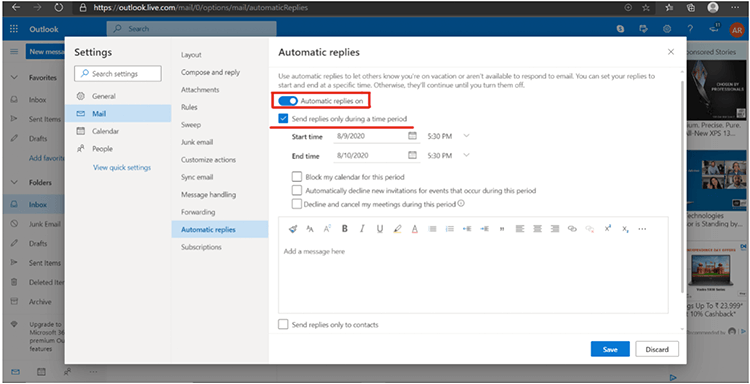 6 Now you'll see couple of check box first one is for time schedule replies. When a range of date along of time is set it will reply within stipulated time.
7 When you tick the first check box another set of three check box you will see with different functionality.
"Block my calendar for this period" If you select this box, it will block all the calendar meeting notification for the set time period linked with your outlook account.
"Automatically decline the invitation for event occur during this period" If you select this box, it will decline the new meeting invitation mail for set time period.
"Decline and cancel my meeting during this period" If you select this box, existing meeting will be canceled and new meeting you are invited to will be declined. To clear the appointment from your calendar, select this check box.
So, you can select the boxes according to your need whichever perfectly fits to your needs.
8 Now write the message you want to send in auto-reply in the writing layout.
9 At the last you see another check box "Send replies only to contact" If you select this it will send the designated mail to the people who are in your outlook contact.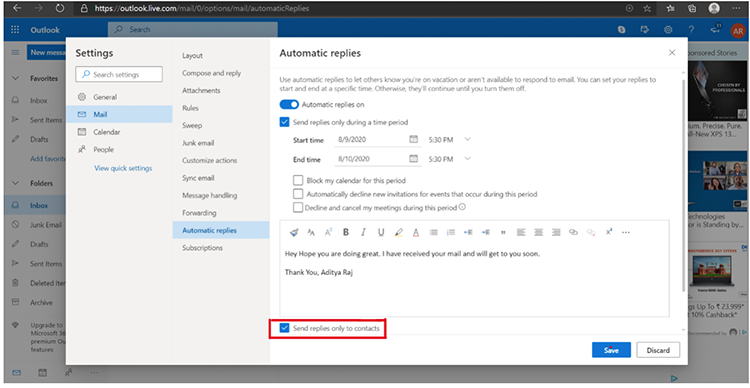 10 Save, and you are done. This was a piece of cake, Isn't it!
I hope that you have learned to send an automatic reply on outlook. If you like this blog, please share and leave your comments below.
Subscribe to our website for more solutions.
Discount Coupons