Bluehost Affiliate Program: Make Up to $130 Per Sale in 2023
A secure hosting plan is always the first step if you are looking to launch and monetize your website or blog. It not only provides you with fast site speed but also a secure one-click WordPress install. Bluehost affiliate programs are paying anywhere from $65 to $130 on every sale.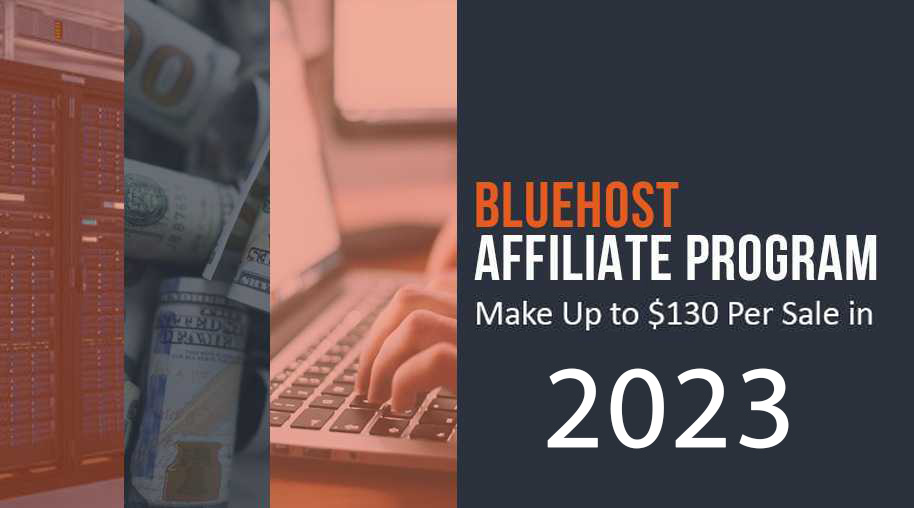 Talking about the best hosting affiliate program, there is always a name that pop-up before anyone else. Yes, we are talking about the Bluehost affiliate program. Bluehost is the leading web hosting provider in the world powering more than 2 million websites online and has been the first recommendation by WordPress.
Bluehost has always been named as a powerhouse of the industry with its exemplary services such as 24*7 support, free SSL certificate and free domain registration.
If you are also looking to make extra money, then this is the guide for you. It will provide you with whole detail on how to make money using this affiliate program.
Bluehost offers three types of hosting plans:
1 Shared Hosting
2 VPS Hosting
3 Dedicated Hosting
Shared hosting is the most common hosting plan for individuals and bloggers whereas VPS hosting stands for Virtual private servers which are perfect for larger websites with powerful features. Talking about Dedicated Hosting, it is the most powerful hosting among these and provides custom-built servers according to client needs.
Everything said, Bluehost also provides a major paying affiliate program that can get you anywhere from $65 to $130 per sale generated from your affiliate link. So, if you are an affiliate marketer or someone looking to earn additional income, then the Bluehost affiliate program is certainly the best option out there.
Table of Content

Setting up a Bluehost Login and Account

Bluehost Affiliate Program Review

Joining Bluehost Affiliate Program

Promoting Bluehost with Affiliate Links

---

What is Bluehost?

Bluehost is a web hosting company that is owned by Endurance International Group and is one of the largest web hosting companies in the world. It was conceived by Matt Heaton in 1996 and was officially launched as Bluehost in 2003. Currently, it is hosting over 2 million domains.

---

Setting up a Bluehost Login and Account

The first requirement to start affiliate marketing is to own a website and what's better than building a website with Bluehost. Bluehost dominates the web hosting market and is the best tool for any newcomer. In this guide, we will show you how you can do it.

Step 1 Visit Bluehost.com

The very first step to the process is to visit Bluehost.com. You can also do so by clicking on the link provided above.

Step 2 Select Shared Hosting

Now, from the top menu bar select shared hosting in the hosting menu.

Step 3 Select a hosting plan

The next step is to select a hosting plan that compliments your website needs.

Step 4 Add Domain Name

In this step, you have to add your domain name. However, if you don't have a registered domain then Bluehost will help you register a new domain name.

Step 5 Add Login Information

Now you need to log in using your Google profile and account details. These details will be used for logging in moving forward.

Step 6 Review Package Information

In this step, you have to review your Bluehost package information. You will also have the option to include additional features to your website. However, if you don't want to pay for these features, you can always uncheck the boxes.

Step 7 Payment

The final step is to enter your payment details and pay the required fee.

After completion of these steps, you are free to use Bluehost login and launch your website with help of the Bluehost hosting plan of your choosing.

---

Bluehost Affiliate Program Review

Becoming an Affiliate programmer is very easy; all you have to do is sign up for the program, place links on your website and cash in every sale made from your referral. The best thing about the Bluehost affiliate program is that it is a well-recognized web service provider and its affiliate program is a great way to earn smart passive income. In fact, its program is so successful that Bluehost has paid over $5 million in commissions for the last calendar year.

Despite stating the above facts, there are some disadvantages of it too. Before moving any further, we will discuss both advantages and disadvantages of the Bluehost Affiliate Program.

Advantages

Huge Payouts

The Bluehost affiliate program offers a huge payout starting from $65 for each qualified hosting plan sale. In addition to this, there is no limit on how much you can earn from it. You are allowed to refer as many new customers as possible providing a huge opportunity for a passive income stream. The possibilities with this affiliate program are endless.

There are many people in the world who are already generating huge revenues with just the Bluehost Affiliate program. Another best thing about Bluehost Affiliates is that it utilizes PayPal to send your earnings and it covers the entire transaction fee for you. You will get your whole earning and won't have to worry about any fees.

However, it is essential to note that Bluehost affiliate program payment takes at least 40 to 60 days to process after the sale. All the sales process between 16th and last day of the month. For example, if you earned a deal in the first month, your payment will be reviewed and processed between the 16th and last day of the third month.

Tiered Commission Structure

Bluehost offers a tiered commission structure to reward their loyal and successful affiliates. This helps affiliate members to generate more income with more sales. The tiered commission ranges from $65 to $130 for every qualified sale. You just need to tell your affiliate manager about your ultimate goal when you sign up and it may get you high commission bumps.

Top-Notch Support Team

The Bluehost support team is always present to help an affiliate with any problem arising with the program. They respond to emails quickly and are present 24/7 to sort everything out. In fact, if you are an approved Bluehost affiliate, you will get a dedicated support team ready to help with all the problems.

Low requirements to join the program

Most of the affiliate programs in the market are very specific and have restrictions about who can enter their affiliate program. They need a minimum number of page views or number of subscribers to accept you into their program. However, there are no such restrictions with the Bluehost affiliate program.

Anyone owning a website is allowed to apply for the affiliate and the process is also very simple and straightforward. If you do it right, your application can be accepted within a matter of time.

Huge Discounts and offers

To increase your conversion rate, you don't have to do much as Bluehost is already doing everything for its affiliates. They release great offers and discounts during various seasons and they also notify their affiliates about it. These offers help affiliates to promote Bluehost and attract potential customers which in return, increase their earnings.

Banner Ads

Banner ads are very beneficial to attract your website visitors' attention towards your affiliates. While most of the affiliate programs don't support such ads, Bluehost is different and provides easy-to-use instructions to use Banner Ads on your websites. With the help of these instructions and widgets, one will not face any problem embedding HTML code in your website to display such a banner.

Strong Conversion Rates

Time, dedication and a great content strategy are very important to get revenue from affiliate marketing. As Bluehost has already made a huge name for itself, one can always be sure that its conversion rate will be high with this affiliate program.

One should also consider the flexibility provided by Bluehost to put affiliate links anywhere you desire and the excellence Bluehost products offer which are very beneficial to enjoy a stable conversion rate. It won't happen overnight but if you are good at it, it will definitely happen.

Disadvantages

Limits on Withdrawal

There is a withdrawal limit on earning from the Bluehost affiliate program. One must earn at least $100 or 2 sales to be able to withdraw the earned amount. However, it only applies to the first payment only and after the successful completion of any of these two, one can withdraw their any time.

If you are able to complete these challenges then it will open doors for you and you will receive the amount within the next 45 to 60 days.

Downgrade Penalties

One of the major disadvantages of this affiliate program is that if any of your referred customers downgrade from their chosen plan, then it will also cost you. As a result, your referral fee will be deducted from your future earnings as an affiliate.

Difficult for a few

To master the art of affiliate marketing, one needs to have great knowledge of content marketing and strategies of SEO (Search Engine Optimization). So, it might be difficult for people who are not familiar with SEO.

SEO helps you to put your content in front of people looking for content on search engines such as Google. It takes some time and a decent amount of traffic to get enough audience on your website to generate sales from your affiliate links. However, if someone is not familiar with SEO they will struggle to get enough traffic on their website and hence, might not be able to generate any sales.

So, one must get a working knowledge of SEO before enrolling on the affiliate program.

---

Joining Bluehost Affiliate Program

Bluehost has its own in-house affiliate program which is very beneficial. Once you've launched your website with the steps mentioned above, you are all ready to enrol in the affiliate program. All you need to do now is follow these easy steps.

Step 1 Visit Bluehost

The very first step is to visit bluehost.com. One can do so with the link provided.

Step 2 Click on the "Affiliates" link

Now, scroll down to the bottom of the page where you will find the "Affiliates" link. Click on it to move ahead.

Step 3 Click Sign Up

When on click on the link, you will be provided with some more info about the affiliate program. Once you are done, click on the Sign-Up button.

Step 4 Fill Details

Now, fill in all the required details to start your affiliate program.

After adding the required details, you need to enter your PayPal email address. If you are not already on PayPal, then create a PayPal account before this.

Step 5 Accept Terms

The final step is to accept the terms of the Bluehost Affiliate program and click submit.

Once you have submitted, you have to wait for approval from the Bluehost team but not to worry; their process is very speedy and automated to save any hassle. You can use this time to fill out the tax form in your affiliate login dashboard. This form is very important to receive your earnings.

---

Promoting Bluehost with Affiliate Links

After receiving the required approval, you will gain access to your Affiliate Dashboard. Congratulations!! You are an official Bluehost Affiliate now and it's time to start earning.

Start with creating some intriguing content having the potential to not only promote your affiliate but also to convince users to become Bluehost customers. There are many ways to do so and we will be discussing those further.

Create a Bluehost review

The best way to convert your users into Bluehost customers through your affiliate link is by writing reviews of Bluehost. Write intriguing reviews that not only tell why Bluehost is good but also encourage your viewers to buy these products from Bluehost. You can compare the products offered by Bluehost with other websites and convey why Bluehost is the best service provider. You can also review the pricing and various plans offered by Bluehost to attract users.

If you are also a Bluehost customer, then you have all the knowledge of why it is the best choice. Impart this knowledge to others to help them choose. You need to provide your users with all the insights related to Bluehost, the more insights you can offer, the more chances you have to convert your leads into Bluehost customers.

Video Reviews

If you feel that written reviews are not attracting more users then, you can also start reviewing Bluehost with videos. Everybody knows that users prefer videos over content nowadays and the review video of any Bluehost product might turn out more beneficial.

Just add your affiliate link in the description of your video and you can always verbally direct viewers to your affiliate link. There is another strategy you can use to promote your affiliate links using overlay ads.

Writing Blogs

Another great way is writing optimized content that has the potential to bring users to your website. Use this opportunity to write on topics such as starting a WordPress Blog with Bluehost.

Bluehost is the primary Web Hosting suggestion by WordPress so you don't have to do much. In fact, there are thousands of people looking to start their website or Blog with WordPress daily and your blog can provide the answer they needed.

Welcome Emails

It is one of the best strategies and it is being used by most content publishers. Implementing this strategy, one can send a welcome mail to all the new users to your website. It will not only help you build a loyal follower community that is eager to consume the content you published but also help you promote your affiliate link.

You can send new subscribers tips and tools to start their own website and also can add discounts applicable at that time with Bluehost Hosting which will increase your affiliate marketing chances.

Resources Page

Add a resource page to your website where you put displays tools, platforms, strategies, and products such as Bluehost recommending users to choose these for their websites. As a marketer, one needs to understand that your goal is not to focus on driving sales but on educating people about the product.

A resource is always helpful in the navigation of your website and can generate passive clicks which in return, can generate more affiliate revenue.

Alternative Ways
One should always focus on generating organic traffic on their website and use that audience to generate sales but there are certainly other ways too. If want to get creative to push their affiliate marketing strategy, they can devise web hosting ads that can help in generating new affiliate revenue through PPC.
---
Summary
Anybody can earn a solid passive income with hard work, time, dedication and a killer marketing strategy using Bluehost Affiliate Program. It is one of the most successful affiliate programs in the affiliate market and tops most of the lists of affiliate programs.
You can start your journey of blogging with Bluehost and then, you can use this knowledge to encourage others to choose Bluehost to start their blogging journey too.
So, get going with Bluehost as quickly as possible and apply for Bluehost Affiliate Program to reap the most rewards.
Disclaimer:
This review contains my Bluehost affiliate link which may provide a small commission to me at no cost to you.
Discount Coupons