How to Back up Gmail?
Last Updated by Yashaswini
It's necessary to have a backup of your mails because, over some time, when a lot of mails are piled up in your inbox you may end up deleting a mail that you didn't want to while clearing spam mails so having a backup always saves us from these mishaps occurring.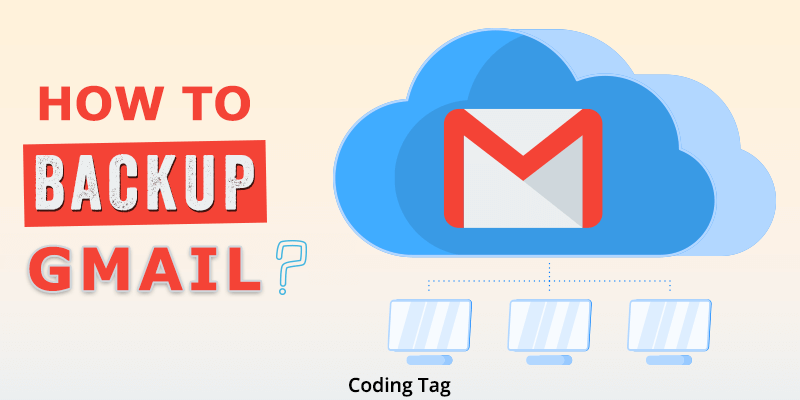 How to Back up Gmail?
Taking backup of your Gmail emails is imperative as it can save a lot of hassle which you can face in case of accidental deletion of mail or in terms of free space in your inbox.
In this blog, I will describe the various steps to how to back up Gmail. The best way to back up your Gmail is by using Google Takeout. Here is how you can do it:
Backup using Google Takeout
Google Takeout is a platform used to retrieve data. It can export and import all of your data across various Google products. It is handy and easy to use for taking backup of your Gmail emails. It combines all your mail data into one file, which can be downloaded and saved to your computer hard drive.
Here is the step by step guide to download and backup your Gmail data
Step
1

Open Google Takeout

Open Google takeout on your desktop and a window opens up as shown below.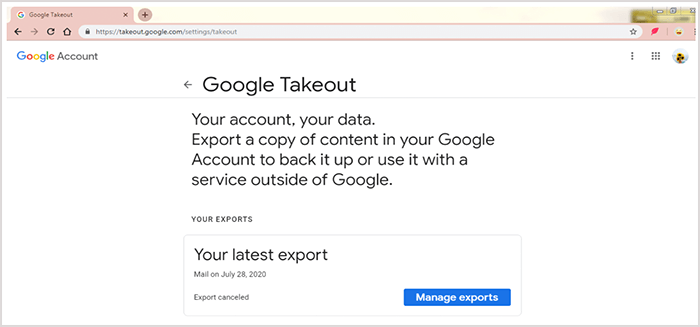 Step
2

Deselect All

Scroll down and a list of selections appears in which all the data from different Google platforms like G-Mail, Calendars, YouTube can be obtained.

By default, all the selections are selected. As we are interested in taking backup of our Gmail data only, deselect all except Gmail from the window.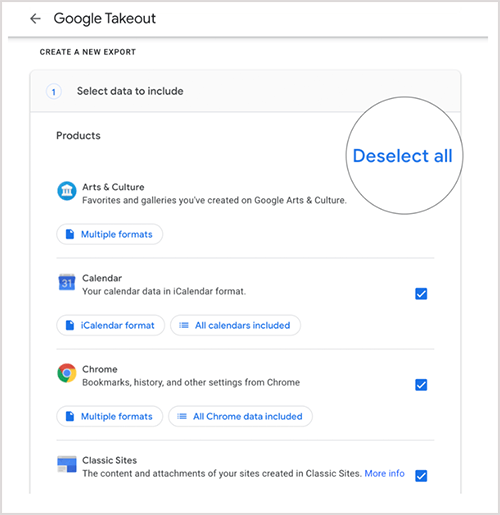 Step
3

Click on the "Next Step".

Once you have selected Gmail, click on the "Next Step" at the bottom of the page.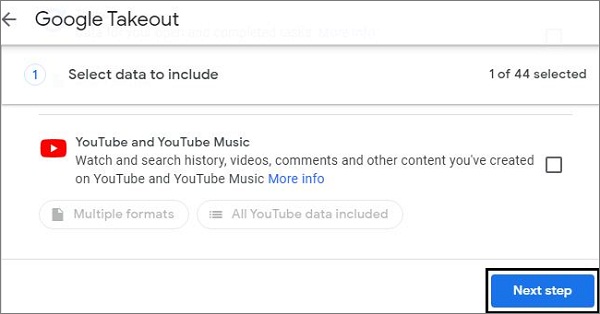 Step
4

Select from the given options.

You will get a list of options on the next page. These options will let you choose the frequency of backup, file format, and size as explained below.
Delivery Method: This option will allow you to choose the delivery method. As per your selection, you can ask for the download link via email or you can add the backup file to your Drive.

Size: The selection size of the archive you need depends on how much data you want to retrieve that is whether you want to retrieve all the mails or selected ones. The size ranges from 2GB to 50 GB.
Type: It is the format in which you want to obtain the data. Two formatting options, .zip, and .tgz are available. Where .zip is a file format from which you can decompress your archived files and .tgz is similar to .zip but it's usually used for Linux and Unix systems.
Delivery method: It provides options for you to receive the backup data, through your email, drive, Dropbox, etc.
After selecting the appropriate formats as per your requirement, click on Create export, then archiving your data begins.
Once the process begins, it shows an export progress message as you can see in the below-shown image and it tells you that Google is creating a copy of your files. This means you are done with the steps to take the backup, and you will receive the archive through your selected delivery method (email, Dropbox, or drive).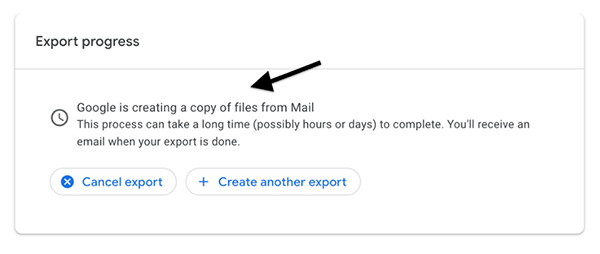 After receiving the archive, you can download it.
NOTE:
If your backup data is more than 2GB it will take longer for the process to occur. You will have to wait patiently.
So, you can see that taking backup of your Gmail is a straightforward process, and with the help of this "How to Back up Gmail?" guide, we have made it simpler for you.
Make sure to back up your Gmail at regular intervals. I hope this guide helped you in taking backup of your Gmail emails on the hard drive.
Please leave your comments below. , and don't forget to subscribe to our website for more such solutions.
Discount Coupons