Hey Cybernaut,
Thank you so much for visiting codingtag.com and it's been an honour to exchange knowledge with you.
Do you know, we humans are surrounded by technology and we are already using cloud computing in our day to day life directly or indirectly. I am sure you have used social apps like Facebook, Twitter, etc. which makes you a consumer of cloud computing services.
Got surprised!! Let's see below how?
Cloud computing has become a buzz word in IT industry from past couple of years. Many big companies (like Google, Facebook, Microsoft, Apple, Amazon, Adobe etc.) are using this computing paradigm for running their business.
I can say that this computing model has become de-facto standard & applied in various domains like e-learning, e-banking, healthcare, e-commerce etc.
So, guys let's start with this fancy tech jargon i.e "Cloud Computing" & let me share few interesting insights around it.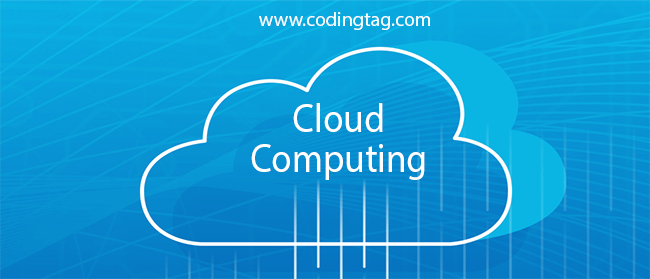 ---
What is Cloud Computing?
It is a service delivery model in which computing resources like storage, server etc. are shared & hosted over internet which are consumed by user using internet. Its pay per use model which means user has to pay only for the services that he/she has used. It's an on-demand usage of computing resources via internet.
For e.g. You have used electricity in your home on daily basis, Right! We generally do monthly payments as per units consumed to the service provider.
Similarly, cloud computing vendors like Amazon, Microsoft etc. provides a simple web-based access to their cloud resources. These vendors own and maintain different data-centres across globe which hosts various resources like storage, network, databases etc.
These vendors provide cloud computing services in three different service models as SAAS, IAAS & PAAS.
Some famous cloud computing applications are YouTube, GMAIL, Facebook, Google Drive, Twitter, Instagram etc.
---
Top 30 Cloud Computing Interview Questions
---
Some important characteristics of Cloud Computing
a) On-Demand: Cloud computing is an on-demand ordering and consuming of system resources via internet. Users don't have to pre-allocate or buy resources before any need. You can online order your computing resources like server, storage etc. at Amazon Web Services, Microsoft Azure, Google Cloud etc.
b) Pay Per Use: User will pay for computing resources as per usage basis.
c) Always On: Cloud computing resources are always available over internet. Cloud vendors ensure zero downtime for their hosted computing resources. They also ensure high availability of these resources as well.
d) Anywhere: Cloud computing resources are available in different data-centers across globe. They can be access from anywhere in the world provided network connectivity is there.
e) Any time: User can use these services 24*7 provided by cloud vendors. Cloud vendors ensure there is no downtime for users. Though during unavoidable circumstances (like earthquake, flood etc.), downtime of few minutes can happen.
---
Types of Cloud Computing
Every customer does not have same requirement that means one type of cloud computing works for one user while it may not work for other user.
Therefore several different cloud deployment models, types and services have evolved to suit right need of customer in order to provide effective solution as per business need.
Generally cloud services are deployed in three different manners as.
a) Public Cloud: It is owned & maintained by third party cloud vendors like Microsoft Azure, Amazon Web Services etc. These vendors deliver their computing resources like network, storage, server through web-based access.
b) Private Cloud: In this model, computing resources like servers, storage are exclusively used by single organization or business function. It can be either be deployed physically at customer premises or it can be hosted by third party cloud vendor. Private network is generally used to deliver computing resources solely to a given customer.
c) Hybrid Cloud: It is a blend of above two deployment styles (public & private cloud). In this model, you can take advantages of both public & private cloud. Also you can move your data & applications between these two environment which provides greater flexibility & cost effective solution.
Discount Coupons