Top 5 Laptop Brands in the World
Laptops have become an absolute necessity in today's world and the good thing is there are plenty of options to select from but on the other hand, too many options bring too much confusion while choosing the best one. So, we have customized a list of the top 5 laptop brands in the world.
Top 5 Laptop Brands in the World
5 Acer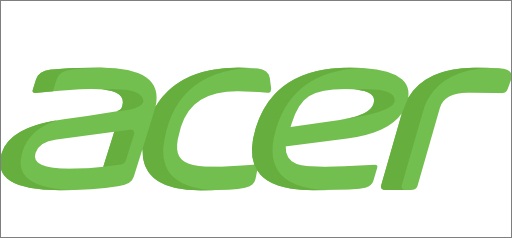 Headquarter: Xizhi, New Taipei City
CEO: Jason Chen

Acer is a Taiwanese MNC with a speciality in advanced electronics technology manufacturing. It is much more just a laptop developing company and its products include desktop PCs, smartphones, VR devices, Laptops, etc. Acer is one of the largest laptop manufacturers in the world and its laptops are extremely popular among budget buyers.

In the last decade, Acer has flooded the laptop market targeting users of every price range. Without any doubt, all Acer laptops are commendable in performance despite the low prices compared to its competitors. Acer has a 7% global laptop market share.
---
---

4 Asus

Headquarter: Beitou District, Taipei, Taiwan
CEO: S.Y. Hsu

Asus is a Taiwanese based MNC popularly known for their world's best motherboards and high-quality personal computers, graphic cards, etc. Its products include desktop computers, laptops, netbooks, mobile phones, networking equipment and much more. Their laptops are mainly known for their affordability compared to all other brands.

Asus laptops provide very good performance and are equipped with some of the most attractive and best designs. Even their budget laptop series offers a full HD screen, extraordinary design and a great performance. Acer has also entered the gaming laptop industry with its ROG series and in 2021, most of the gamers prefer Asus ROG devices over MSI and Alienware Machines. Pros of Asus laptops include their excellent displays and innovative designs.

---

3

Apple

Headquarter: Cupertino, California
CEO: Tim Cook

Apple is one of the top luxurious brands when it comes to laptops, phones, computers and tablets. Apple is an American MNC specializing in electronics, computer software and online services. Apple is one of the world's most valuable companies in 2021.

Apple's laptops are very attractive in design and come with a backlit Apple's logo which is still one of the best things to show off. Its laptops are operated on iOS which is much more reliable than Windows and provides extreme security. Apple's MacBooks are known for their reliability and superior performance. One thing every Apple user will agree to is their devices are unrealistically fast and have enviable aesthetics. One of the major cons of Apple's laptops is their high price range.

---

2

Lenovo

Headquarter: Quarry Bay, Hong Kong
CEO: Yang Yuanqing

Lenovo is a Chinese MNC specializing in designing, manufacturing and marketing of consumer electronics such as desktop computers, laptops, smartphones, supercomputers, storage devices, etc. Lenovo is one of the premium laptop brands of the world and their laptops are known to be ideal for all kinds of tasks. Their laptops can be used by anyone from students to businessmen or professional gamers.

However, Lenovo is mainly known for their business class laptops which are not only powerful but also empowered with extremely flexible designs. It is among the first companies that launched the best portable laptops. Their laptops are equipped with some of the best displays, touchpad, keyboard and audio quality. Lenovo designs laptops for every price segment.

---

1

Dell

Headquarter: Round Rock, Texas, US
CEO: Michael Dell

Dell is an American Multinational Company that designs, develops and sells computers and related products and services. Dell is one of the largest tech companies in the world in 2021. If someone is looking for the best Windows laptop, then Dell is a clear choice. Dell is known for designing some of the most economical laptops that are equipped with excellent hardware and are very powerful.

There are thousands of reasons why Dell is known to be the best laptop brand in the world. However, some of the top reasons are:

Fair pricing
Durability
Professional Design
High-end Support
Latest Features
Powerful Processors
Long-Lasting Batteries
Dell laptops are known to be ultraportable and innovations. Their laptops are extremely light in weight and equipped with the best screens, audio outputs. Many Dell users will agree that Dell laptops are way ahead of their time and some of the most innovative laptops in the world.
These are the top 5 laptop brands in the world. These companies are known to be market leaders in the facet of Laptop manufacturers. I hope you like this blog. Please don't forget to subscribe to our newsletter to get further updates about the top 5 series.
Note:
All the social media and coding tag website content are only for educational purposes and all the names and logos are property of these respected brands. The information we provide in this blog is best to our knowledge and according to publicly available data. Coding Tag is not liable for any discrepancy in the data.
Discount Coupons