Enhance your Blog's readership with this Content Strategy on Instagram
Instagram is such a powerful content marketing tool that can skyrocket your blog's readership in no time. I am jotting down some proven content strategies for Instagram by which you can promote your blog.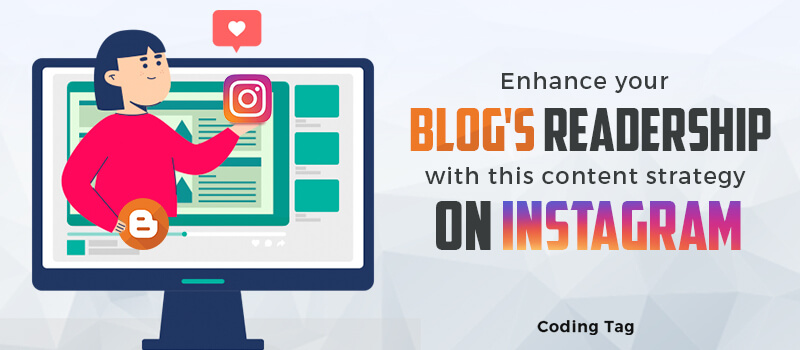 Till a few years ago, Instagram did not even have a desktop version. The majority of the users enjoy the application on their mobile phone. This means that the content has to portable, clutter-free, snackable, and straightforward. Remember to move between Promote - Educate - Engage. On average, a person spends 15-60 seconds on a post/video.
Such a short attention span calls for the need to capture attention in the first few seconds. Consider this blog as a ready reckoner on how to promote your blog on Instagram. By this blog, I will describe the content strategy of your Instagram professional account, which can multiply your blog's readership.
1

Visually Appealing Images

The app is a visually engaging platform. As you open a profile, you can view 9-15 post photographs in a single scroll. Imagine it like a graphic magazine for your blog. Your images should do justice to your blog topics and attract potential followers instantly.

You can download images from Google that are authorized for reuse. You can also create an account on PhotoBucket, Shutterstock a download images from there. If you click your own photos then keep in mind the


Do's and Don'ts of basic Instagram photography:
Do not clutter the image. Focus on only 1-2 key things in your cover image.
Experiment with backgrounds. Use colorful and clean backgrounds to enhance the images and your main content.
Make sure the photos are not blurred. It makes your account look unprofessional and drives people away.
Use natural light. Click photos in natural sunlight to brighten them.
Be conscious of the symmetry. Go to your phone settings and enable Photos -> Grid. Every time you click a picture it will show 9 x 9 grid to help you mark the lines clearly.
Don't zoom in too much and make sure the images are high quality.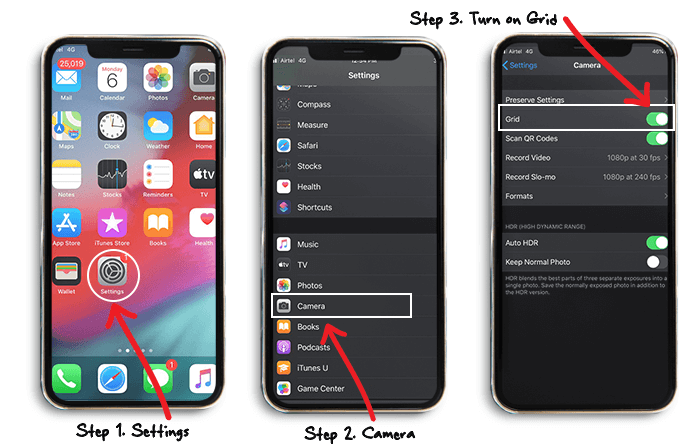 2

Educational Posts

As a blogger, you must find your niche. You should be able to tap into your readers' psyche to understand the challenges they face with respect to your subject matter and find simple & effective solutions. It is a good idea to publish posts that educate them. Typically titled as 'How to' or 'Tips' etc, with few points in the post and mention your blog article that will provide them with an in-depth solution.

People are always curious and want to learn new things. This type of post engages audiences who follow blogs on food, travel, home décor, makeup, etc. Your posts on Instagram should complement your niche. This is the foremost goal of your Instagram content plan.
3

Behind the Scenes

Humanizing your blog is a great way to promote your blog on Instagram. This content strategy will also position yourself as a sophisticated blogger. It will help the followers to trust the blogger and connect with them at a deeper level.

You can post photos from your desk when working on a blog, images of your team (if you have one), images from the research you put in to compose a blog, images from travel etc. e.g. If you are a fashion blogger then post images when you are choosing a look or styling another person. There are many exciting and innovative ways to create BTS features.
4

Shoot Videos

Videos like the images should be appealing and must be in line with your strategy. Shoot short duration videos between 1-5 minutes. Off lately, a more significant percentage of the content consumed on Instagram is in the form of videos. Make short videos on the content of your blogs, some quick tips, and updates. You can do Behind the scene videos as well. Ensure your audio and video quality is high when you shoot videos, and the content is exciting. You can also share videos from your blog link to engage the audience in its content. You can also shoot tutorials. They have a very high number of views. A new form of video is Instagram Live.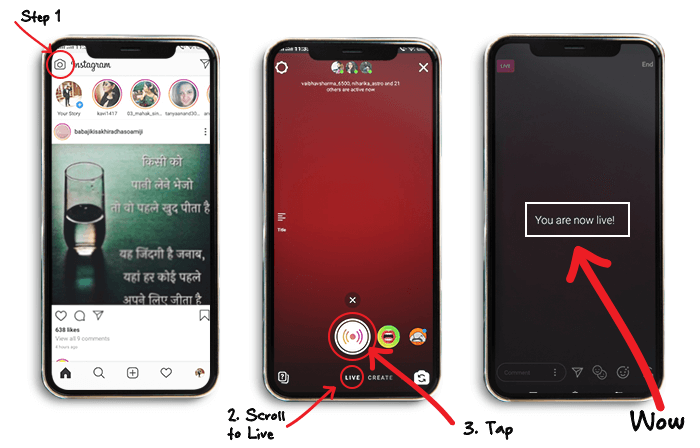 When you build a following of over 1000 people, you can start engaging them by going live for 20-30 minutes once or twice a month to talk to them. This will keep them hooked to your profile and build meaningful connections with you.
5

Instagram Stories:

Stories are a great feature to connect with your readers on an everyday basis. They are photos/videos that self destruct in 24 hours. You can post any number of stories in a day.

Stories' great advantage is that they help build instant visibility as they are visible on the top panel as soon as you open the app. 1/3 of the stories viewed on Instagram are of brands. The feature has many interactive options for you to gain insights about your audience. You can conduct Polls.

Many bloggers give two options to choose from or their next blog topic. You can build hype around your upcoming blog by putting a countdown. This will get people excited and in anticipation of your next blog. Add stickers, location tags, hashtags to make the content engaging.
6

User-Generated Content:

Build the authenticity of your brand by sharing content from your followers. If you have been tagged by a follower, then they have Reposted your content. Make sure to share it as part of your Stories. If you receive any appreciation on your content in your Direct Message, then sharing it in your Story only further builds you profile.

User-generated content also eases the pressure from you to spurn new content all the time. When a follower is tagged by you, they generally share it again in their profile. This gets their followers to notice your profile and reach out to further building your organic following.
7

Giveaways:

Contests are a great way of interacting with followers. You can run Giveaway contests once a month. The frequency completely depends on you. Run simple contests asking them to answer questions related to your blog topics. You can also give them a related topic to create their own content and share their profile, tagging you. There are many other forms of simple contests. Ensure that when they participate, they tag your profile or share your content. This keeps it exciting and enhances visibility.

To become a successful blogger, you need to become a smart marketeer as well. For effective content marketing, your goal always is to continually reach a larger audience that identifies with your blog. As you would have discovered in this blog, your promotion plan and content strategy must include Instagram but also focus on it in-depth.

Follow the tips shared above to create content that is meaningful and engaging. With clearly defined goals and a consistent content strategy, you could attract a large volume of traffic on your blog on Instagram alone. Remember to test different approaches, reset the ones that work, and optimize post content to deliver your followers' value. Build a community of followers on Instagram and position your blog as a brand.


We hope this blog has helped you understand tips and insights to utilize Instagram to grow your blog. We would love to hear your comments and are with you to solve any queries related to this topic.

Please write in our comments section to share your views. Do mention any other topics that you would like detailed blogs on.



Discount Coupons
FREE Pro Account worth $99.95 for 14 Days.
---