Difference between Facebook, Twitter, LinkedIn, YouTube & Pinterest
Last Updated by Gagan Gaba
Today, social media sites are playing a crucial role in the development of business and its promotion. The rise of social media sites has given way to many to make their way in the world of the internet.
They may promote the same intention, but their features and ways of working differ a lot like Facebook primarily focus on the contents, and YouTube is something that mainly puts its focus on the videos.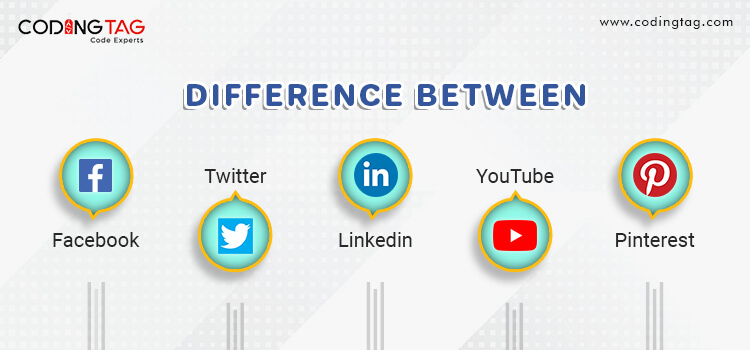 If you have intended to use all of them, it is very important that you understand each of them and try to discover their differences.
Today, we are throwing some lights on the most leading and top-rated social media sites and tracing their differences based on how they work and what are their features.
---
1

Facebook

Facebook is the top-visited and the most crowded social media platform. Facebook allows people to share their personal thoughts and provides business owners to promote their business.

Here people can share updates, photos, news, and others. One can create a page, and people can follow them by liking the page.
---
2

Twitter

Twitter serves the same purpose and people here too can share photos, videos, and updates, but to share updates, one has confined word limits.
---
3

LinkedIn

LinkedIn is a complete professional site where people update their portfolios, work experience, and everything related to the cooperative world.

It is extremely beneficial for B2B business owners as it gives a chance to people to connect to other business.

---
4

YouTube

YouTube is a platform that is entirely devoted to the videos. Here, you can create your own channel and can share videos about your business, and people subscribe to the channel which they want to follow.
---
5

Pinterest

Unlike all the sites discussed above, Pinterest doesn't rely on contents instead allows posting a picture with a small caption.

So, social media sites have their own importance in the world of business marketing, each working in different ways to serve one single purpose.



Discount Coupons
FREE Pro Account worth $99.95 for 14 Days.
---