Why Open Graph Protocol is Good for SEO and Social Networks?
SEO is that tricky subject and technique that if implemented perfectly can get your website at the higher position in the search engine results. But, with every web owner practicing and implementing the technique of SEO, it has become more like a competition for web owners to appear on the first page and attract the search engine results.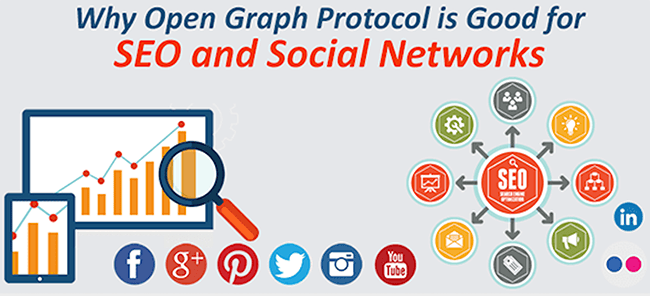 But there are strategies and techniques that are introduced to create some effective results and that helps in implementing the SEO techniques and open graph protocol is one of them. Before we go on how it helps the web owners, it is important that we understand what Open graph protocol is?
---
Open Graph Protocol?

An open graph protocol is a protocol that makes everything on a web page a social object while making it rich on the social networking sites. It is more precisely a set of tags that help the webmaster to use it on the major social networking sites like Google+, Facebook, LinkedIn, Twitter, and others. It allows the webmaster to furnish the detailed information about the webpage on these sites.
It was originally invented by Facebook and now is managed by the Open Web Foundation.
How is it useful for SEO and social networking sites?
The fact associated with open graph protocol is that it has limited impact on SEO as it specifically focuses more on the social networking sites and doesn't actually intend to reach the search engine results.
In the current era, social networking sites have become so evident and more people are getting inclined towards them to promote their business and service. The fact has made them so important that the search engines can't ignore the algorithms of the Social networking sites in their data. It can't be accurately said that what impact it creates, but its impacts and the fact that search engine results analyses these open graphs tags are certain. In specific, Google+ favors these pages more.
To implement the SRO techniques in an effective way, webmasters are advised to rely largely on other beneficial SEO techniques like Meta tags, Meta Title, and Meta descriptions. However, Open Graph Tags have their own importance and it is equally beneficial for the web pages to get promoted in the search engine results.
---
Impact of Open Graph Protocol in SEO
After discovering the importance and why it is mandatory to use open graph protocol in SEO, let us talk about what impact it creates in SEO.
As presented by many, the impact of Open Graph Protocol is limited, and it only aims to the social media sites and not to search engines in general. However, the social media sites, precisely the most famous ones like Facebook, Google+, and Twitter have become an important part of the search engines and the open graph protocol implemented on these networking sites, and its algorithm can't be ignored by the search engines.
In a few research, it has been found that Google favors the pages used in the Google+ network and not only this, but search engines also analyze the open graph tags used, and it certainly helps in the promotion and the display of your web pages.
The use of Meta tags and Meta description are of course has a lot of importance, but using open graph protocol in your social networking pages will help you as well.
Discount Coupons
FREE Pro Account worth $99.95 for 14 Days.
---