What is Hootsuite & How Does it Work?
Last Updated by Gagan Gaba
With the merging of the social media sites to promote business, the advertisement purpose and getting the more targeted audience to lead your business the right way along with gaining more popularity has become easier than ever.
Now, the task of updating status, posting contents, and uploading images on different social media sites may get daunting. To update stuff, you have to log into each of them individually and it many times ends up posting wrong stuff at the wrong place.
But, with the introduction of the Hootsuite has become the managing of updating things at social media sites easier than ever.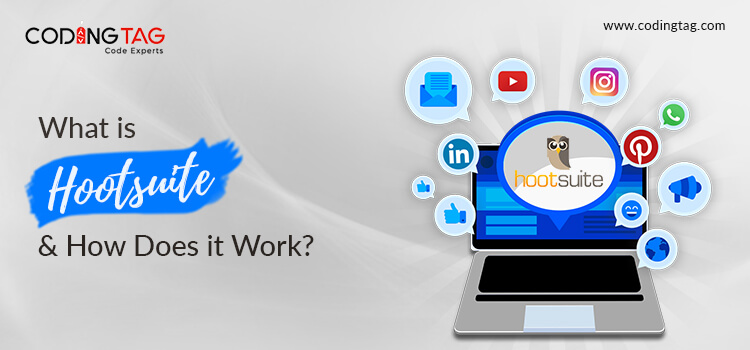 Many who are active on social media sites in regards to updating things, they should consider the prospect of Hootsuite, and those who aren't active, discovering the factors of the Hootsuite may boost them in getting active on all the social media sites.
Let us help you know what exactly Hootsuite is and how it works.
---
What is Hootsuite?
Hootsuite is basically a management tool that is developed to manage the updates on social media sites. It allows the users to schedule and to update a post, images, and other stuff on the profile or any page for Facebook, LinkedIn, Twitter, Instagram, and other sites, all from one place and that is the Hootsuite dashboard.
To use it, you first have to sign up in the Hootsuite, and then you will be given a dashboard from where you can manage the activities on the social media sites with the tabs given.
The single dashboard connects you to all the major and minor social media sites.
---
How does it work?
Hootsuite provides a platform through which you can manage all your activities on all your social networking sites, from posting an update or content. You will be redirected to the dashboard after you have successfully signed up, and then, on that dashboard, you will have tabs for different social media sites where you can successfully manage the update and other activities on the social media.
Along with this, you can do a lot of stuff like schedule a post, which you want to post an hour or two hours later.
Once you get acquainted with using Hootsuite, managing your stuff will be a few clicks away.
---
Benefits of using Hootsuite
Using Hootsuite comes with a lot of benefits, and if you consider social media sites as an important tool for the success of your website, then it becomes more mandatory.
Apart from this, many benefits are mentioned below
Manage multiple social media sites from one place
This is one of the strongest and important reasons why you should use Hootsuite. If you are using a social media platform to advertise your online business, then Hootsuite helps you manage all from one place. You won't have to visit the entire place in particular.
You can manage Facebook, Twitter, LinkedIn, Foursquare, WordPress blogs, Tumblr, and much more.

---
Manage customer service on Twitter
One of the primary reasons that people go online with their business on social media sites, then this is because they want to create engagement amongst their customers.
Social media sites are the place where one can talk, engage, and reply to the customer. Hootsuite acts as the best tool to manage all the customer relation service on Twitter by delegating the customer messages to the different team members.
So, using a Hootsuite, understanding it can take yours to a better level of success.
Discount Coupons
FREE Pro Account worth $99.95 for 14 Days.
---