What is Bounce Rate and Exit Rate? Bounce Rate vs. Exit Rate.
Last Updated by Rajiv Mehta
Disclaimer: (I am deliberately putting it at the start). I will be referring to the official documentation of Google Analytics in this blog to describe what is Bounce Rate and Exit Rate, differences between Bounce Rate and Exit rate, and how to reduce them.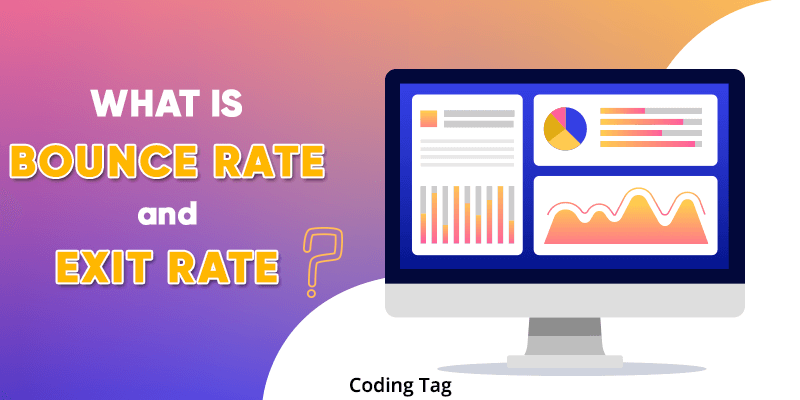 The foremost question which comes in mind is how Google Analytics can produce so much of insights not only on Bounce Rate and Exit Rates but also on other key performance indicators, aka KPIs. The answer to which is:
Google Analytics puts together several lines of tracking code into your website's code to record various activities of your users when they visit it. It does a detailed tracking and recording of details such as age, gender, interests, etc. of the user. It sends all the information to the Google Analytics Server, once the user exits your website.
Based on this tracking data, Google's Analytic server produce insights on all of the KPI's. My motive for this blog is to describe the Bounce Rate and Exit rates, including the factors that affect them and how you can optimize these rates for your website.
I am adhering to my philosophy to make this article concise and straightforward so that you do not get bored while reading it and learn some useful tips once you finish this.
Let's start
The Bounce Rate is one of the most crucial performance indicators of your website performance. To understand it better, let's know some of the key
Terms: Bounce and Session.
Bounce: A bounce is a single-page session on your website. In other words, whenever a user opens a page of your website and leaves without generating any other event, a bounce happens.
Session: A session is a group of interactions that a user does within a given time frame. Whenever a user lands on a web page, interacts, clicks another page, and leaves, it is counted as one session. By default, a session idle time is 30 minutes, i.e., if a user left the screen for 30 or more minutes on the same page, the session will be counted as complete.
Exit: As the name suggests, it is the last page visited by the user in a particular session, after which the user goes to your competition.
Take a deep breath. By now, you know a few more things as compared to the start.
Here comes the main question, what is the Bounce rate? And answer to which is
The bounce rate is a single-page session / Total number of sessions.
You would probably be thinking, this is how rates are calculated, what is the big deal? Wait. there is a lot to understand.
Let's locate our key indicator first. In google analytics you can find bounce rate in Audience --> Overview Report and this is how it looks like.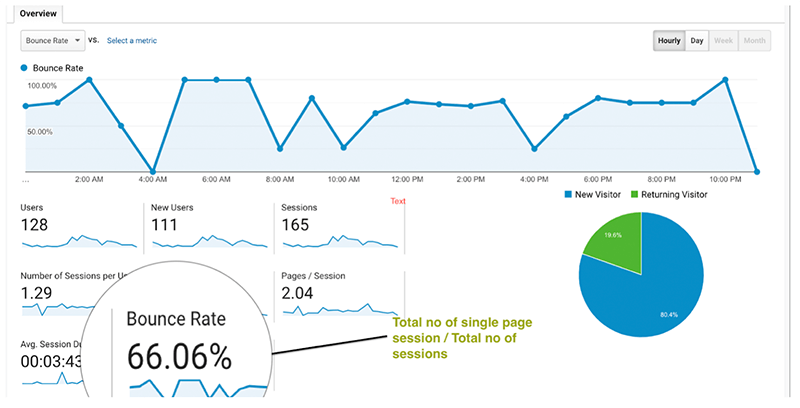 For Exit pages Go to Behaviour > Exit Pages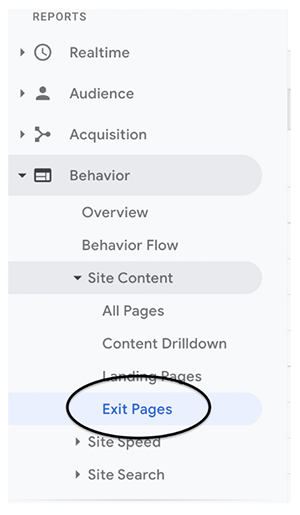 Things which one should keep in mind before calculating the Bounce and Exit rate is the context (page) to which these are calculated. Revisit the definition of Bounce and Exit stated in the starting. Bounce is calculated on the page with which the session starts, whereas Exit is calculated on the page with Which the session ends.
To understanding it better, let's take a hypothetical example. Suppose a web site has only three pages A, B, and C and there is only a single session per day with the following order.
Monday: B --> A --> C --> Exit
Tuesday: B --> Exit
Wednesday: A --> C --> B --> Exit
Thursday: C --> Exit
Friday: B --> C --> A --> Exit
Let's visualize this user flow on the website:

| | | | | | |
| --- | --- | --- | --- | --- | --- |
| Page | No. of Sessions with the page | Bounce - Rate | Explanation (Look for the statement started with the corresponding page) | Exit - Rate | Explanation (Look for the sessions ended with the corresponding page) |
| A | 3 | 0 | Only one session started with A and multiple pages were opened in that session | 33% | 3 no. of session with A and 1 resulted in the exit |
| B | 4 | 33% | Three sessions started with B and one was a single-page session. So 1/3 = .33 | 50% | 4 session with B and 2 resulted in exit. |
| C | 4 | 100% | Only one session started with C which lead to exit. So Bounce Rate 100% | 50% | 4 session with C and 2 resulted in exit. |
I hope till now you have a reasonably good understanding of Bounce and Exit rates and you tell that higher rates are not at all good for your website. I am also sure, by now you can answer "What is the difference between Bounce Rate and Exit Rate?".
Let's deep dive further to analyse the reasons behind increased bounce and exit rates.
What increases Bounce and Exit Rates?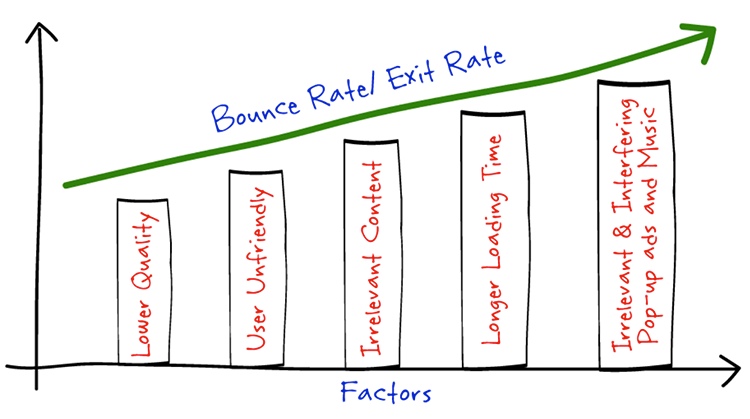 These are the main factors which result in increasing bounce and exit rates. One must keep a check on them in order to boost the traffic on the website.
Irrelevant and Interfering Pop-up ads and Music.
The longer loading time of your page.
Irrelevant Content to what the user is looking for.
Low-quality design, difficult to read fonts.
Not a user-friendly website.
In some scenarios, higher exit rates are not worrying some, but only in some scenarios. Consider a site like "QUORA", a coveted name for Questions and Answers platform, it has higher bounce and exit rates as users are getting information on what they need on the first page itself.
But for other sites where you want users to stay by navigating various pages on your website and convert this into an e-commerce transaction, higher bounce and exit rates are fatal.
So far, we have understood the key performance indicators of website and jotted the potential factors which are degrading these,
Let's learn the various practices which can enhance these indicators (I mean, lower the rates).
How to Reduce Bounce Rate?
As a rule, you must always keep in mind that a user should want to continue to visit your website. And with that being said, identifying and fixing your landing pages' problems can quickly fix your higher Bounce Rates.
You must thoughtfully consider all the points listed in the picture below to enhance your website's performance. This is the concise guide that you must adhere to for improving the traffic on your website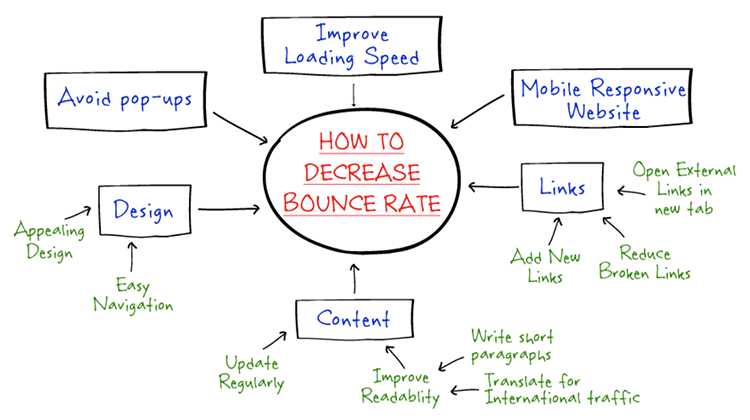 Update your Content - Keep the content on your website fresh and updates. However, this doesn't mean you were changing the entire content but updating it with the latest information that a user wants to read. Even in less extreme cases, it's important to keep old high traffic posts up to date to continue your Bounce Rate down.
Avoid Pop-ups - In general, Pop-ups are a bad experience for users and should be avoided. The one place where some people put in a pop-up would usually be when using it as an Exit intent tool. A few tools like Bounce Exchange or Optin Monster, use mouse-tracking technology to identify when a user is going to Bounce, and then the tool shows a pop-up to reduce the likelihood of this happening.
Concise Paragraphs - Users are impatient to get the answer for their query. They, on average, don't like to waste too much time reading long paragraphs. As such, it's important to write concisely and in short sentences.
Translate for International Traffic - Many people don't keep this in mind for the optimization of their website. A recent study has shown that installing a tool like WPML to translate a website into a few different languages can decrease the Bounce Rate (for International traffic) from 80% to nearly 45%.
Highlight Site Search button - A fair share of users is Search oriented, and they will look for a Search Box as soon as they enter a website. Try not to make it too difficult for the user to search for what they are looking for.
Reduce broken links - Broken links are a cause for bad user experience. And if you have a lot of them, it's even worse. This will, in turn, drive up your Bounce Rate. Identify the broken links and try to fix as many of them as possible.
External links should open in a new tab - In Blogs' case, a large portion of your Bounces are likely coming from people clicking on external links in your posts. If you're using WordPress, there is a built-in plugin that will automatically open all your external links in a new tab, otherwise, the best way is just to add target ="_blank" in all your external links.
Add more Internal Links - Internal links keep a user navigating in and around your website. Use them to reduce your Bounce Rates and help users find what they are looking for without leaving your site and searching for it.
Improve page loads - Studies have shown that almost 55% of users will abandon a webpage that takes more than 3 seconds to load. Therefore it's essential to optimize your web page to keep the loading speed fast, ensuring that a user stays on your page.
Improve readability - Keep your content simple, to the point and, more importantly, accurate. It would be best if you kept it understandable for different comprehension levels too. Use a readability-test tool to identify whether your content is up to the mark or not. The more readable your content, the better the user experience is, and the lower your Bounce Rate will be.
Keep Navigation simple - Simple navigation makes it easy for users to find what they are looking for and get to the answers they are searching for. Try not to be over innovative with your navigation and make it confusing for the user that they might just end up leaving your page midway.
Invest in a great design - A good design instills confidence and trust with your users. You should note that users don't spend much time on sites that they don't trust or find difficult to navigate. Nowadays there are countless free and paid tools for making great designs for your website. Use them.
Cross-Browser Compatible - Even though Google Chrome is the most used web browser, you should still keep in mind that many users are using other various browsers too. Like Internet Explorer, Netscape, Firefox, Safari, Opera, etc. Make sure that your website is cross-browser compatible, for it to be viewable to all.
Split Longer Posts - Publishers use a technique to boost advert impressions. I'm sure many of you might have seen a post titled the "Top 50 post",

wherein a user will have to click next to lead the next page in the countdown. As such, one visit became 50 impressions.

You may not need to go quite this far, but you can reduce your Bounce Rates by splitting your longer posts into a series of the shorter chapter.
Mobile Responsive Website - Nowadays, it has become imperative to have your website Mobile compatible also. WARC (World Advertising Research Center) estimates that nearly 2 billion people, which equate to almost 51% of the global base of 3.9 billion mobile users access the web through their smartphones. As such you need to ensure that your website has a responsive design to provide mobile users a great user experience.
Always remember, the user came to your page following a promise that you've made to provide them an answer to their query.
---
How to Reduce Exit Rate
You will first need to pinpoint the reason why users are leaving your site. It could be due to several various reasons, and you can begin by making certain adjustments like adding impressive, eye-catching images and inspiring content.
Let's say, for example; you have an online store. In such a case, you will need to optimize your Exit pages. By relating your products using links, you'll send your users to other parts of your online store and eventually guide them through a funnel that will lead to a sale. Give your users a reason to stay on your site by keeping their curiosity alive and wanting them to explore more.
Following are some of the ways to reduce Exit Rate:
Create exit surveys - Exit surveys can save you more than 15 percent of visitors. It is loaded with essential information about the visitors' satisfaction level at your website. You can retain your customers here and give them exclusive offers to lure them into converting.
Trigger exit pop-ups with a different persuasive message - Pop-Ups with messages can direct them to similar products.
Optimize Call-to-action button - You will have to check on the page if the call-to-action button is hard to find for the users. If your call-to-action button is not visible to the users, then the exit rate can go high. Try to place the call-to-action button in the first fold of the page itself.
Do A/B Testing - A/B Testing is almost a perfect solution for any dilemma. If we talk about the exit rate, it works tremendously well. To make your test result clear, you need to include both testing measures, i.e., quantitative and the qualitative analysis of your website.
The second-best practice is to start testing from the bottom part of the funnel and keep checking towards the upper levels.
Undoubtedly, higher conversions or sales increase means your testing was successful; decreasing leads means you've failed, though not miserably because it was just a test.
What is a Good Bounce Rate and Exit Rate?
The definition of a "Good Bounce Rate" is also subjective, if you're considering the type of page and the source of traffic.
For example, if you have an informational article that answers a specific question and the primary source of traffic on this page is a result of organic search, then the Bounce Rate would be as high as 90%.
But this does not mean that the page has a bad Bounce Rate. It could mean that the user found exactly what he/she was looking for and no longer needs to view any other page.
On the other hand, a page with a low Bounce Rate may not necessarily be useful if it has a poor user experience. HubSpot has compiled a rough estimate of Bounce Rates Industry-wise that show the average across different types of sites:
| | |
| --- | --- |
| Type of Website | Healthy Bounce-Rate Range |
| Content Websites | 40% - 60% |
| Lead Generation Websites | 30% - 50% |
| Blog Posts | 70% - 90% |
| Retail / E-Commerce Websites | 20% - 40% |
| Service Websites | 10% - 30% |
| Landing Page | 70% - 90% |
On a debatable note, many tech gurus consider anything between 20 - 25 to be a good Bounce Rate and anything above 40 as a bad one.
Exit Rate is relative to your site and its specific pages. 100% of your viewers will eventually exit your site, so it's important to view Exit Rates in context to this fact.
For example, an E-Commerce site's ending page, containing their contact and other relevant information should definitely expect a high Exit Rate, as once the viewer reaches this page there is not much else, he/she can do besides exiting the site.
On the other hand, if a lot of viewers are exiting on a products page in the middle of the website, this could indicate that there is an issue, like something that is confusing, a broken or dead link, or even website bug, which is causing the person to leave mid-way and without purchasing.
---
Bounce Rate and Exit Rate should be monitored in order to keep track on what is going wrong on your site. And something going wrong can depend on a number of factors that you need to check before taking any kind of action.
You should consider both Bounce and Exit Rates helpful for your website. It's like a bulb that will light up when your user's satisfaction is questioned.
---
If you are still with us, I hope this visual guide for understanding Bounce and Exit rates has provided you some useful insights on these critical parameters. By now you must have a good understanding about the Bounce Rate and Exit Rate, how to reduce them, and what is a good percentage of Bounce and Exit Rate i.e. Bounce Rate vs. Exit Rate.
I also hope that you like this blog and acknowledge this by giving your valuable comments . These comments mean a lot to us as they boost our morale and motivate us to write better and fresh content.
Please subscribe to our website, and don't forget to share this knowledge by clicking the sharing button below.
Discount Coupons
FREE Pro Account worth $99.95 for 14 Days.
---