Why Time To Time Update Your Website Pages
Last Updated by Gagan Gaba
The older saying went Old is Gold, but that's not the case with your website at all. If anything, your website needs to keep up with the fast-paced world of the internet to survive in the SEO page rankings and the crawler's rating.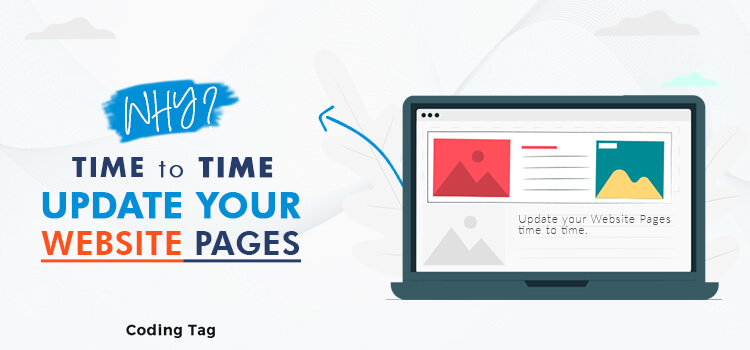 Obviously, there's more to your web pages traffic than its outlook alone.
But how do you know when to update your website?
1

Responsive Design And Mobile Friendly

Ignoring this factor may prove deadly to your website. Since almost everyone accesses the web by mobile sometime or the other, it's imperative that your website is mobile-friendly.

Responsive Web Design is a collection of techniques that allow a website to flex and adjust to the size of the screen it is seen on. Updating your site to a responsive or a mobile-specific design can generally be done at a reasonable cost and this also allows you to gain many more visitors and potential customers from all over the world.
---
2

Website Loading Speed And Time Taken To Update

Your website's loading time is a major factor in people either staying or leaving the site and never returning. In today's need for speed spheres, no one wants to wait for a website to load taking its own sweet time.

It is often recommended to use tools like YSlow, Google Page Speed Insights, or Pingdom and find out how long your site takes to load. Based on the score, you can make the necessary changes like shrinking the images, optimizing the content, and browser caching.

Also if you cannot easily update your site, you should consider putting in a content management system with an easy to use interface. It's even better to keep your site simple with only the necessary functionality to save money and improve the user experience.
---
3

Favorable Bounce Rates

The definition of bounce rate is the percentage of people who arrive on your site and leave without visiting a second page. A higher bounce rate is indicative of a negative first impression, which you may need to rethink including the SEO and digital marketing strategy.

In such cases, a page redesign is a helpful way to address both branding and usability issues at the same time.
---
4

Website Integration

For the majority of businesses, integrated websites are necessary for delivering the required service levels. Customers today expect access to blogs, support forms, contact forms, and if applicable, shopping functionality; all on one easy to use website, requiring a single login and quick access to accurate and timely information all the time.

Integrating your site with the back-office order fulfillment, tracking, billing, and CRM systems reduces the probability of mistakes and confusion by a lot.
---
5

Effective Use Of Call To Action Buttons

A call to action (CTA) is a button or link that you place on your website to drive prospective customers to become leads by completing action on your landing page.

Simply upgrading them to a high impact color scheme or a better style or adding visual cues can help improve your website's performance by a lot. These are the buttons that convert users to customers.

That's why it's important to pay attention to these details. Another point to remember is that you should always track your webpage metrics after making any changes to your site to ensure they are producing the intended results.
---
6

No Link To Social Media

In this day and age where everything is connected via social media platforms, it will be nothing short of unwise and imprudent to not have links for the users to share your content over the social networking sites.

This is agreeably a great way to encourage people to talk about your brand and products and promote your content. This also makes it important for you to update the content on your page and look into the reasons why the traffic isn't converting into sales.

These were a few important checks into whether it's time for you to update your website or not. The page need not be redesigned every time but it should be updated from time to time so that the sales don't start slipping or the traffic doesn't disappear.

These pointers should help you understand the importance of making the necessary fixes at regular intervals.



Discount Coupons
FREE Pro Account worth $99.95 for 14 Days.
---