What is Cross-linking and what are the function of Cross-linking SEO?
You must have seen and realized the importance of SEO by now if you are dealing with digital marketing and with this, you also have discovered the fact that SEO is a crucial technique that can make and break your online reputation.
SEO, an acronym for Search Engine Optimization undertakes the task of creating brand awareness for your website and making it visible in the sight of search engine crawlers and the users.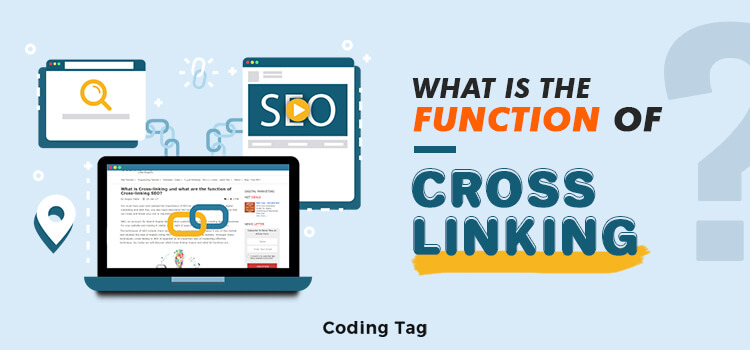 The techniques of SEO include many and every day, a new technique makes its way in the market and doubles the task of implementing SEO to bring more traffic to the website.
Amongst many techniques, cross-linking in SEO is regarded as an important way of implanting an effective technique.
So, today we will discover what Cross-linking means and what its functions are:
What is Cross-Linking?
Cross-linking is an art of linking between two websites, irrespective of their owners. It refers to web content that you have on a particular page that links to another page on your website, and provide a way to allow access to it.
It basically provides the users with reference sites that have similar or relevant content as the one they are viewing or more information about the topic they are reading about.
---
Functions of Cross-Linking
It has many functions such as serving the purpose to display the page on the search engines using search engine optimization techniques and methods.
It uses SEO tools that provide reciprocal links and inbound links that can be used to increase the link popularity. Link popularity is one of the key factors involved in controlling how the search engines determine the value, importance, and relevance of sites on a particular topic. This result is then reflected in the site's search engine ranking page. This works only as long as you use cross-linking effectively, especially if you are the owner of both websites.
Cross-linking helps your SEO strategy by increasing your Link Popularity and Page rank as it helps with creating more quality backlinks which are easy to exchange and are adjustable according to your SEO strategy. They give leverage to multiple domains owned by you and bring in qualified links for a site that is valued by the search engines, resulting in you standing a better chance of getting a higher rank.
---
Things to consider when implanting the cross-linking technique
But one should always create such links only if they are useful to the other site because doing so for the sake of it or for search engine marketing only can lead to penalties from the search engines, as it may be considered as a scam.
Also, you should avoid creating 'link rings'. It can be a great way to improve your SEO as well as offer better options, information, or products to the users or customers.
However, excessive use of cross-linking will be apparent and may cost result in penalization from the search engines. Moreover, cross-linking works best in combination with other strategies.
Web optimizer should ensure the submission of inbound links to link directories and other sources as well. Cross-linking helps, but the most inbound links, the better, and beyond that, the more variety of links you have, the more effective cross-linking between your own sites will be.
So, now keep in mind the use, functions, and limit of cross-linking and based on these implement them carefully on your websites.
Discount Coupons
FREE Pro Account worth $99.95 for 14 Days.
---