How to enhance your Blog's readership through Instagram
Instagram is one of the strongest visual media of communication in today's world. Founded in the USA in 2010, the social media platform will be completing a decade of triumph among its rivals in October 2020.
Within two years of its inception, it was acquired by Facebook Inc. for a record USD 1 billion. Since then there has been no looking back for this media platform.
Apart from the individual users who are using this platform to share photos and videos to connect with their family and friends. Instagram is Mecca to the Bloggers and Influencers.
For a blogger, publishing blogs on the website is just not enough. One must know the art of marketing the content to reach the right audience.
How much beastly power Instagram possesses can be estimated by the statistics given:
As of April 2020, Instagram had over 1 billion subscribers globally. This means assuming that we don't have aliens on any other planet, 13% of the Universe population is on Instagram.



Statistics:

The largest subscriber base is still in its home country USA with 120 million people, followed by India with over 88 million users.

50% of businesses that use Instagram actively for their promotion do not even have a website, and 80% of the people are more likely to make purchase decisions after viewing business profiles on the platform.

The highest number of users is in the age group of 25-34 years which constitutes about 35% of the total subscribers. Next in line is the age group of 18-24 years with 29% of the overall population.
Age Distribution of Instagram users worldwide as of April 2020



More Statistics:

63% of the subscribers open the app daily. This means that roughly 630 million people are looking into the app every day.

The average time quite astonishingly, which a user spends on Instagram is approximately 53 minutes daily.

This translates into almost an hour per day.

"Those under the age of 25 spend more than 32 minutes a day on Instagram, on average. While those aged 25 and older spend more than 24 minutes a day."
| | | |
| --- | --- | --- |
| Age Range | Percentage | Time spent per day |
| 13 - 24 | 35.2% | 32 Minutes |
| 25 - 44 | 51.5% | |
| 44 and above | 13.3% | 24 Minutes |
If you are still wondering why the above statistics are of much importance, it simply means that all of your target audience is already on Instagram and you only have to harness its true power. It provides you with an unmatched opportunity of humanising your blog and build it into a brand.
Many people have a misconception that only visually appealing photographs or videos can attract huge followers on Instagram. However, this is far from the truth. A thorough understanding of the platform is imperative for strategising to attain success.
The starting point is to Create a Professional Account. Instagram gives you the option to access multiple profiles simultaneously. So you can have a personal profile and a professional profile simultaneously.
By switching between the profiles you can change your audience.
Open the app and follow the path Settings -> Account -> Switch to Professional Account.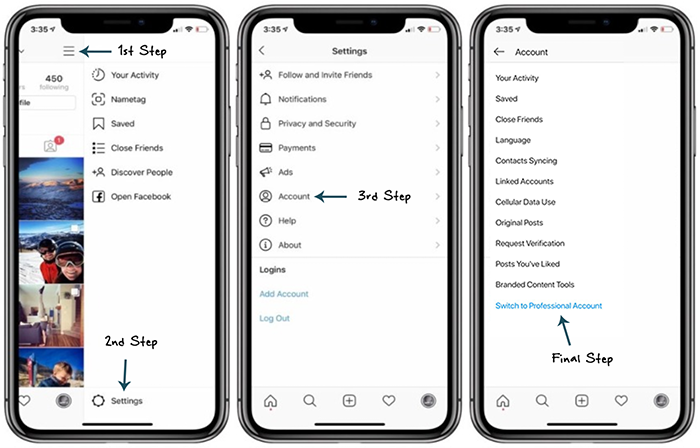 Additional features in the professional account to cater to the business needs are.
Business Insights Tool
In 2016 Instagram introduced the Business Insights tool. This feature available only in the professional account helps brands and businesses to gain significant insights into their followers and target audience.
This tool is used in capturing and analysing data on your post views, reach, impressions, and engagement numbers. It provides you with all sorts of analytics like the number of profile visits, website clicks, the demographics for your audience, and specifications like age and gender etcetera.
---
Contact Button
The professional account has a Contact Button feature. While in a Personal profile, followers or interested audience can only interact with you through the inbox (direct message) or comments. In the Business account, if they want to reach out to you they can click on the contact button and get in touch with you directly.
Instagram allows you to update your email and mobile number in the profile. This helps build credibility in the eyes of the audience and maintain a direct interaction for any opportunities.
---
Promoted Ads
You can amplify the reach of your account through advertising via Promoted Ads option. 2016 was the year of many changes for the app, one of them being a change in the algorithm of how content is shown to the audience.
Profiling users can help to target the relevant audience only, resulting in more followers and sales. The Promoted Ads feature can give the much-needed boost to your profile and help to build a following.
Instagram is a serious business and can benefit your blogging career significantly. Once you create a business account you have to optimize it to be able to grow your followers organically.
Focus on sharing accurate and impactful information in the following ways in your profile.
---
Five attributes to complete your profile: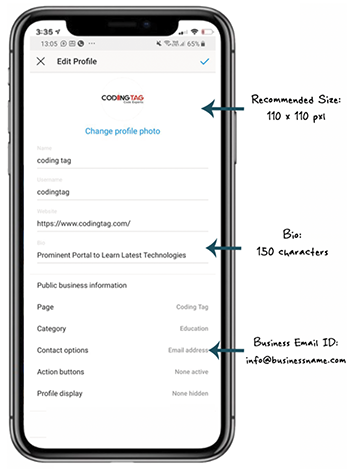 1

Profile picture

As a blogger, it is a good idea to have your photograph in the profile picture, as it helps the audience connect with the author behind the blog. If you have a brand logo then make this your profile picture, it will eventually help people to grow familiar with your logo.
2

Bio

Think about your bio as a 7-10 second elevator pitch. Find words that communicate the purpose of your blog in a short, simple, and effective way. Every person who chances upon your profile will read your bio.

Consider the question - what's in it for the audience?

You can also add 1 or 2 hashtags for your blog in the bio.
3

Location

Unless you have a professional setup and an office, you do not need to update the location, but updating your city and country is not at all a bad idea. It helps people to put trust in you and sometimes people reach you for relevant opportunities in your local community.
4

Contact button

Update your preferred email for communication and contact number to help your followers to reach you.
5

Blog link

The app only allows you to update one external link in your account which is in your profile description. You cannot add clickable links to your post updates. In the beginning, update your blog website link.

Every time you publish a new blog and post an update about it on Instagram then remember to update the link of that particular blog in your profile. This will help followers land directly on the new blog and read it.

Carefully plug in all this information in your Instagram profile to optimize it for enhancing your blog reach through Instagram. Once you have activated the basic features of your profile you have to focus on increasing your engagement through more followers and likes.

The recipe for gaining a larger follower base on Instagram is through an effective content strategy.
---
Parameters which will help you in building a community of organic followers
Define Instagram Business goals
To make the network work for you, define measurable goals which include the number of posts to be published in a month, a number of stories to be shared in a month, videos to be made, etc.
It is important to hold yourself accountable for the achievement of these objectives.
Posting Schedule
Outline your posting schedule and strategy. Reports state that any brand/blog should post a minimum once a day and maximum thrice. Hence 1-3 posts a day. Also, the timing of a post plays a critical rule in its interaction numbers.
Posting for a domestic audience at 4 am and at midnight is not at all recommended. It does not look professional and most users are asleep.
Refer to Insights tool
Earlier in this blog, we had shared about the highly valuable Business Insights tool. Refer to its reports to understand in depth about your audience demographics, content appreciation, etc.
This will help you create meaningful content for your followers and develop your niche. Insights tool will also help define your posting schedule. You can also add third-party tools like HubSpot and Iconoshpere for more comprehensive data.
Collaborate with Influencers
Whether you write on travel, fashion, food, tech, etc there are established Influencers on Instagram. They have the following starting from a few thousand to millions of followers. Collaborate with them in a cross-promotion to reach out to their followers.
Their recommendations deeply influence the interests, preferences, and purchase decisions of their following. This will help build your profile as well.
Another term as popularised by Instagram. The symbol # with a word or phrase is a way of categorising content. Using the right mix of hashtags with your posts and stories helps your profile become discoverable. They can help you go viral. Hashtags
Create your own hashtags, mention trending topics in your hashtags, and those words which your relevant audience will search for. Ideally, every post should carry 11-14 hashtags.
You can use third-party tools as Hashtag Expert to identify optimal hashtags for your posts.
---
Quality content is the king on Instagram. As the platform is highly visual, the play of pictures, videos, hashtags, and captions define the engagement level of the audience.
As a blogger, you must have a well-drafted Instagram content strategy for your blog. Interact with your readers through a mix of interesting ways. It can offer you an invaluable window into the psychology of your followers. Remember that people are more likely to follow you if they like you.
You must make consistent efforts to create relevant, appealing, and interactive content to boost your blog reach.
Discount Coupons
FREE Pro Account worth $99.95 for 14 Days.
---