Top 5 WordPress Plugins for Google Adsense
Last Updated by Shikha Sharma 06-Sep-19
Hello!!
Have you ever imagined how profitable a WordPress Plugin for Google AdSense can be?
Well, if not, then I will tell you today about WordPress Plugin for Google AdSense in my blog.
What can be more annoying than not getting profit from your passion?
I can say this because when I started my WordPress Website, I was not satisfied with my income from the same.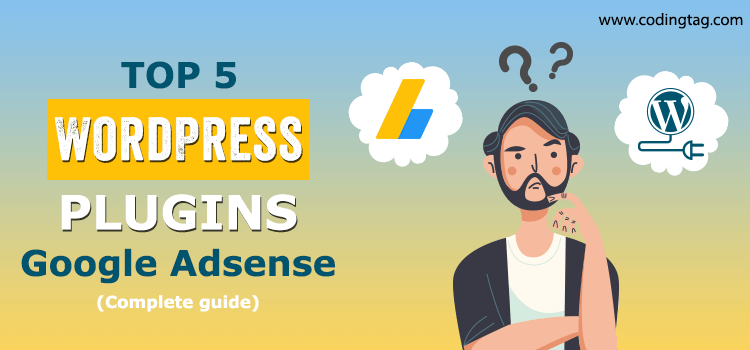 Believe me, I really read a lot about it and after 4.5 years, the idea just popped up in my mind to write this blog for you on Top 5 WordPress Plugin for Google AdSense to reduce your workload.
After analyzing so many things, I have tried to gather the Top 5 WordPress Plugins for Google AdSense. It will help you to monetize your website
Note: Before proceeding, make sure you know the basics of WordPress Plugins. Even if you don't, you can learn Wordpress online.
Just for your ease, I have kept it very simple. You will easily understand it. In case you don't, do let me know, I will try to improve.
Let's not directly jump to the top list of Google AdSense and let us know the concept of AdSense first. You know I gained a lot of benefits from this. If you use Google AdSense for your website, you will get the right ad for your targeted audience.
With Google AdSense, you can block the ads you don't like, opt for the best-suited one for your website, and so on. Now, I would recommend you to read this blog.
The reason behind this is, if you will go and search for the list, you will be bounded with tons of AdSense plugin options. Ultimately, you will be confused and nothing else!
So to save you time, you can read my list of top 5 WordPress Plugins for Google AdSense. I hope you are now clear about the importance of WordPress Plugin for Google AdSense.
Let's see now which 5 Google AdSense Plugins is at the top list:
01 = Ad Inserter
02 = AdSense Plugin WP QUADS
03 = WP in Post Ads
04 = Advanced Ads
05 = Quick Adsense
---
1

Ad Inserter (Insert Ads at the most suitable price)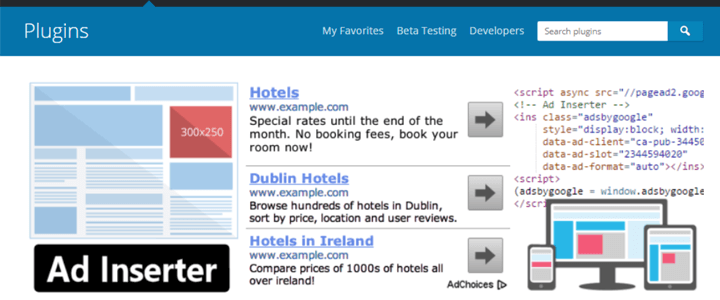 I know it sounds very simple but, trust me, it is one of the very powerful and jam-packed WordPress ad management plugins. This plugin has the advanced features that will let you embed ads in your most favourable place.
Plus, the icing on the cake is, it is free to use and supports different kinds of ads. Moreover, it is also compatible to work with the Amazon Native Shopping Ads.
Isn't it amazing?
In fact, it also supports the features of inserting AMS ads, opt-in forms, and many more. This WordPress plugin comes with built-in ad tracking, and analytics and also extensively supports HTML, PHP, CSS, and JavaScript.
Not only this, but the plugin also allows you to place the ads anywhere on the site by advertising the code.
To download, you can click on the link below:
Advanced Ads - Ad Manager & AdSense
---
2

AdSense Plugin WP QUADS (inheritor of Quick AdSense Plugin)

AdSense Plugin WP QUADS is another most powerful and jam-packed Google AdSense plugin for WordPress. Probably, you have heard about the success of the Quick AdSense plugin that used to influence the market earlier.
So, WP QUADS can be stated as the inheritor of the Quick AdSense plugin.
With the help of WP QUADS, you can efficiently transfer all your settings and data from the earlier version to the latest versions without any trouble. This plugin not only supports AMP (Accelerated Mobile Pages) ads but also carries an option where you can deactivate any ad on a particular device.
Moreover, you will also get an option where you can insert an ad randomly anywhere in your post.
I am sure you will use this plugin. And why not if you are getting the option of inserting ads randomly. Right?
Also, you can download this plugin with the link given below:
---
3

WP in Post Ads (put your ad according to your post)

Moving ahead with the list, WP in Post Ads Plugin is a tremendous ad management system for your website. This plugin has a great feature that allows you to make your ad visible easily and effectively at a strategic location such as at the top of the post, in the end, within the paragraphs or after few paragraphs; it is all up to you.
You can put your ad according to your post. Moreover, you can also hide your ad for after a specific time.
Besides, you can also get an option where you will be permitted to experiment and check out for the most perfect location where you can get the maximum performance of your ad.
You can check the link given to download this:
---
4

Advanced Ads (AdSense Violation Checks)

This is another WordPress plugin with exciting features. It is one of the highly ranked Plugins. It not only works with Google AdSense but is also compatible with several types of networks and ads.
Most importantly, this plugin has a feature of AdSense violation checks which will help you to display your ads on the pages that have no policy violations.
You can download this plugin from the link mentioned below:
---
5

Quick AdSense (quickly insert ads or codes into your website)
You might guess about this plugin with its name. Quick AdSense permits you to quickly insert ads or codes into your website. It is easy to use plugin which consists of a simple user interface. The modification panel is also very simple where anyone can easily do the customization without getting confused.
With this WordPress plugin, you can place up to 10 different ads on your website at random places or at your sidebar widget, as preferred. The best part is, the plugin is not just limited to AdSense but is also supported by various other ad portals.
The overall verdict is, if you want a simple-to-use plugin with an intuitive interface and freedom of placing ads, you must get this plugin.
You can download this plugin from the link mentioned below:
---
Conclusion:
At last, this was all about the Top 5 WordPress Plugin for Google AdSense. In case you think I might have missed any point, please comment below and help me to improve.
You can also read my blogs on several other WordPress topics on this website.
If you want me to write on any other topic, you can mention that too in your comment
Discount Coupons
FREE Pro Account worth $99.95 for 14 Days.
---