Why WordPress is the best platform for Blogging?
If you are one of those people who are planning to start a blog soon, you are in the right place.
Are you a beginner?
Here are some tips and tricks to becoming a successful blogger and now that you have decided to start writing and publishing a blog, get a run through these checkpoints for blog publishing.
But before you ponder over the topics you will be writing on, you need to choose a blogging platform that will help you publish all your blogs. It's tough to find out which blogging platform is right for you since there are several different ones and starting with a wrong platform would be an earnest mistake.
We understand that deciding on a blogging platform is not an easy task, which is why we are here to help!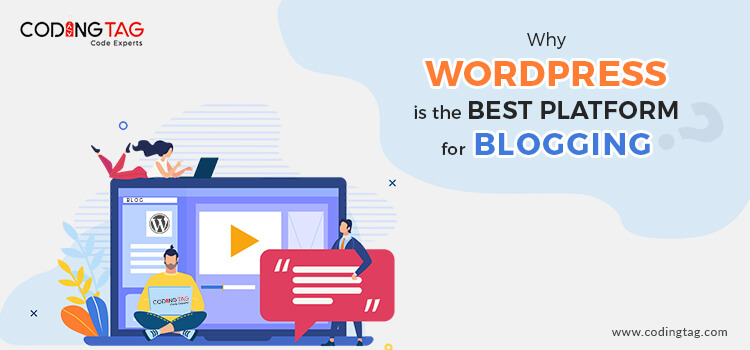 If you look at a study conducted in 2019, 35% of users on the web use WordPress to publish blogs and create websites online.
The reason that WordPress is topping the list since 2003 is that it is simple to set-up, is user-friendly and does not require coding skills. So, if you are eyeing something that is easy to use, will be flexible to your growing blogging needs in the future, and has incredible features WordPress is a perfect choice.
Here are some key reasons why WordPress is a perfect fit for your blogging needs
1

Open Source Software

In simple words, it means that WordPress is free software. Anybody and everybody can use it to publish their blogs online within minutes, without paying a single penny!

Isn't that great?

But, if you are looking to have your domain name, you have to self-host your blog with BlueHost for which there is a small cost involved.

So, if you are just starting out, it is highly recommended that you start with a free account which means that you would get a domain name such as domain_name.wordpress.com. This would buy you time to familiarize yourself with the software and reduce costs in the inception phase.

Although other blogging platforms are open source as well but do not provide enough flexibility as WordPress. Let us look at some other features to gain an understanding of why WordPress is better than other blogging platforms.
---
2

Easy to use

Blogging platforms like Blogger and Tumblr are known to be the easiest blogging services but offer limited features and do not even come close to how effective a content management system WordPress is.

"How do I start my own blog, when I don't know coding?" is a question potential bloggers often ask me.

My simple answer is "Install WordPress".

With WordPress you can create any type of blog or website you want with the flexibility of formatting posts and pages, inserting relevant media, and making your blog live with just a few clicks.
---
3

Lots of designs and Plugins

Once you have written the blog, the next step is to publish it which makes designing the primary concern. With WordPress, there are two ways that you can select a design, either by choosing one from the built-in theme directory or hundreds of themes from the paid marketplace. Either way, you can create an attractive website or blog according to your own needs and choices with only a few clicks.

The best part is that these themes are customizable and can be personalized according to your taste and requirements. For instance, each theme has settings that can modify the layout, menus, and basic visual elements.

Food, Travel, Digital Marketing, Beauty, and Fashion, you name it and there are themes for everything that will make your blog stand out amongst the crowd.

In addition to this, WordPress offers the largest directory of plugins i.e. WordPress SEO Plugins, WordPress Gallery Plugins, WordPress Plugins for Google AdSense, that is free to use.

And if you are an advanced coder you're in luck, since WordPress allows you to add and create your own plugins.
---
4

Search Engine Optimized

WordPress is not just search engine friendly, it generates and follows the Search Engine Optimization (SEO) best practices. It comes with several built-in search engine optimization tools that can be enhanced by third-party plugins and hacks.

For a starter, it is important to understand that this is not it. To maintain optimal search engine friendliness you need to make sure that your content is relevant to the target audience.

This can be done by including important keywords (phrases and words that people are most likely to search for if they are looking for the topic you are publishing).

For example, 'How to make lasagna in quick easy steps?' is a heading that would strike immediately with the Search engine spiders and crawlers.

The reason behind this is that at the end of the day the look and feel of your blog wouldn't play a role in generating traffic, but quality word content would.

If you think your blog is a photograph or picture heavy, there is a solution for that as well. You can do this by simply writing appropriate descriptions; in addition to this, you can insert textual content in links and image tags.
---
5

WordPress Support

One of the greatest advantages of WordPress is that it has an amazing level of support be it their support team, forums, documents, and WordPress community.

WordPress support explains everything in detail, making it simple and comprehensive for a beginner to create a profile and start using it to create a beautiful blog site. All you have to do is search for their support directory or just type keywords to read a FAQ document.

From creating a user profile, managing plugins to restoring your database from Backup, WordPress has answers to all your queries and doubts.

Furthermore, there are lots of videos and blogs over the internet along with the inherent support system that WordPress offers to help you build your blog or site from scratch.
---
WordPress may sound like the perfect choice for beginners who are looking to build a great blog in a short period because it barely has any stumbling blocks. Since it is easy to learn and use bloggers can invest more time in writing quality content rather than worrying about coding and being non-tech savvy.
We would love to hear your opinion on other blogging platforms that you are using and would love to get your feedback and questions/comments regarding this Blog on 'Why WordPress is the best platform for blogging?'
If anyone of you has just started Blogging, or are seasoned Bloggers, you are welcome to share your ideas here as well.
Also, keep sharing our Blogs with others as well, so that they too can benefit from it and become successful Bloggers
Discount Coupons
FREE Pro Account worth $99.95 for 14 Days.
---