Benefits of opting for Business Analytics in MBA
The Master of Business Administration is one of the most sought-after programs by graduates in any field because it contributes to growing the career trajectory limitlessly.
Benefits of opting for Business Analytics in MBA
Business Analytics in MBA is the buzzword that has been all over the contemporary market. Top universities in India offer a course that is a unique combination of an MBA with a specialization in business analytics. In this article, we have curated the necessary information regarding the benefits of choosing an MBA in business analytics. Read ahead to find out how it can benefit you in upscaling your career graph. Let us first get introduced to business analytics.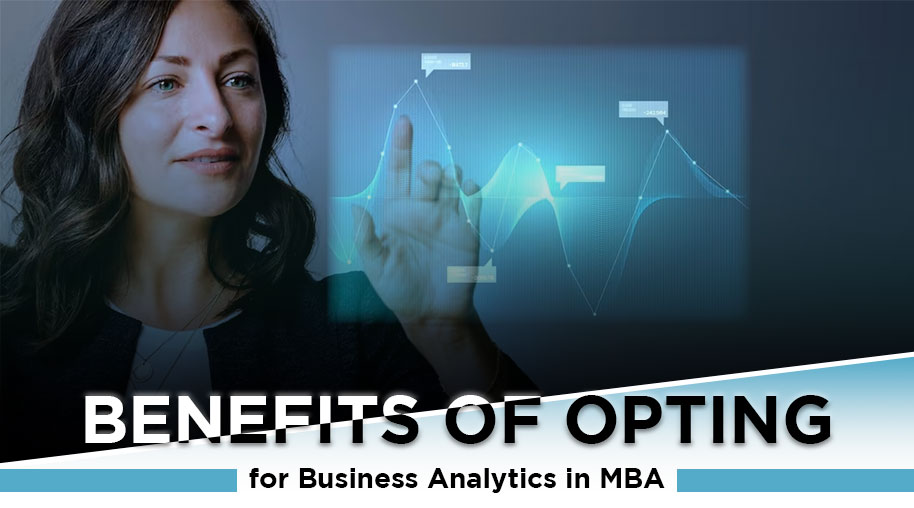 Business analytics refers to the study of data through operational and statistical analysis that requires technical skills to work with data using various tools, technology, and methods.
An MBA in business analytics is an amalgamation of science, arts, and technology that has led the modern technological world by providing results that assist in making strategic and data-driven business decisions. Hence, pursuing an MBA in business analytics can provide you with a remunerative career.
Here are the benefits of choosing an MBA in business analytics from India's top university.
Opportunities to make a global career:

Business analytics is high in demand globally. Thus, the need for well-qualified and skilled data analysts has been increasing at an accelerating rate. The leading national and multinational corporations hire business analysts for their valuable skills to help the companies grow and make a profit.

---

Interactions with professionals that can ensure strong networking:

Howsoever technical the business may get; it requires daily interaction from diverse professionals from across the fields. This course can give you a chance to enhance your interactions and communication skills that can help you immensely in a professional work setting.

You can also increase your networking through seminars, live projects, industrial visits, and insightful internships during the academic program. These networks are precious and can prove to be very useful in a professional career.

---

Get a chance to explore the emerging field that may have tons of untapped opportunities:

It is a relatively new field that is still emerging and evolving with various technological advancements. Thus, this field creates a lot of room to explore the untapped potential and opportunities that are still left to be discovered.

Having a professional degree can help you explore these opportunities to make the most out of them to grow in your career.

---

Work at the heart of trending job opportunities:

The constant rise in demand for business analytics has ensured job security for the students who invest their valuable time and money over a course that makes them experts in the field.

With an MBA degree in hand, you can get the chance to be in the centre of the trending job roles globally. This degree may pave your way to a successful and ever-lasting career with a good salary and higher growth potential.

---

To create and develop more innovative strategies to offer the business organizations effective and efficient solutions:
The modern business environment has its challenges that demand quick and efficient solutions to ensure the smooth commencement of business even in the long run.
Business analytics graduates use various strategies to enhance business growth, and thus, they are becoming central to the firms that are flouring. Strategic and data-driven business decision-making can help the company take the right step with utmost accuracy.
Hone the most in-demand skills to enter the business analytics profession with ease and competency. Sign in to know more about the MBA in business analytics program!
Discount Coupons