Check points for Blog Publishing
In my previous blog, I have explained to you my Tips and Tricks to becoming a successful blogger. And I hope it has helped you towards your first steps into the world of Blogging.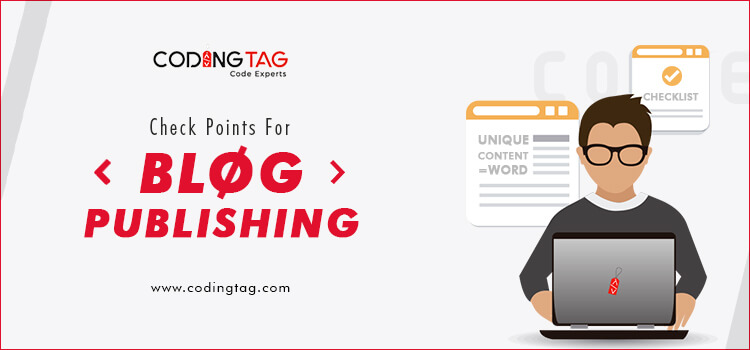 In this blog, I'm going to discuss with you a few of the main checkpoints for Blog publishing. These points will help You in making sure that your Blog is accurate and covers all the areas for a successful Blog.
1

Meta Title

Every page on the web is read as an HTML. When you search for a particular topic, your browser reads and directs you to a list of the search results.

A Meta Title refers to the head section of the HTML document search that defines the title of a page. It is an important part of Google to judge the relevance of a website for a particular search.

Keywords that are used in the Meta title are of high importance for the ranking of webpages. And that's why having the correct Meta title is of extreme importance.

An important factor while writing in your Meta title is that the wording and content of it should be accurate and according to your subject matter. Google or any other search engine will direct the user as per what he/she has typed into the search.

Recommended: 60 Characters for Meta Title

The search engine will display to the user all the relevant sites for the search, and your page should also be on the list. Another factor to remember is that your Meta title should use only 60 characters or less. Exceeding this number will lead to a cut off by Google.

When it comes to the content that you can fit into 60 characters, you would want to fill as much relevant information as you can. But with a limited supply of space, you will need to be very decisive. Combine words into a meaningful sentence and avoid just attaching words with each other.

Always remember that the most important keyword should always come first, as Google or any other search engine attaches immense importance to the first word of the title.

Avoid words that are repetitions, words that do not provide any kind of information, and take care of spelling mistakes. Your Meta title should be appealing to the reader and informative enough to give enough information about your webpage.

If no Meta title is assigned or if it's not informative enough, you run a risk of Google automatically creating a title for your page and that's not good news for you of your webpage.
---
2

Meta Description

A Meta description is the element in the HTML of a web page. It provides a brief description of the content of the page. Just as a Meta title, the Meta description should be accurate and to the point. It should give enough and relevant information to the reader, with regard to your webpage.

With the added advantage of being able to use a maximum of 160 characters, you can create an eye-catching Meta description. You can also use symbols within the description to make it more presentable.

Recommended: 160 Characters for Meta Description

Google or any other search engine, tends to push up a webpage that gets more clicks on it.

A good Meta description is a key to get more clicks and views for your webpage, which in turn will push your webpage up the ladder.
---
3

Meta Keywords

Meta Keywords are a type of HTML tag that is used in the background of a webpage, to communicate information about that particular page to different search engine crawlers. Using the correct keywords is the key to making sure that your webpage reaches the correct audiences.

Example:

If your selling Spoons, try not to use keywords like "Cutlery" or "Kitchen Accessories", etc. In fact, I would suggest using "Spoon" as your keyword, because a person looking for spoons online is more likely to start their search with the very same name as the item they are looking for.
---
4

Canonical (URL)

Search engines have a problem called Duplicate Content. Duplicate content means similar content appears in various locations on the web. And because of this, the search engines don't know which URL to show in a search result. Due to this the original content (URL) is also not shown.

A Canonical link is an HTML element that is used to prevent duplicate content issues while searching for a particular subject. The canonical tag is found attached in the HTML header of a webpage.

As such any URL carrying the tag rel="canonical" means that it's not the original URL for that particular search and hence the search engine should disregard it. At the same time, another URL carrying the same or almost the same address but without the canonical tag will be considered as the original and shown as a result.

It sounds more complicated than it is, but trust me it's not. This tag is important in keeping your original URL as the original one.
---
5

Internal Link

An internal link is when you add a hyperlink to link one page of your website to another page on the same website. Strategic internal linking is a powerful technique, especially in content marketing. Creating Internal Links is not complicated or difficult to do.

The main thing to remember is that in order to have Internal Links, you will have to write more content for it. Because each link will open to another page, which also needs to be relevant to the topic at hand. You can add Follow us as an Internal Link.

Internal Links is also a very effective way of keeping your audiences focused on your blog and make them spend as much time as possible on it.
---
6

Social Sharing Features

You have put and continue to put a lot of effort and energy into creating your Blogs. Content is the heart and soul of your Blog, and you need to promote it to maximize its reach.

I have stressed this point previously also, within each and every blog or webpage you need to add your Social Media features too.

This enables the audience to view your pages on other platforms as well, thus creating more visibility for you and your Blog.
---
7

Similar Blogs (Category, Sub-Category, Titles)

How do you keep your audience to stay longer on your Blog? After all, the more time they spend reading your blog, the more they going to keep coming back and if you selling a product, they would be more inclined to buy from you.

Here is a very good tip that I want to share with you. If your blog is about a certain subject, make sure to add a new category that highlights a different feature related to your subject. Within that, add a few more sub-categories highlighting different features of the new category.

Example:

If your blog is about a Clothing Apparel business. You can add 3 categories in there. Men's clothing, Women's clothing, Children's clothing. Furthermore, you can add more subcategories to the categories too. Under Women - Dresses, Handbags, Makeup, etc. Under Men - Suits, Shirts, Shoes, etc.

What you achieve here is that you keep your audience occupied in your Blog and at the same time provide them with every bit of information regarding the topic of your blog. Also, they end up buying from you.
---
8

Notes / Tips (Suggestions)

At the end of every blog, you need to ask your audience for their tips and suggestions about it. Encourage them to interact with you, this will build a sense of trust, with your audience which is extremely necessary.

This also generates more visits on your Blog and you will receive accurate feedback, which in turn will help in improving your future Blogs.
---
9

External Links with NoFollow

If you care about the performance of your website link in search engines, then the rel="nofollow" tag is very important to understand. The Nofollow tag was put into place so as to allow the search engines to pass over certain links that are irrelevant to your website or webpage. These links could be either paid sites or just plain spam.

For example, if you're a Blogger, you might be familiar with people trying to raise their own website rankings by submitting linked blog/website comments on your Blogs, like "Visit my abcd site, for a free trial". This is called Comment Spam and as such, they are tagged as rel=nofollow in their hyperlinks. This is only to make sure that spammers don't get any benefit from abusing public areas like blog commenting, etc.

It is possible to nofollow every link or certain links on your website.

Nowadays, WordPress and many other CMS (Content Management System) applications add the nofollow tag to comment links by default.
---
10

URL

Your website URL works as your address on the web. If you are not familiar with the term, the URL is the address that starts with either WWW or HTTP. What your URL looks like is extremely important.

Always make sure that your URL is straight forward and simple to understand. The name should be easy to read and understand and make sure that if possible, to add your main target keyword or phrase into your URL.

Recommended: Domain Length 9-10 Characters

Avoid using special characters into your URL and if needed use hyphen sign instead of the underscore. Also, avoid the use of capital letters and make sure its SEO friendly.
---
11

Images (Header Section) and Featured Image (for Social Sharing)

A Blog will need to have 2 types of images in it.

The first one is the Cover Image. A cover image is a wide-based image used as a cover photo for a new section in a Blog post. It is a part of the overall article and used when you start a new section in the same article.

The cover image basically is used to describe the new article that you are publishing.

The second one is the Featured Image. The featured image is the main article image which should represent the content of the Blog. This image will be displayed on your Blog, Website, and on your Social Media feed when the article is shared.

The success of getting more people to read your Blog depends highly on the featured image. Hence making this image look attractive and stand out, should be done carefully, as one look at this image should give the people an understanding of your basic content and entice them to read the article.
---
12

Author Profile

As a Blogger, it is important that your audience knows who you are. You are opening up to them and inviting them to experience your thoughts and read your ideas.

Your audience interacts with you through the comments and suggestions link in your Blog. At the same time, you need to post a profile of yourself and give a brief introduction and description of yourself, your experiences, your ideas, etc.

Also, add an unscripted picture of yourself. Your audience needs to see who is conversing with them. Once your audience gets to know you better, it'll only strengthen the mutual bond and make your Blog more popular.
---
13

Comments Request

Connecting with your audience is very important and as I mentioned earlier also, getting feedback is a very useful tool for this. Not only do you get to know how your blog is performing, but also what improvements you need to do (if any).

As such always make sure that you have at the end of your blog a highlighted section asking for people to leave their Comments / Suggestions for your Blog.
---
14

CTA (Call to Action)

CTA as the name suggests is a marketing term designed to prompt an immediate response. Bloggers have been using CTAs in their Blogs as well as in their internal link sites.

If you are selling a product through your Blog/Site, you can embed a "BUY NOW", "SPECIAL DISCOUNT", "FREE TRIAL", "DEMO" CTA.

If you want people to subscribe to your E-Book or YouTube Channel, you can embed a "SUBSCRIBE NOW" CTA. This feature is beneficial in boosting your sales and captures the audience's attention towards your advertisements.
---
15

Update Content Regularly

One thing that I have been repeating constantly, is that you need to keep your Blog content updated on a regular basis. You will definitely have comments and suggestions being posted on your blog every day. Keeping it updated and answering all kinds of queries helps to keep your Blog fresh.

These are a few checkpoints, that according to me are important before you start Blogging. It would seem a bit complicated initially, but once you start, you will get the hang of it.

These 15 points are the key points to follow in order to make sure that your foundations for Blogging are secured and in place.
---
I would love to get your feedback and questions/comments on my list of Checkpoints for Blogging.
If anyone of you have just started Blogging, or are seasoned Bloggers, you are welcome to share your ideas here as well.
Also, keep sharing our Blogs with others as well, so that they too can benefit from it and become successful Bloggers.
Happy Blogging!
Discount Coupons