Tips for sharing your Blog on Social Media
Blogging is an activity that requires commitment, creativity, and discipline. Many bloggers start out with writing about their passions and hobbies. Over time when the reach and target audience of their blog grows, do bloggers begin to consider it as a profession and a way to generate passive income.
As a blogger, just publishing a blog on your website is not enough, you must have a holistic approach to reach out to a wider audience.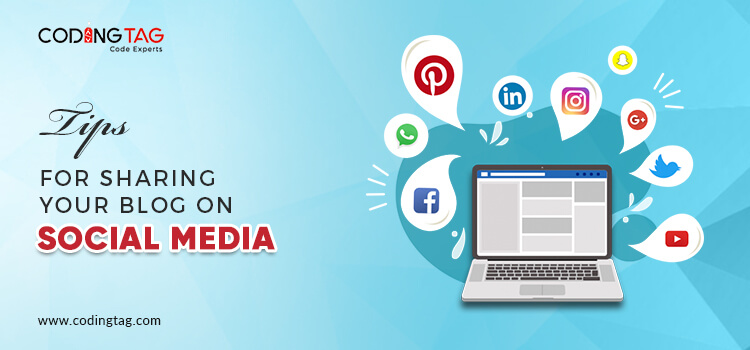 Social media platforms are highly effective in building a community of loyal and engaged readers. The efficacy also comes in from the fact that all the content posted on these networks is user-generated.
Social Media Platforms relevant for Sharing Blogs
The most popular social media platforms to share your blogs and be discovered by a larger audience are
Facebook - statistically
Facebook has the highest number of social media users globally. As of April 2020, 280 million people in the USA are on Facebook, making it the largest in number. This is followed by the USA with 190 million users.
Content on Facebook is consumed as images, blog links, and videos.
---
Instagram - off lately
Instagram is emerging as the preferred social media platform. USA ranks at the number one position with 120 million users, followed closely by India at 88 million, as of April 2020.
User-generated content on Instagram is primarily through attractive and vivid images and short videos.
---
Twitter
Twitter - the microblogging platform is highly popular with celebrities and brands alike the world over. April 2020 data shows that the USA has over 64 million Twitter, followed with a gap by Saudi Arabia with 15 million users.
India has 13.5 million users. Content called as 'tweets' is primarily in the form of text (maximum permissible length - 340 characters) and images.
---
LinkedIn
LinkedIn - a professional network, it is preferred by recruiters, job seekers, and entrepreneurs. The USA tops the chart with 160 million users as in April 2020. India has 65 million users.
Profiles on the platform are professional and members share articles, industry updates, and news.
---
Studies show that users spend over an hour daily browsing through content on social media platforms. Over the last decade, the platforms have become a part of our daily routines.
Considering the average time spent by users along with the millions of people on them, you must keep in mind their sheer power in building reach and engagement for your blog.
---
Quick tips to remember when posting on your blog on social media
1

Regularly share blogs on social media:

Make it a practice to post your blog on various platforms as soon as it is published on your website. This will attract the audience in different ways to your website and help you further build engaging content. It is also important to update blogs published earlier as well and share them again on social media.

Ideally, every blog should be shared twice across different media, once being when originally published. The content should also be repurposed from time to time to keep it relevant and the update should be posted on social media.

You must stay aware of news and trends that impact your blog topics. This way whenever there is an event associated with your content you should post your blog link to build credibility with your readers and their circle.
---
2

Follow the format of each platform:

All the platforms have their unique way of presenting user-generated content. Your goal is to be discoverable to new audience groups every time you post updates. Each of the platforms has its own manner in which content is presented. There are different permutations and combinations regarding the use of photos, videos, hashtags, text characters and length, tone of a caption, etc.

E.g. Instagram users rely heavily on attractive, colorful, and well-styled photos for catching the attention of viewers. Use the best photographs to promote a newly published blog on Instagram. Quotes and memes have a high viewership & engagement value on Instagram as well.

The critical thing is that the image should not be text-heavy. It should have little or no text at all. You also cannot post your blog link in your post caption as it only captures text format. Mention in the caption 'link in bio' and update the blog link in your profile bio.

On Facebook, video content has gained popularity with over 8 billion videos viewed per day. It is a good idea to create a video strategy and convert images from your blog into a video or put a GIF to increase the click rate and traffic from Facebook. When you post a blog status on Facebook, the link appears with the cover photo/video preview of the blog, so ensure that the cover photo is most relevant to the blog.

Twitter is a great way of making your content viral. Posts are updated as tweets that have a 340 character limit. Use images, GIFs, infographics, thumbnails of videos along with authentic, exciting headlines to get followers to click on your link. Also, twitter will convert your URL to under 23 characters in line with its short length content form.

LinkedIn is a network for the global professional community. All updates have to be crisp and professional as your LinkedIn activities directly impact your personal hiring opportunities and the brand image of your organization. Your blog can be shared as an article or post. Articles are like blogs that you write on LinkedIn with the platform's in-built editing tools.

When you attach an external link in your update, LinkedIn qualifies it as a 'post'. Your blog should be ideally uploaded as a post so that viewers can be directed to your blog website.
---
3

Well thought out captions:

A thumb rule for sharing blog links on social media is that the link should never be shared alone. Attach pictures/videos relevant to the subject matter. Make sure to write a few lines of description to get viewers interested in clicking on the blog.

Ideally, the caption should be between 2 to 3 lines. The caption should be well-thought-out and search optimized. Think of the content that would interest your viewers and help build a community.

E.g. if you run a cookery blog and have written a blog making dal makhni then caption should highlight 'Here is your guide to making delicious dal makhni at home in 30 minutes. The recipe uses simple ingredients found in your kitchen to make healthy and tasty dal.'

If you blog about global affairs and you have written about the latest updates on COVID-19 impact on businesses then the caption can be 'Wondering how lockdown is going to impact the future of your organization? This blog covers industry trends, market sentiments, and all the updates you need to know.'

Literally put, a caption is a way of capturing the essence of your detailed content. Your aim has to be to entice viewers to click on the link and read the full blog on your website.

Use simple language and word it in a way as to present a solution to viewers.
---
4

Hashtags (#):

Digital media has popularised the # symbol for posting content. Hashtags are a way to categorize content from across profiles under one thread. They are commonly used to highlight globally trending topics. They are also used to segment the relevant or highly searched topics. People search hashtags and using the correct mix hashtags while sharing your blog update can help new audiences discover you.

Hashtags are like keywords and it is imperative for you to have a strategy for the same as they can be a part of your posts on all social media networks.

E.g. if you are a travel blogger and have written about your trip to Kerala make sure to mention relevant and popular hashtags as #indiantravelblogger #incredibleindia #indiantourism #keralatourism #godsowncountry etc. People searching for information on planning a trip to Kerala will most likely be interested in these keywords.

You can also create your own hashtags, one being the name of your blog. Just start with # and add the text of your choice to it.

Be careful to not keep it too long.

If you blog about Indian crafts then you can use associated hashtags as #makeinindia #indianhandicrafts #craftsofinstagram #indianartisans etc. Incorporate currently trending hashtags as #vocalforlocal to make your content more viral and discoverable.

Restrict the number of hashtags between 11-14 per post. Make sure to definitely use them when posting on Instagram and Twitter.
---
5

Story Updates:

One very popular tool on Instagram & Facebook is the Story feature. It is used to post photos, videos, content that disappears in 24 hours. It is preferred by individuals and brands to share everyday activities. 1/3 stories viewed are of brands.

The best part of this feature is visibility. Story updates appear on the top panel of the social media platform homepage, making viewing higher. When you post your blog link, you can update your story in the following ways to increase reach-
Inform people that you have uploaded a blog. This will help reach out to people who might have missed your post update in their feed.
Repost Stories and screenshots of people who have read your blog and tagged you. This builds credibility with other readers.
Conduct a poll on the feedback of your latest blog post, the next topic you should write about, views on trending topics, etc.
Put up a countdown to build excitement for your next blog post.
Stories receive a lot of attention and visibility. Optimize your reach through this feature by adding hashtags, location tags, tag relevant people, etc.
You can host a Live Story as well and connect with viewers to share your views live and answer all the questions. This feature helps you humanize your blog and connect with the audience in a deep and meaningful way.
---
6

Build engagement:

Social media platforms are ideal for engagement. Grab attention and engage the audience by announcing giveaways. Leverage their network by encouraging them to share your blog on their profile. This will help you tap into their connections as well. Excite your followers through contests asking them to share your content or create their own content.

E.g. If you write a photography blog, you can give a topic like summer flowers to your followers. Ask them to click a beautiful shot, upload it, tag your page, and use your hashtag. In exchange for a simple giveaway gift, they will post about your profile getting you access to all their followers and friends.

If you have a recipe blog, motivate your followers to try your recipes at home and send you a picture. You must repost and share their post. This makes them connect with your blog more and they will in turn post it in their social media profile thank you for mentioning them.

A simple activity like this will make you visible to their network and grow your following.
---
Your goal as a blogger is to increase your website traffic and reach out to a larger audience. Leveraging the power of social media, through the tips shared above can be a highly effective tool in building your community of followers and creating valuable content for them. Get creative and innovative when following the tips shared in this blog to effectively increase your reach.
Please share your views, ideas, and feedback in the comment section below.
We look forward to answering any questions that you have on our topic
Do mention topics you would like us to write about so that we can help you along your journey in being a successful blogger.
Discount Coupons