Benefits of Newsletter for Bloggers
"There's nothing more important than having a personal connection with your audience."
Will Packer (American Film Producer)
Now that you have started Blogging and are well on your way to becoming a seasoned Blogger, it is important that you keep up with your audience/subscribers. In this blog, I'm going to continue from my previous Blogs on Blogging and tell you what a Newsletter is and why it is an important tool for every Blogger to have.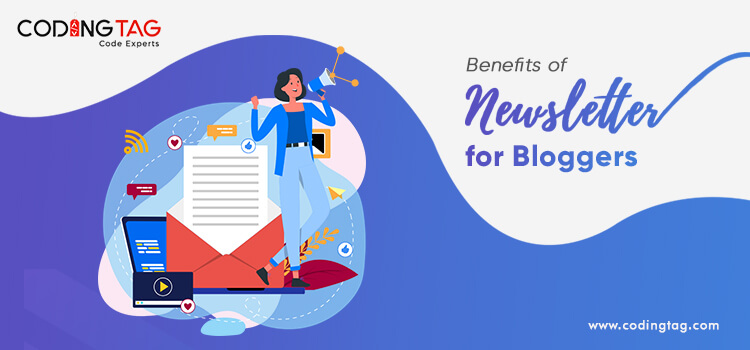 Your audience will leave comments, suggestions, reviews, questions, etc. for your Blogs. And you need to reply to all of them, no matter whatever the query is.
Replying to your audience's queries is an important feature of being a Blogger, and this helps them to build a sense of trust with you. At the same time, it helps you as a Blogger to understand the need of your audience and also get new ideas for other Blogs.
---
What is a Newsletter?
A Newsletter is a tool used to communicate with your audience, who subscriber to your Newsletter. You can interact with your audiences by sending them updates, information, as text or images via Email.
It becomes important that you get as many people as you can to subscribe to your Newsletter, and you need to keep advertising your Newsletter for more subscriptions.
---
Why should I use a Newsletter?
Typically, if a person likes your blog and finds it interesting, they will usually want to get more information for further updates, new blog information, promotions, etc. Having a Newsletter which keeps them informed of all this is important.
Once subscribed, they will be receiving all kinds of updates that you, as a Blogger have sent, in their Email Inbox. This saves you the time and energy in marketing your blog, as your subscribed audience will be receiving information on it.
---
How to optimize your Newsletter
Always make sure to have a "Subscribe to Newsletter" button embedded into your Blogs, and any other platform you use. Once people have subscribed, you'll have to make a time-table for when to send out your Newsletter to them. The frequency of sending your Newsletter is entirely up to you. However, try not to flood your audience with them.
Your Newsletter should contain new information, new products, updates, etc that you want to share with your subscribers. It should not be overly long, keep it informative and to the point. Remember, your sending out invitations for them to come and visit your primary page, be it your Blog page, Website page or FB page, etc., and as such be consistent in your writing.
Use graphics and images in your Newsletter to promote your product or brand. Your subscribers will read your Newsletter to get information pertaining to something new that will be available on your Blog, Website, FB page, etc..., as such it should be more informative and less like a sales pitch.
---
Connecting with your subscribers
The newsletter lets you connect with your audience/subscribers. An Email, personal contact number are things that are very personal to everyone and no one gives out this information very easily.
Therefore, if the person has subscribed to your Newsletter and has provided you with their email, this shows that they have built a trust with you. And they in turn will feel comfortable in referring your Blog to others, thus helping you to expand your audience.
---
Routing Traffic
Adding a link for your website and other social media pages, within your Newsletter, greatly enhances traffic to your other platforms. You can add links like "Visit my FB Page" or "Visit my Website" and attach the links for both the respective pages.
Thus, your audience is not only following your Blog but now they will follow you on FB and on your Website for new publications and updates also.
---
Drive your Sales
If you're into the process of selling some products online, or even if you're just telling your audiences to buy/subscribe to your E-books, etc, Newsletter is a very good tool for this process.
In the Newsletter, you can explain to them in detail the product you are selling and also provide them with images of the same. With the benefit of having a database of your audience, you can utilize it to your advantage.
---
Pick the right App
Many people still think that sending a Newsletter by just copying and pasting a list of the email address into the BCC box of your Compose Email, is the best way to send it out. But that's not so. This is an extremely time consuming and ineffective process. The main drawbacks are, it won't look professional at all, you won't be able to get any statistical report, you risk the danger of having it become a spam mail.
On the other hand, there are quite a few e-marketing tools and software's out there in the market for handling this kind of job, like Mailchimp, Moosend, SendinBlue, etc. Alternatively, you can also have your own customized software developed as well, which I personally feel is a very beneficial investment for any company.
The main benefits of using these software's are, it allows you to import your email database, you can make use of a lot of attractive Newsletter templets, this software sends out proper HTML e-newsletters that have a greater chance of being read.
---
It is important that you as a Blogger interact with your audience. In all my Blogs regarding Blogging, this is one thing that I've always stressed upon. Your interaction with your audience will benefit you more than them.
You'll be able to understand the pulse of your audience, understand what they like, what they don't, and come up with ideas on how to improve your Blog, etc. At the same time, it's also imperative that you keep your audience engaged every now and then. And by sending them Newsletters make this task easy for you.
I would love to get your feedback and questions/comments regarding this Blog on Benefits of Newsletter for Bloggers
Whether you're a seasoned Blogger or just started Blogging, you are welcome to share your ideas here as well.
Also, keep sharing our Blogs with others as well, so that they too can benefit from it and become successful Bloggers.
Discount Coupons