Best High Paying Affiliate Programs of 2023
Everyone is looking for a way to earn more online. Everybody loves a passive source of income and there is nothing better than waking up to a ton of money in your bank account. So, how can one do that?
Well, the answer is Affiliate programs. Every day tens of thousands of publishers around the world earn a hefty sum of money by partnering up with other companies via affiliate programs.
So, if you are also looking for a source to earn passive income then you are at the right place.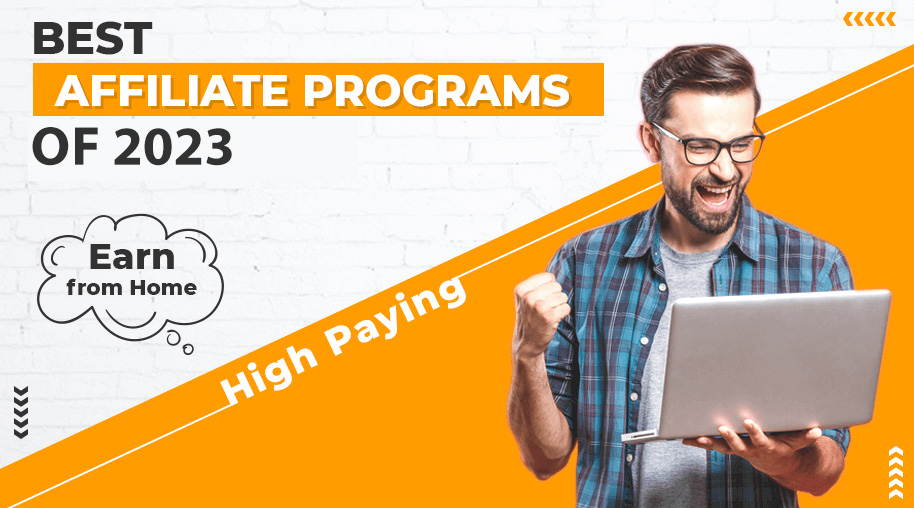 Today, we will discuss the top affiliate programs across all categories. Here, we are providing a list of affiliates that have the highest paying potential ensuring you get returns for your efforts. However, if you are new and doesn't have a website to make money with affiliate programs, you should get one.
7 Best Affiliate Programs of 2023
This list includes affiliate programs from various niches so, it doesn't matter what your niche is, we got you covered.
1
Fiverr
Fiverr is no doubt the best affiliate program across all niches. It is certainly the easiest to promote among all.
Fiverr has a few products that you can promote on your website or blogs including Fiverr, Fiverr Pro and Fiverr learn. Fiverr offers its affiliates a dashboard to help them manage and monitor campaigns. Furthermore, it also provides affiliates with some creative assets to promote their services. They also offer affiliates to promote individual gigs directly making it super easy for affiliates to promote anything.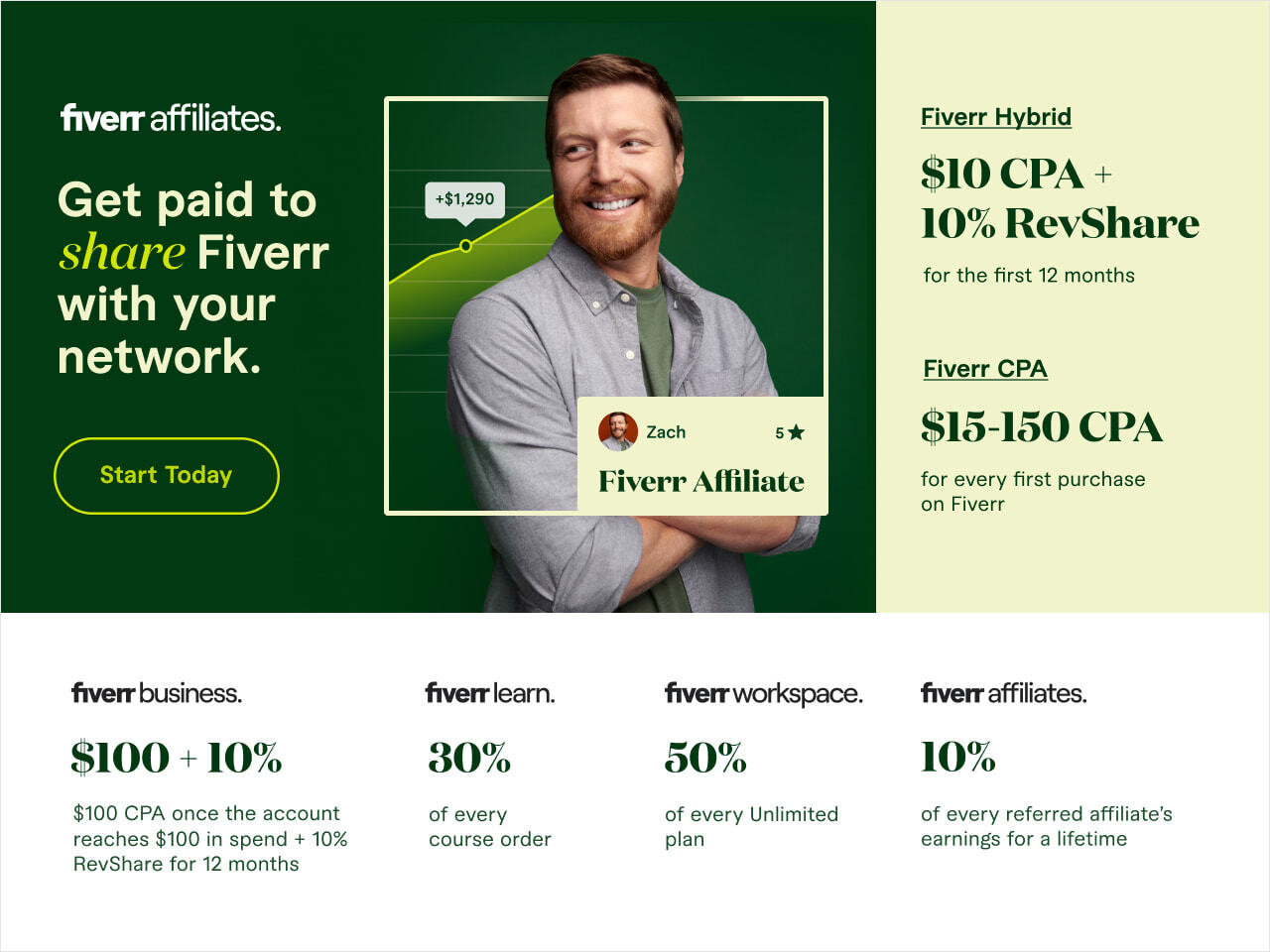 The commissions offered by Fiverr made from your affiliate link are just awesome, certainly one of the best in the affiliate market. Affiliates can earn up to $150 CPA for every first-time buyer or up to $1,000 per sale with their $10 CPA + 10% RevShare hybrid model.
What is Fiverr?

Fiverr is basically an online platform for freelancers to offer their services to customers worldwide. Generally speaking, Fiverr is a one-stop shop for all digital services. It provides a wide range of services from logo design, writing to programming, WordPress gigs, business services and much more, the options are endless.

The best thing about Fiverr affiliate program is that there are more than 250 categories and over 3 million digital services to choose from. You can select any category or any service you like and promote it to earn handsomely.

---

2

Bluehost

The Bluehost affiliate program is no doubt the most popular affiliate program currently. Bluehost affiliate is on top of every affiliate marketer list.

Bluehost has been the powerhouse of the industry with its exemplary services such as 24*7 support, free SSL certificate and free domain registration making it super easy to promote it. It is among the top paying affiliate programs in the market and the support its affiliate team provide is second to none.

The Bluehost affiliate program offers a huge payout starting from $65 for each qualified hosting plan sale. In addition to this, there is no limit on how much you can earn from it. You are allowed to refer as many new customers as possible providing a huge opportunity for a passive income stream. The possibilities with this affiliate program are endless.

On top of all this, Bluehost also offers very reliable tracking to ensure that affiliates get credit for every lead they provide.

What is Bluehost?

Bluehost is a web hosting company offering some of the best web hosting including options such as shared hosting, WordPress hosting, VPS hosting, cloud hosting, dedicated hosting and various other types of hosting and domain services.

The best thing about Bluehost affiliate is that the cost barrier is low but the commissions are high with their plans starting at $2.95/month and one-time payout up to $130. The only reason that it is not on top of this list is because of a few cons it has.

If you want to know more about Bluehost Affiliate Program, then click here!!

---

3

Hostinger

Hostinger offers another popular affiliate program providing at least 60% from every sale. Hostinger has a very lucrative affiliate program that pays a hefty commission for every successful sale.

If you are looking to generate some passive income from affiliate marketing, then the Hostinger affiliate program is an excellent choice for you. It is trusted by millions of affiliates worldwide and doesn't cost anything to sign up for its affiliate.

It also gives affiliates access to a ton of assets such as Banners, infographics, logos and much more. It also provides you with a personal affiliate account manager to track all activities and sales.

What is Hostinger?

Hostinger is a versatile web hosting provider and internet domain registrar. It is one of the best shared and cloud hosting providers out there.

The best thing about the Hostinger affiliate program is that their small business and WordPress plans always have a 90% discount which makes it very easy to promote.

---

4

Envato Elements

Just like Fiverr, Envato also provides affiliates with various options to promote and pays very well for every referral. It provides a gross 30% commission of the referral which is pretty high. In addition to this, Envato has 3 different affiliate programs: Envato Market Affiliate Program, Envato Elements Affiliate Program and Placeit Affiliate Program.

With millions of items sold every year, its affiliate program is worth joining. Envato is also very popular among various communities making it worth investing your time. In addition to this, to help its affiliates Envato also grants access to high performing banners and a dashboard to monitor your earning and sales.

What is Envato Elements?

Envato Elements is a service that provides unlimited downloads for thousands of digital assets. It is a part of the Envato market platform that features a large collection of hand-selected digital assets ranging from WordPress themes to graphic designs. Envato is not just a single marketplace, it consists of 7 marketplaces.

The best thing about Envato Affiliate is that it offers a wide range of services one can choose to promote.

Learn more about Envato Elements by clicking here!!

---

5

NordVPN

NordVPN offers affiliates plenty of marketing materials and a 40% commission rate on every sale. Every affiliate is also provided with a dedicated affiliate manager to guide them making the NordVPN affiliate program a top affiliate program in the world.

The NordVPN affiliate program provides its affiliates with a comprehensive dashboard that lets affiliates track engagement in real-time. An affiliate also gets complete transparency and control over their marketing efforts to know how their prospects are engaging with affiliate links.

NordVPN also notifies its affiliates whenever a transaction is generated from their referral link.

What is PureVPN?

As the name suggests, it is a VPN service that helps you protect your privacy by routing all your internet traffic through a remote server. It is one of the most loved VPNs in the world and is operational worldwide.

The best thing about PureVPN has useful features for users and attractive offers for affiliate marketers.

---

6

SEMrush

Another very popular affiliate program is provided by SEMrush. SEMrush is the most popular marketing toolkit giving access to more than 40 tools from keyword research to competitor analysis, site audits, etc. and is used by more than 7 million people worldwide.

SEMrush offers one of the best affiliate programs. Its affiliate program is known as BeRush affiliate program helps you promote its SEO tool and earn a hefty sum for every sale generated from your referral. One should definitely try using SEMrush SEO tool before enrolling in their affiliate program to understand all its pros and cons.

What is SEMrush?

SEMrush is an all-in-one tool for improving and discovering marketing insights helping websites to get a competitive advantage to grow their online visibility. It is often used for keyword research and online ranking data, including metrics such as search volume and cost per click (CPC).

The best thing about SEMrush Affiliate program is that it is a recurring commission based program and completely free to join. They pay $200 for every new sale, $10 for every new trial and $0.01 for every new sign-up.

---

7

Ezoic

The Ezoic affiliate program offers great payout, long recurring commissions and flexible payout options for its affiliates. By referring other publishers to Ezoic, the affiliates get a monthly commission that is based on the earnings of the referrals website.

Affiliate Marketers earn a hefty 3% of a publisher's total revenue on all traffic sent through Ezoic and that too for a lifetime. An Ezoic affiliate gets a conversion as soon as someone signs up through their affiliate link. Moreover, Affiliates are offered direct support from the Ezoic sales and executive staff which makes it one of the best affiliate programs out there. If you want to join the Ezoic affiliate program, just click here.

What is Ezoic?
Ezoic is an AI-based advertisement testing and optimization platform. It is a platform that provides a great way to monetize your website.
Ezoic optimizes the ad revenue from the website's advertisement by trying out different layouts and positions. It also improves user experience by presenting the best ad combinations that will get the most engagement. Simply saying, Ezoic knows how to maximize your earnings from website ads.
The best thing about Ezoic Affiliate Program is that it is a recurring one where affiliates get a payout every month and it is already very popular making it super easy to promote.
Summary
There are tons of options, if you are starting your affiliate marketing journey but going through the list, might help you find the best ones that are not only top paying but easy to use. Our team went through thousands of affiliate programs to find you the best ones.
All of these affiliate programs are ranked based on their market, revenue per sale, ease of signing up and much more to make it easy for our users. Affiliate marketing is growing rapidly and is one of the best sources of passive income.
Discount Coupons