Top 5 YouTubers in the World
In today's world, if one is talking about entertainment, then one must be talking about YouTube. YouTube has become the best video sharing stage over the web. It also became a major tool for earning passive income and for some, it is the primary source of income. Today, we will be talking about the people who are earning the most from YouTube. Here is a list of the Top 5 YouTubers in the world.
Top 5 YouTubers in the World
5 MrBeast
No. of Subscribers 84.7 Million

MrBeast channel is a unique kind of entertainment channel famous for its unique content and charity while also giving money to strangers. The channel is mainly about Jimmy Donaldson aka MrBeast doing challenges with his friends and strangers and giving money to the participants.

MrBeast channel started in 2012 from the U.S.A. and currently have more than 84 million subscribers with more than 700 videos. Recently, he also made the remake of the famous Netflix Show "Squid Game". Currently, in 2021, he is one of the fastest-growing YouTubers.

---

4 Vlad and Niki

No. of Subscribers 75.9 Million

This channel is a kids channel and is all about two kids from Russia based in Dubai. The kids named Vlad and Niki play games with their mother and the channel is handled by the parents. They publish content in 13 different languages and have a total of 17 different YouTube channels. They have a total of 112 million subscribers.

---

3 Like Nastya

No. of Subscribers 82.8 Million

Like Nastya is also a kids channel based on the daily life of a little Russian Girl and is the most subscribed channel in Russia. There are other channels that are associated with this channel and together they have a few million subscribers.

In this channel, Nastya shows her daily lifestyle with vlogs and does toy unboxing, reviews of different toys and shows off small trips vlogs with friends and family.

---

2 Kids Diana Show

No. of Subscribers 86.2 Million

Like the previous two channels in the list, this is also a kids channel about the interesting life of a 6-year-old girl named Diana. The channel features Diana's day to day life with friends, her brother and parents. There are a lot of Toy-unboxing videos, conversation with family and friends videos and trips to different places, etc.

The Kids Diana Show is a Ukrainian YouTube channel and it is the most subscribed YouTube channel from Ukraine. It is active since 2015 and currently have more than 950 videos.

---

1 PewDiePie

No. of Subscribers 110 Million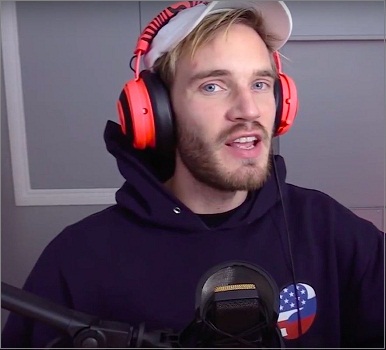 PewDiePie, a UK based Swedish gamer whose real name is Felix Kjellberg. The channel is mainly known as a gaming channel but he also shares comedy videos and vlogs on the channel. PewDiePie has been holding the top position in the top YouTubers list for a few years now and he also made to the list of the world's 100 most influential people by Time's Magazine in 2016.
He has been the most famous YouTuber for quite some time but recently, he has been engaged in many controversies leading to his fall in popularity but still, he holds the top rank in the list.
This is the list of Top 5 YouTubers in the world. We hope you liked the information provided here and don't forget to subscribe to our free newsletter to stay updated with the top 5 series.
Note:
All the social media and coding tag website content are only for educational purposes and all the names and logos are property of these respected brands. The information we provide in this blog is best to our knowledge and according to publicly available data. Coding Tag is not liable for any discrepancy in the data.
Discount Coupons