SEO Full Form - Search Engine Optimization
What is the full form of SEO?
The full form of SEO is Search Engine Optimization.
It is a technique used to improve the website visibility and drive more traffic to the website by ranking higher on search engine result pages. The higher a website ranks in the search engines such as Google, Yahoo, etc. the more traffic it's expected to get. SEO focuses on unpaid traffic rather than paid traffic or direct website traffic.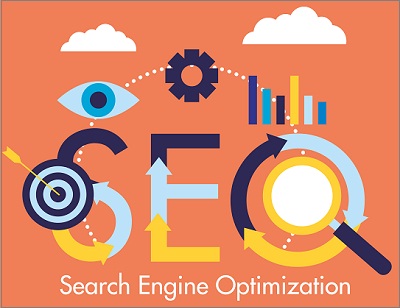 SEO considers how a search engine works, what people are searching and what keywords are being used. Then, a website is optimized by:
Editing the website content according to the keywords or
Changing the HTML source code to make it relevant to the keywords

When that keyword is again typed in the search engine, that website will be displayed among the top results and hence driving more traffic.

---

Importance of SEO

Every website needs search engine optimization to reach its ultimate goal. SEO brings unpaid traffic to your website making it known to new people. Here are some points evaluating the importance of SEO:

1 Helps Gaining more visitors

The prime objective of SEO is to rank better on search engines bringing more traffic to a website. The majority of users only click on the top 5 web pages in the search results, so it becomes very important to rank in the top 5 results for any website.

2 Promotion of Website

Ranking in the top positions essentially brings promotions to a website too. Even though people might choose your competition but they will surely notice your name there. It is essentially free marketing as compared to other marketing tools out there.

3 Improves the business of commercial websites

Commercial websites spend tons of money to rank in the top search results of every search engine. Suppose two e-commerce websites are selling the same product but one has invested in SEO. Then, that website will definitely sell much more than others.

4 Improves User's experience

SEO is not only about ranking a website higher, it is also about increasing the usability of the website. Thus, making it more appealing and friendly for users.

---

SEO Features

Some of the top features of SEO are as follows:

Improves the friendliness of a website
Increases your website's rank in search results
Optimizes websites' textual content
Optimizes website's HTML code
Develops better website links

---

Types of SEO

There are basically 3 types of SEO which are:

On-Page SEO
Off-Page SEO
Technical SEO

1 On-Page SEO

On-page SEO also known as on-site SEO relates to the visual content of your website including user-friendliness, code, and content quality.

It covers some of the important parameters that are:

H1 tag - One H1 tag should be present on every page of the website. The H1 tag must be accurate, unique and without keyword stuffing
Meta tags - Meta Tags should be informative
Meta Description - Must convey proper information about the page and must contain atleast 160 characters
User-friendly content - The content should be unique, targeted and informative
Optimized images
Internal Links
Website Speed
Mobile Responsive
Clear URL
To learn more about On-Page SEO, click on the link below-
2 Off-Page SEO
It includes analyzing and understanding the relationship of a website with other websites. It covers entire strategies to enhance the website's reputation.
These include the strategies that are implemented from outside of the websites to improve its rankings such as building high-quality backlinks, guest blogging, press release, blog and article posting.
To learn more about On-Page SEO, click on the link below-
3 Technical SEO
All non-content elements of a website come under the Technical SEO technique. It covers technical parameters to improve the website's readability for the search engine to easily understand entire pages of your website.
It includes organized back-end structure, indexing, robot.txt file, security, site map, crawl-ability, mobile responsiveness, and website speed.
Discount Coupons
FREE Pro Account worth $99.95 for 14 Days.
---