Current Affairs August 2019 (3rd Week)
1) "Athi Varadar festival" is yearly celebrated in which Indian state?
Tamil Nadu
---
2) Which organization has introduced Operation Number plate?

Railway Protection Force
---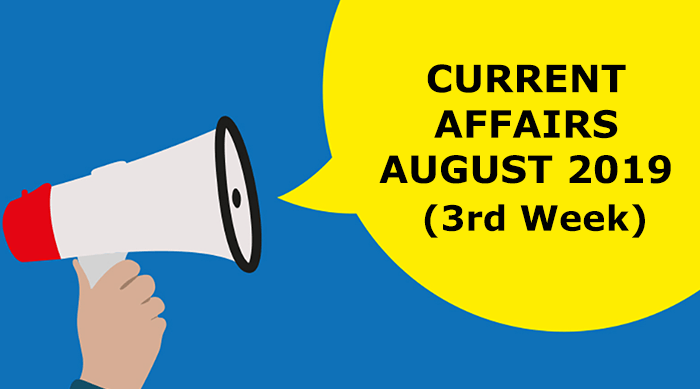 ---
3) The world organ donation day was observed on which date?
13th August
---
4) The initiative named as E-step has been introduced by which government for start-ups empowerment?
Karnataka
---
5) Who has been confirmed as the new president of Paytm?

Madhur Deora
---
6) The world mosquito day was observed on which date?

21 August
---
7) In which city the first-ever virtual court with video conferencing has been introduced by the Punjab and Haryana?
Faridabad
---
8) In which city, the initial fuel station of Assam was established?

Dibrugarh
---
9) Who has been confirmed as the director of the National Institute of Health and family welfare?
Harshad Pandurang Thakur
---
10) Which country's bank has introduced the first-ever negative interest rate mortgage?
Denmark
---
11) Who has been designated as the head coach of Kolkata Knight Riders?

Brendon McCullum
---
12) Which singer has been forbidden from the Indian film industry via AICWA (All Indian Cine Workers Association)?

Mika Singh
---
13) Which state Government has raised OBCs reservation quota from 14 to 27 percent?

Chhattisgarh
---
14) The Fifth meeting of BRICS countries' environment ministers took place in which country?
Brazil
---
15) What is the name of the Drug which was recently approved by the FDA of the United States for "XDR TB" treatment?

Pertained
---
16) Which state Government has announced to offer free AC/Non AC Bus ride for women, effective from 29 October 2019?
Delhi
---
17) What is the name of the new scheme introduced by the Manipur government for Govt. school's infrastructure improvement?
School Fagadaba
Discount Coupons
FREE Pro Account worth $99.95 for 14 Days.
---