CodeIgniter Application Architecture
With high component singularity, Codeigniter is a dynamically operated loosely coupled system. It has simplicity, flexibility, and high performance in a small footprint package.
---
Related Topics:
CodeIgniter Introduction
CodeIgniter Features
---
Codeigniter Application architecture
If we look inside the folder after unzipping the file which we download according to the previous step, we should see the following directory tree: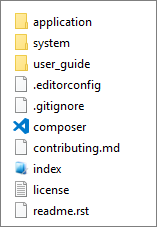 We can divide it into three main parts:
Application
System
User_guide
---
1 Application: This folder contains all development code related to the project. This folder contains all models, views, controllers, helpers, cache files, configuration files, and libraries.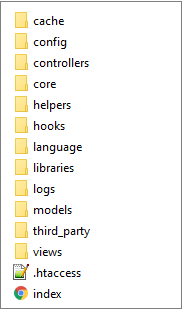 Let's discuss the all-important directories in details:
Cache: This folder stores all cached files so that the loading time of pages will decrease.
Config: This folder contains all the Codeigniter application configuration files, which are covered in Configurations and Naming Conventions.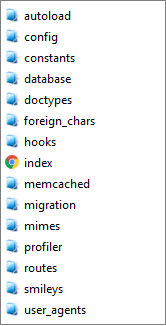 Controllers: This folder contains all the controllers of the Codeigniter application project. A controller is a basic unit in MVC (Model view controller) architecture that full fill the request of the user and present the relevant data to the user.

Core: This folder contains all base classes of the Codeigniter application.
Helpers: This folder holds all the helper classes and user-defined code of the Codeigniter application. A helper file is a collection of independent procedural functions in a particular category. Each helper function performs one specific task, with no dependence on other functions.
Hooks: This folder contains the hooks which are used to add some extra functionality in the Codeigniter application without changing the core files.
Language: All language-related files are stored in this folder.
Libraries: All development files of the user are stored in this folder. A Codeigniter library is a PHP class. The scope of the library can be any project resource, such as helpers, models, controllers, and views. For example, a library can provide Facebook library API services to simplify the application code for Facebook integration.
Logs: All logs related files are stored in this folder.
Models: This folder stores all the application model files. A model is the component of MVC architecture that operates the data stored in the database. In Codeigniter, a model is a class designed to work with the information in the database.
Third_party: This folder contains all third-party plugins.
Views: All HTML files are stored in this folder which is loaded by controllers on user requests.
2 System: This is the root of the Codeigniter core directory.
The system folder contains important system components in the subfolders, such as core, database, helpers (built-in system helpers), and libraries (built-in system libraries).
3 User_guide: This folder contains guidelines that are available offline to help the user.
4 Index.php file: This file is used to set the application environment and error level and other important functions such as: set the default application folder name.
---
Related Topic:
Codeigniter Interview Questions
Discount Coupons