How to lock Profile in Facebook
Are you looking to lock your profile on Facebook?
Is privacy a concern for you?
Do you wish to keep your posts to only your friends on Facebook?
If "yes" is your answer then, we are here to help you. We are going to demonstrate how you can lock your profile on Facebook so that no unknown person can stalk you or try to steal your photos or other data.
Facebook is the biggest social media platform in the world that was founded back in 2004. Currently, it has more than 2 billion active users every month around the world. But one of the biggest concerns Facebook had, was the photos and other posts of users were never safe from stalkers and other predators who feed on this data.
Although Facebook provided users with many dynamic options that allowed them to set privacy according to their posts still it wasn't enough and people started fleeing to other social networks. So, in some countries where more complaints of such frauds were noticed, Facebook came up with a unique solution. It allowed its users to lock their profiles.
Locking your profile means no unknown person will be able to see any of your posts. Locking your profile has its advantages and disadvantages that we will discuss later. Let's focus on How to lock your profile firstly.
How to lock your profile on Facebook:
Locking your profile on Facebook can only be done by m.facebook.com or Facebook app on your phone. If you are a Facebook user who prefers to use Facebook on a laptop/desktop and not on a phone, then, you have only one option. Visit m.facebook.com to lock your profile and follow the steps.
1 Open your account.
Launch your Facebook app or go to the mobile version of the Facebook site and log-in to your account.
2 Go to your profile.
After logging in to your account, go to your profile choosing any way you like. If you are a regular user of Facebook, you might be familiar with many ways to reach your profile. Yet, everyone will admit the easiest one is by clicking on your profile picture icon on the left side of your screen.
3 Click on the "More" option.
In your profile, you will find the "More" option or the three dots icon just under your profile picture.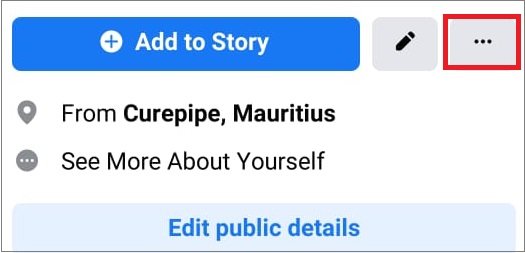 4 Choose "Lock Profile".
A menu bar will open in front of you when you choose the "more" option. You will find the "Lock profile" option in this menu.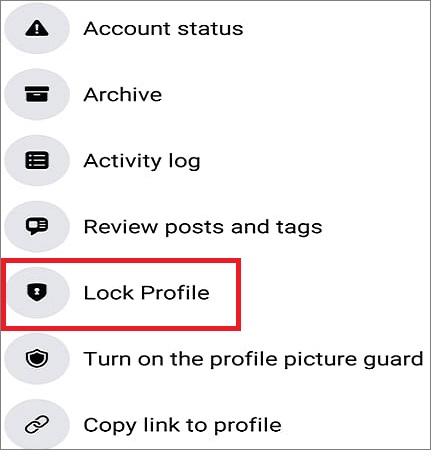 5 Click on the "Lock your profile" option.
Clicking on the lock profile option will take you to the last step. On this page, Facebook will show you its policies regarding locking profiles and if you agree with those, just click the "Lock your Profile" button at the bottom of the page.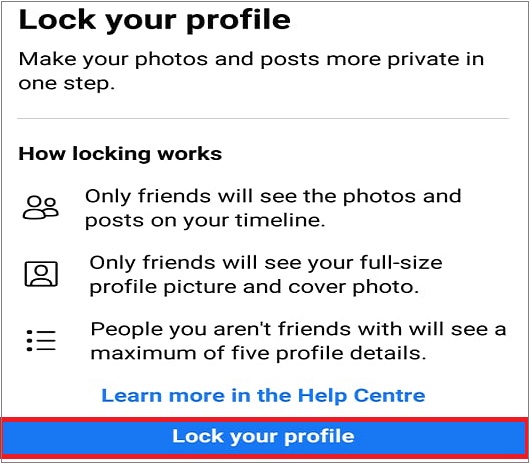 When you click on this button, your profile will be locked for good. Congratulations, you have reached where you wanted to be.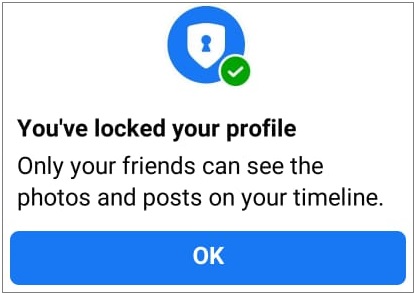 However, if you don't like this and want to unlock your profile again, you can just follow the same process and click on unlock instead of the lock.
Now, you have learned to lock and unlock your profile on Facebook. Now, discuss the advantages and disadvantages of locking your profile.
Advantages of locking your profile:
Keeps your posts private
No more creepy stalkers
No one can open your profile picture
Best for women security
Fewer friend requests to deal with
Disadvantages of locking your profile:
There are not many disadvantages of locking your profile as it such a good thing but still there are few things that might be negative.
You can't make your posts public
Recognizing you will be very difficult
These are the only disadvantage associated with locking profiles on Facebook.
Now, we are done talking about all the aspects related to the new feature of Facebook that is locking profile. If you find this information any help to yourself, please share this blog and subscribe to our free newsletter.