htmlspecialchars_decode() function in PHP
htmlspecialchars_decode() function of PHP is used to convert predefined HTML entities to normal characters.
It is an inbuilt function of PHP. The return type of this function is string means it returns decoded string.
Note:
To converts normal characters to predefined HTML entities, use htmlspecialchars() PHP function.
Syntax:
htmlspecialchars_decode($string,flags);
here,
1. $string is a PHP string that HTML entities to be decoded into normal characters by this function. It is mandatory.
2. flags used to specify the quotes and document type used by the function. It is an optional parameter. The possible values for this are
For quotes
ENT_COMPAT
ENT_QUOTES
ENT_NOQUOTES
For document type
ENT_HTML401
ENT_HTML5
ENT_XML1
ENT_XHTML
---
Example:
<?php
$string = "&lt;,&gt;,&copy;,&amp;";
$a=htmlspecialchars_decode($string);
echo "Decoded symbols are : <br>";
echo $a;
?>
Output: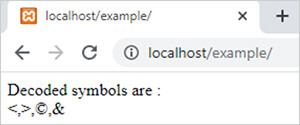 Discount Coupons