array_intersect() function in php
array_intersect() function of PHP is used to create a new array with the similar values of two existing arrays means it compare the values of two arrays and return the similar values as an array. It is an inbuilt function of PHP.
Syntax
array_intersect($array1,$array2,......,$arrayN);
Here,
$array1,$array2 and $arrayN are PHP arrays.
---
Example:
<?php
$arr1= array("Apple","Banana","Orange","Pear");
$arr2= array("Banana","Grape","Orange","Litchi");
$result=array_intersect($arr1,$arr2);
echo "<pre>";
print_r($result);
?>
Output: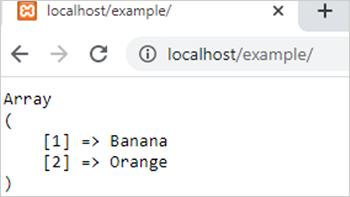 ---
Example 2:
array_intersect() with associative arrays return the keys of first array.
<?php
$arr1= array("fruit1"=>"Apple","fruit2"=>"Banana","fruit3"=>"Orange","fruit4"=>"Pear");
$arr2= array("fruit1"=>"Banana","fruit2"=>"Grape","fruit3"=>"Orange","fruit4"=>"Litchi");
$result=array_intersect($arr1,$arr2);
echo "<pre>";
print_r($result);
?>
Output: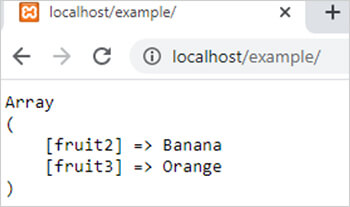 Discount Coupons