Why SSL Certificate is Important for E-commerce Websites
by Mohini Sharma 19-May-17
SSL means Secure Sockets Layer Certificates; these are a most essential thing for any e-commerce website or any kind of online store, if website owner want to make the online transactions of their customers. This expertise helps to set up an encrypted connection amid the host, which is your server and the website browser, who is your client. This link between the server and your client is a private link and it is designed in a manner to avert interfering or data forgery. While a few hosts choose to secure the whole website and all its web pages, others encrypt only the payment page and checkout page. We present main benefits that come with getting a SSL certificate and how it supports with the security on your website.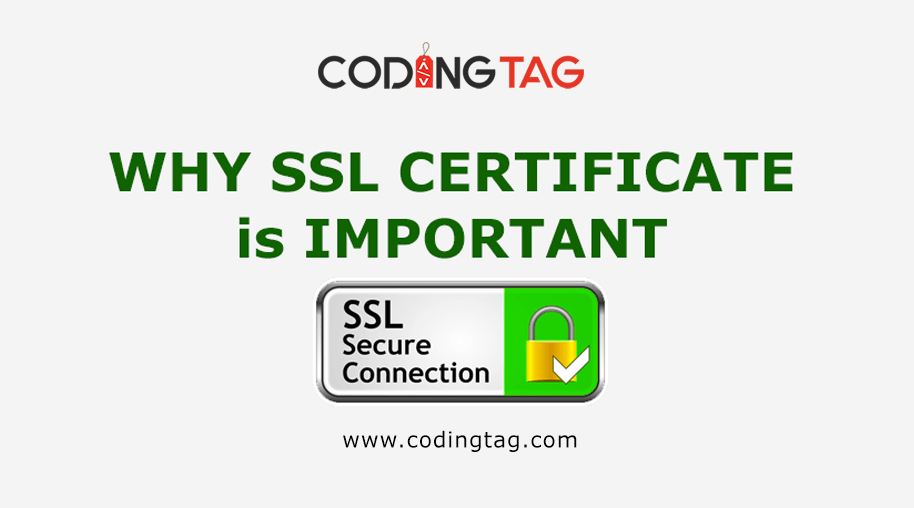 Server Authentication
SSL certificates will help you make your site secured. To work your website will access something known as a server where all your details and information about your website are hold online and hence you will want something known a digital credential. When you buy a SSL certificate you will be offered with a one of these credentials. Your customers and viewers to your website will then be capable to study them. Digital Certificates are gained from trusted third parties called as Certificate Authorities that can assurance the encryption of your site. The certificate is evidence that the server is what it says it is and you are who you say you are.

SSL certificates will create it almost not possible for online fraudsters to make believe to be another server on your website, creating your customers feel protected and need to use your website again.
---
Private Communication

One of the major functions of accessing SSL protection on your website is that it creates transaction conversations confidential. The SSL certificates encrypt any data accessed on your website, such as debit or credit card numbers, login details, PayPal details, unreadable pieces of information.

SSL certificates will then insert random digits and numbers to that information creating it impossible to resolve any details of worth. Once your information has been converted into a mass of characters, to allow the recipient of the information to change it back to a decipherable format the website owner will have an encryption key that will enable them to decode the communications. Fear not if the details does fall into the incorrect hands all the details will be ineffective.
---
Customer Confidence

Customer confidence is maybe the major reason why you want to have a SSL certificate in situation of your website. It will enable customers to view and validate that you are taking the security of their personal details seriously. Of course the standard shopping online will observe if a site has a SSL or for that subject what a SSL certificate is! This is why it is essential to show and create a point of submitting your SSL certificate icon on your website. Also another thought to notify your customers that you are accessing a SSL to keep your website secure is to place the details in your website disclaimer or take advantage of a credential that has a site seal you can importantly show.
---
Customers Will Also Benefit From SSL

When seeking a secure website or online company to give your hard earned money on, it is essential for visitors to your website to favor yours over your contest. Websites with an SSL will defend any of your customer's individual payment detail protected and secure. As viewers to your website, one of the main things that will go through your head is if the site is secure to use and you will need to know that your personal details is as protected as it can be. By seeking out for the SSL certificate you will know that the website you are accessing is safe and the online agency you are using is secure and reputable agency and all your information will be safe and protected.
---
Boost Up Your Websites Visitor Conversion Rate

SSL certificate is a commerce standard that aids to create trust with your customers. Folks making online purchases now anticipate secure transactions to be element of their shopping experience and in term to serve their personal or financial information, they need to be sure that the detail that they upload will be completely confidential. The additional security aspects will absolutely support you enhance the conversion rates of viewers who would have otherwise missing your website searching inadequate security. Initially, your website may magnetize several viewers to browse through the items or services that you provide. However, when they click the sign out button and are requested to insert in personal and credit card information, that's when they need to ensure that the website is secure. If you have not deployed SSL, your viewers would end up seeing your competitor's website, and would reason you to lose sale. Not having an SSL certificate can also create your customers has less faith in your brand or the services that you provide and may reproduce negatively on your organization's brand image.
---
Say Goodbye to Hackers Forever

Having an SSL certificate decreases the risks and visits from your not so affable hackers. While visiting websites, you may have come across a caution page that browsers show on encountering expired certificates. That will never occur if your website has an SSL Certificate. It is an assurance that your website's encryption is from a trustworthy source.
Read this article: Ethical Hacking Interview Questions

You must make sure that you have an SSL certificate allowed if you are running a devoted server. All websites on your server must be capable to access it. In order to get SSL, you want a dedicated IP address and that will charge you extra. But then, it absolutely is worth the cost since you are giving for your customer's safety and privacy.