How to boost the Conversion Rate and reduce Bounce Rate
Are you struggling with conversion killer "Bounce Rate" of your website?
Don't worry you are in the right platform where you can get the entire solution related to bounce rate, how it occurs and affect the performance of your website. This article discusses the basics of Bounce Rate, how to boost conversion rate and reduce Bounce Rate?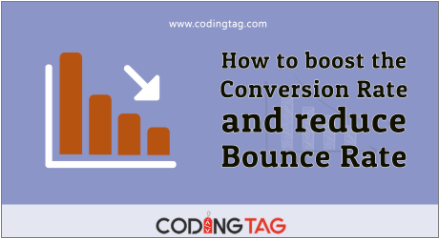 Let's Understand First

What is Bounce Rate?
Bounce Rate is trending metric related to the digital marketing used to measure the percentage of single page sessions through Web Traffic Analysis. It tells the exact performance of the visitors, who visit and leave your website without scrolling and reading the entire content of it i.e. users just visit landing pages or blog and leave it without opening further pages of the website.
Now the Next question in our mind is why visitors didn't navigate our website, why they didn't expand our post's read more button, ignore clicking on a menu item, sub menu and other links of our website?
To get the solution of these questions, there is a need for knowing the major causes of Bounce Rate and what percentage of it is allowed on a specific website.
---
Why Bounce Rate occurs?
Delay in page loading
Tag and descriptions are not user-friendly
Your website is not responsive
Your website is less interactive
Bounce Rate is actually bad or good?
People are really confused about the goodness and badness of bounce rate. Some percentage of bounce rate is considered fair by Google. It is bad or good depends upon the situation and the purpose of the users i.e. what they are looking for.
Generally, A bounce rate between 20-40% is considered as Excellent, 40% to 70% is average and 70-80% is poor respectively.
Sometime bounce rate give positive indication whereas sometime negative.
| | |
| --- | --- |
| Conditions when Bounce Rate indicate positivity | Conditions when Bounce Rate indicate negativity |
| When visitors are following your mentioned links on the blog | When tracking code of the website is not properly implemented |
| When visitors figure out facts, short answers provided on the page | When users are redirected through the wrong pages of the same website |
| | When the irrelevant traffic occurs on your website |
---
Why reduce bounce rate?
For high ranking
Enhance revenue
Increase conversion rates
After you've taken entire knowledge of bounce rate, now you are completely aware of how it affects the performance of your websites. You should indeed try to prevent this issue, here are some suggestions specially targeted to improve bounce rate and boosting conversion rate of your website:
---
Refine Content Readability:

Content readability is not a myth, it is a reality and is one of the serious challenges that the majority of the websites are suffering from. We can say, Entire Website Traffic is dependent upon the Readability of the content of that website. If your Audience is unable to read and understand your content, then why should they stay on your website? they will definitely move on another reference on the hope of getting accurate information they are searching for. Which in turn increase the bounce rate of your website.

Now the next thing is how to transform content readability, For this, you need to know certain factors for easy to read content which are mentioned below:

---

Use less thick paragraph:

Because people never prefer reading a large paragraph, they want exact points. Large paragraphs will definitely make users scary and bore, So avoid it.

Some website owners thought that great content is dependent upon the thickness of the paragraph but on the user perspective, it is not a good experience.

---

Proper Formatting:

Users attract through formatting and presentation of your Blog. make use of user-friendly parameters to throw more light on your content such as:

Use bullet points and headlines
The headline and highlighting points should be bold
Make use of subheadings
Make use of appropriate images, gif, quotes, screenshots, and examples related to post to enhance user interest
Make use of user-related questions and try to solve it concisely
Try to use heading such as introduction and conclusion containing point-to-point information.

You can easily check the readability of the blog or article through different open-source tools available on the internet.

---

Interactive Website Design:
We are familiar with the old saying "The first impression is the last impression" according to this concept, In the digital world; our website is the foundation of our whole business. The first impression is analyzed through the design of the website. So never underestimate on selecting the design of the website. If you want to design through WordPress use an attractive, seo-friendly and eye-pleasing theme or design through the experienced and creative web-designing company.
It is the design of the website that is responsible for user-engagement and trust generation. Design should be so attractive that it forces anyone to land different pages of your website so make it effective and simple to decrease bounce rate.
List of some design tips to reduce bounce rate is mentioned below:
Use clear and informative design
Relevant icons
Avoid distracting elements on the website.
Proper implementation of white space.
Use a banner/image is worth than words.
Implement parameters such as colors, font, and typography before design.
Consistency
Design with loading time in your mind.
Well-formatted content
Effective navigation
Clean coding
Make use of low size images.
Learn Website Designing step by Step

---
Mobile-friendly design:

We all know that that more than 90 percent of the internet users are a mobile user, they require every application and website on their mobile. The websites which are not mobile-friendly, users always stay away from them, this will increase the bounce rate of the website which will adversely affect the performance and ranking. Google also ranks mobile-friendly websites.
How make website mobile friendly through Bootstrap
---
Verify Typography
Typography is an important element of an effective website. People always prefer "easy to read" words with the best font size that are clearly visible on the mobile screen too. Make use of best CSS code to design interactive appearance. This permits people to stick around your website and decrease bounce rate.
---
Target Relevant Traffic
The main objective of the website is to target the right audience. You need to attract it through exact keywords, advertisement, and qualitative content according to user requirement. Your content should be audience specific to reduce bounce rate.
For Relevant Traffic:
Write a proper description that specifies exact information regarding the article to target the right audience
Keyword research analysis
Prefer long-tail keyword
---
Select Popups Wisely
Popups can be quite annoying for website users. However, have a useful objective too. Because, they permit email address collections, campaigning and earning money. But they should be chosen wisely for increasing organic search and decreasing bounce rate.
---
Conclusion
The bounce rate of our website depends upon the user requirement. Visitors are actually in search of "outcome" that must be instant, relevant, and unique. If our website fails to fulfill the visitor's requirement, it results in user disinterest and increases the bounce rate. In this article, we have discussed some methods and facts that will help to reduce the bounce rate and boost conversion.
Discount Coupons