Traditionally data was stored in bits, then bytes and with an increase in technology the requirement of the storage space also increase, now with the enhancement of technology, we are generating a huge amount of data and demands of storing is also growing day by day. Even a minor action of the user creates a data, for e.g, even a single sharing of the song through WhatsApp in our normal phone is creating data.
As we all know within 1 min, there are more than 2 million searches found on Google and Facebook, Instagram gets more than 32 thousand likes. Google need 20 petabytes to store data in each day and our facebook need 3 to 4 petabytes in a single day. This huge petabyte or gigabyte of data is a big data and the process of analyzing and storing this huge data for the betterment of the organization is known as Big Data Analysis.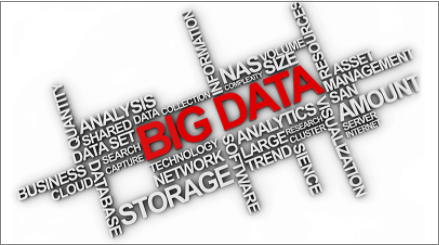 Big Data is more trending phrase nowadays with the enhancement of internet population, the requirement of big data generated by all big companies such as Google, Yahoo, YouTube etc as they all contained a wide range of unstructured information.
Big data Analysis is the process of processing and analyzing massive and complex data sets. Usually, Big Data deals with combination of data sets whose parameters i.e. Variety, Volume, Veracity, Velocity, and Value had made them difficult to be managed and processed by ordinary technologies such as relational database or visualization packages and it required new techniques, architecture, and analytics to manage, store and extract relevant information from it. If this big data are properly managed and analyzed it will provide useful information which in turn increase profit to the organization for e.g.
If all the information of passengers is properly stored in airlines. This information will provide useful information about liking and the entire requirement's of the passenger while traveling from one destination to other, what they are willing to buy on the aircraft and about delays etc. Google also use the search information of the users to know what the user's requirement is. But for managing big data, structuring platform is required. For this, there are many latest technologies available such as SPARK, HIVE, KAFKA, HADOOP, NOSQL. These platforms serve as the core for structuring complex big data and to transform this information into useful information for analytics purposes.
---
Features of BIG DATA
Big data is found in volumes and has heterogeneous and unstructured formats and features
Volume

As the data is ever-growing day by day which results in an increase in the quantity of big data ever MB, PB, KB, TB of information that is not manageable by traditional database tools. The enormous volume serves as a complex issue of storage.

Variety

Variety is also the important characteristic of big data as the data came at different formats or in a heterogeneous form that may be unstructured or structured such as videos, doc files, audio, comments, blogs, pdf, text etc. Variety of the big data is endless and data needed to be transferred to the qualified method.

Velocity
Data present in Big data came in different velocity and in the majority of the organization, the velocity of the Big Data serve as the main issue and act as time sensitive because sometimes a single minute delay of data will create a serious issue. Velocity is required in social media messages and credit card transaction.
---
Benefits of BIG DATA
Reduce cost
Optimization and development
Reduce time
Increase in business and help in quick decision making
Customer services are improved
Initial identification of risk of product and services
Extent operational efficiency
Better analytics
Provide better insights
---
Application of Big data technology in various sectors
Crime Detection

In Banking Sector, the big data technology is implemented as it results in easy fraud and crime detection analysis including credit cards misuse, debit card misuse, business, and identification related fraud.

Transportation

Big Data Technology has a vital contribution in transportation including direction preparation, traffic management, intellectual arrangement, preparation of directions; accumulate direction for petrol, insights for tour activities.

Improved Health Care

With the enhancement of technology, the cost of the health care also increases. Big Data Technology is implemented in the field of healthcare also and helps in various factors including history of the patient and physician. As once, any patient gets treated by any specific doctor, his/her name and details will be stored in the database forever and can be viewed by the doctors at any time when it is required.

Education and Learning

Big Data provide huge contributions in the field of education including assignment cross check, multiple choice assessments and in the prognostic analysis to know what are the requirements of a learner, which type of course and techniques learner wants while learning any course and it also permits the teacher to send outputs to rank books.

Government Agencies
Big Data Technologies are implemented in government agencies to apply efficient analytics to their big data and should be able to manage running agencies and traffic congestion and help in preventing crime.
Discount Coupons