How to make money from YouTube
We live in a digital world where everything is accessible at a lightning speed. There isn't any doubt that now we can communicate in a better and quick way with the people sitting all across the world. Apart from breaking the barriers of communication and increasing work efficiency, the digital platform is also something that helps us to make a connection with others in terms of social and professional life.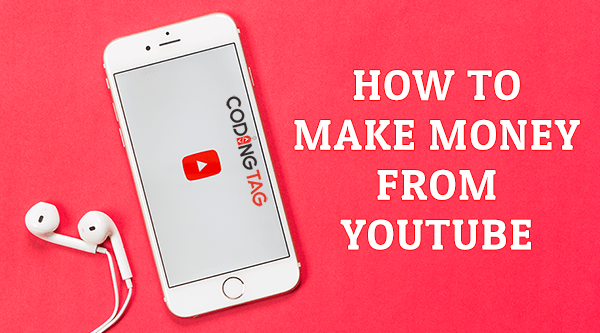 Is it possible to make money from Social Media?
While people all across the world are making millions by using social media, there are still many who are sceptical about the idea of making money with the use of different social media platforms. But, it is indeed an easy way to earn money with the use of different social media websites.
YouTube is one of the most popular platforms when it comes to making money, there are many people that make a living out of YouTube. As compared to the last decade when people just used YouTube for having some fun time watching videos, it has now become a competitive platform for making a career.
YouTube is the second largest search engine and it is also one of the most visited sites on the internet. There are billions of views that people get on YouTube videos, this is what helps them earn money that they desire.
---
YouTube as a Career
It is certainly not possible as a new YouTuber to start earning a 6 figure amount every month, but if you are consistent on this platform, then you can actually earn the money that you always wished to earn. Once you have figured out the niche on which you would like to make videos, you can easily start your journey as a YouTuber.
The best part about YouTube is that you get an audience on a worldwide level. However, an important factor that determines your success on YouTube is the subject on which you make the videos and the language that you use. The most important thing that you need to remember is to be creative, patient, and consistent in your journey of YouTube.
---
From where and how to start your YouTube Journey?
So, without any further ado, let's understand the steps that you have to take for starting a career on YouTube:
---
Create your YouTube Channel:
The first step that you need to take is to create your channel on YouTube. It is as easy as it could be. Follow the below steps:
1 Create a Gmail account and login with it on YouTube
2 Go to the option of My channel that is there on the left side of the YouTube page
https://www.youtube.com/create_channel?upsell=settings

3 Here you will get the window that says "Set up a channel on YouTube"
4 Fill all your personal details that are required for creating the channel
Once you have created your YouTube channel, you can now add the keywords that are related to your video. You just have to go to the advance settings in your channel settings for the purpose of adding the required keywords. Relevancy of keywords is essential so that your videos can follow the search algorithm in the right manner.
The user name that you pick is also an important aspect that will decide your future on YouTube. If you keep it interesting and apt, then people will also remember it. You should put some time in research to choose the best user name for your YouTube channel. If you already have a name on YouTube, then you can also change it by editing on your Google+ page.
Find the right Niche
There are millions of people who share different things on YouTube as per their hobbies and passion that they want to share with the world. What interests you the most is what matters a lot. This will help you find a niche that will become a stepping stone to start your career as a successful YouTuber. Make-up tutorials, cooking classes, fashion videos, comedy, singing, teaching, and tech videos are some of the common niches that people opt for on YouTube.

Add Content on your Channel

On the right side of your YouTube page, you will find an icon of video for adding the content, this gives you the option to upload your video. This is also the tab where you get the option of going live from YouTube.

Make a proper strategy

It is necessary to follow a strategy that will keep you motivated to make new content so that you can start earning a good amount of money from YouTube. An easy way to make your channel popular among your target audience is to make a viral video. Put your best efforts that will help you gain a good audience which will lead to more subscribers and more likes.

Here, the key is Content. As they say that content is king, you should ensure that you put all your efforts into making good content that will help you catch more eyeballs.

Gain an audience on YouTube

Without an Audience, you cannot gain any views and no views on your videos mean no money. The subscribers that you get on your channel are your audience as these are the people that will watch your videos. While many new YouTubers opt for the option of buying subscribers, you should rather look forward to getting genuine subscribers by marketing your channel in the right way.

With the use of Facebook, Twitter, and Instagram, you can advertise your channel with a huge audience, this will help you achieve more subscribers, views, and likes. It is also a good idea to collaborate with other YouTubers for the purpose of gaining an audience.

---

Monetization of Videos

To start earning from your YouTube Channel, it is necessary to enable the option of monetization on your channel. This will allow YouTube to put ads on your videos. This will also put a copyright on the content that you make on YouTube.

How to do it?

1 Go to the tab of My Channel and click on Customize Channel of your YouTube page

2 Click on Video Manager that is on the top bar

and now click on Creator Studio Classic (Bottom on Left Menu)

3 Enable the option of monetization

What all requirements do you have to meet?

It is necessary to have 1000 subscribers and 4000 watch hours in a period of 12 months for the purpose of earning money from YouTube.

You just have to open the video manager on your channel and click the dollar sign for playing ads on the videos that you upload.

---

Apply for AdSense

Coming to the most important point, if you want to earn money from the views that you get on your YouTube videos, then it is necessary to make an account on AdSense. Firstly, as mentioned above, go to the channel tab on your YouTube page and activate the option of monetization for the purpose of getting money from your videos.

Once you start your channel on YouTube and you start getting subscribers and likes, then it will also open the doors of new opportunities. You can collaborate with different brands, do affiliate marketing, and promote yourself on other social media platforms as well.

Setting up AdSense

Go to Google AdSense and sign up for creating your account or you can use your old gmail account for create account. You need to be 18 years old for the purpose of applying for it.

What do you need for it?

You need a bank account or you can use PayPal account with valid mail id and your other personal information for creating the AdSense account.

---

Keep a tab on the Analytics

Once you have uploaded the videos, monetized the videos, and there are views on your videos, then you can also check the analytics on your YouTube channel menu to understand that how your videos are performing, the demographics where people are watching your videos, and the overall performance of your YouTube channel can also be assessed with the help of this option. You can also check your estimated earnings by going on this tab.

You can also make the changes in your content by assessing the kind of response that you get on your videos. This will also help you in marketing your videos in a much better way with the right audience.

---

Look for YouTube Partners

YouTube members and YouTube Partners are those who have great viewership and who have also monetized their videos. The partners have the freedom to get access to different tools of content creation. They also win prizes for the huge number of viewers they have. Along with this, the partners also have access to community tips and support.

By going to the YouTube partner page, you can also apply for the partnership. You need to have in total 1500 watch hours on your channel in the last 90 days on your channel.

---

Points to remember:
Quality should be excellent: Try to upload the content that is of high quality as no one likes to watch the videos that are of low quality or if there is any issue related to the voice in the video. For this purpose, you need a good camera along with ensuring that the mike that you use is also efficient for recording the voice.
Be patient: The type of content that you choose for YouTube is what decides your career. Earning money on YouTube is not a cakewalk, it may take some time for you to earn money from this platform. Be patient if you desire to be a successful YouTuber.
Be Consistent: Consistency is what will make you get more audience on your Channel. If you upload a video on a daily basis, or at least 5 videos in a week's time, it will surely help you to increase your subscribers and views. However, make sure that you only put relevant and quality content on your channel.

Hope this piece of writing will help to start your career as a YouTuber, wish you luck :)
Discount Coupons