Facebook Marketing Interview Questions
If you have been familiar with Digital Marketing (which I'm supposed that you have), then you must be well aware of Social Media Marketing, being one of the most significant branches of digital marketing.
When it comes to Social Media Marketing, Facebook comes first into everyone's mind as it is one of the most popular social media platforms used widely by almost everyone nowadays.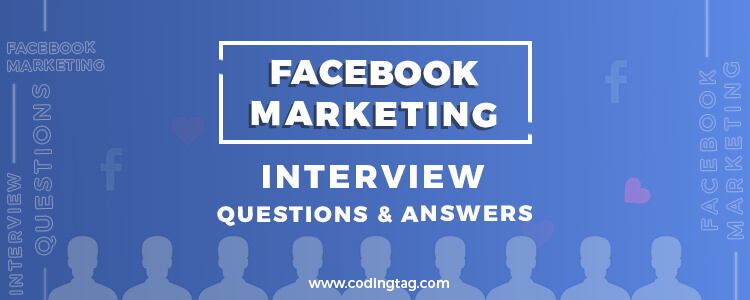 This makes it an obvious platform to continue with the marketing agenda. If you are also pursuing social media marketing and want to strengthen your knowledge in terms of Facebook Marketing, then I have prepared this blog for you.
The blog consists of all the possible Facebook Marketing Interview Questions along with their proper answers.
Hence, without thinking much, let us proceed with the very first question, which is:
1) What do you mean by Facebook Marketing?
Facebook Marketing is one of the aspects of digital marketing in which all the products and services of an organization are marketed through the page created on Facebook.
---
2) Can you differentiate between Facebook and other Marketing strategies?
The difference between Facebook and other marketing strategies can be understood with the help of the following table:
| | |
| --- | --- |
| Facebook Marketing | Other Marketing |
| Facebook Marketing refers to the means of product marketing through the Facebook portal. | Digital Marketing, in general, refers to the marketing of products and services through the mean of social media, devices, display ads, search engines and other means users can read through |
| Facebook Marketing is limited to the constraints of the internet and online marketing. | In general, digital marketing is not confined to only online marketing and also covers offline marketing strategies. |
---
3) Why is Facebook Marketing so important?
Facebook Marketing is important due to the following factors:
Talent Recruitment
Maintaining the Corporation's reputation
Promoting an event or connecting to the delegates
Moving up Google's Ranking
Building a beneficial network
Enhancing customer relationship
---
4) Which categories of customers are targeted through Facebook Marketing?
As Facebook is more popular among young generations, youth customer is mostly targeted through Facebook Marketing.
In general, customers of age group 18-30 are targeted through Facebook Marketing.
---
5) How can you instill an effective Facebook marketing strategy?
Some of the effective Facebook marketing strategies are:
Fans Involvement
Value Providing
Frequent and consistent publishing schedule
Focusing on the relevancy of rates
Focusing on important metrics
Using graph search and lookalike audience to search for the targeted audience
Avoiding boost post
Instilling Conversion Tracking
Targeting email list
Using power editor
Optimizing ads and images
Selling to fans
Creating multiple campaigns
---
6) Which Facebook marketing strategy is best when it comes to small business marketing?
For small businesses, different strategies which can be used for marketing are:
Creating and maintaining a posting calendar
Regularly optimizing the profile page
Creating a community page
Regularly updating Facebook stories
Using Facebook for customer service
---
7) What do you mean by EdgeRank in Facebook Marketing?
EdgeRank is a Facebook Algorithm which is used to determine whether the posted content will remain the news feed of the profile or in the follower's page.
---
8) Why is EdgeRank used and is so important?
EdgeRank is used to reach out to the customers through the Facebook profile and is one of the most important aspects as it helps to market the images and content and also informs about the old post content.
---
9) Mention different ways of Facebook Marketing.
The different ways of Facebook Marketing are:
Striking Imagery
Audience insight
Instilling proper strategy and budget
Ads accompanying with landing pages
---
10) How can be Facebook used to promote any business?
The different steps which can be used to promote a business through Facebook are:
Regularly Posting
Creating and promoting a business
Engaging Followers
Instilling Facebook Ads
---
11) What are the different ways of boosting Facebook reach?
The different ways of boosting Facebook reach are:
Posting effective content
Target Optimization
Posting at a proper time
Improving Facebook EdgeRank
Avoiding cross-posting
Using Facebook Live
Using events and webinars
Instilling email marketing
Enabling fans notifications
---
12) How can Conversion Management be used in Facebook?
Conversion Marketing on Facebook can be used with the help of Conversion Pixel. With the help of that, a code is inserted into the Facebook profile which further tracks the conversion rate of the page.
---
13) Mention some of the metrics used to track the success of Social Media Marketing.
Some of the metrics which are used to track the success of social media marketing are:
Google Analytics to track site traffic
Social CRM tool to track community size and engagement
SocialMention tool to track the conversations in terms of the organization
Social Media Returns Tracking
---
14) What is Social Return on Investment (ROI)? How can you measure it?
Social Return on Investment is the factor through which the effectiveness of the capital and resource which have been associated with generating marketing values is measured.
It can be measured with the help of the Conversion Measurement Tool as well as Google Analytics.
---
15) What different metrics are evaluated in context to Social Return on Investment (ROI)?
Different metrics which are covered in terms of Social Return on Investment are:
Website Blog Traffic
E-mail Subscription
Registration for site content
Webinar Registration
---
To sum it all, I will say that Facebook Marketing is one of the most important aspects of Digital Marketing and you must practice all these Facebook Marketing Interview Questions well if you want to ace your interview.
However, if you have any queries, you can reach out to me through the comment box below . We are always here to help you!
Also, don't forget to share my blog with your peers and help them prepare for the upcoming interview.
I wish you all the luck!
Discount Coupons