You have just got a call from the recruiter asking you to come for your SMO Interview and now you are nervous because you don't feel prepared enough?
Well, do not worry as this SMO Interview Questions blog will help you with that. Social Media Optimization (SMO) is an emerging trend of current corporate and almost every company is shifting to online marketing for their business. This has led to increasing demand for SMO executives to help the company increase the traffic and sale through SMO tactics.
The following blog consists of a list of top 15 SMO Interview Questions which includes all the basic to advanced level questions. The blog will not only help you to enhance your basic knowledge but also get the job you want.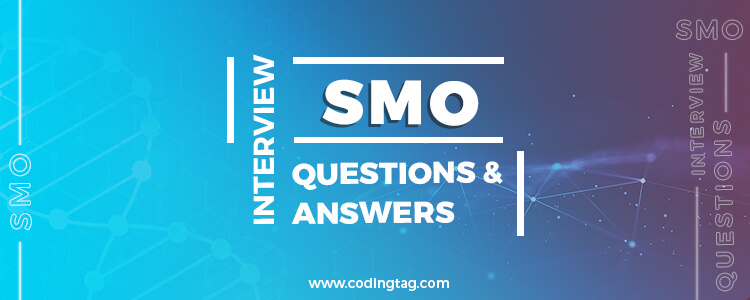 So, without further ado, let us proceed!
1) What do you mean by SMO?
SMO, abbreviated Social Media Optimization, is a practice that is used to market services products, and increase brand awareness across social media platforms such as Facebook, Twitter, LinkedIn, etc.
---
2) Why are # HashTags used in SMO?
# in SMO are tags that are used to make any word or phrase a keyword for Facebook, Google+, Twitter, etc.
---
3) How can you measure the success of social media?
There are various parameters that are used to measure the success of social media. Such as:
Number of followers
Lead generated for the post
Inbound or external links from other social media sites
Number of published posts
Number of subscriptions
Number of sales made online
Traffic generated, the comment made, and social shares
---
4) Mention the major Key Performance Indicators (KPI) for social media success.
The major KPIs must be known for the companies to adopt the correct SMO tactics and budget. The major KPIs for measuring social media success are:
Social Connections
Videos Views
Mentions
Comments
Traffic Data
Likes and shares
Number of active followers, etc.
---
5) What tactics are used to promote the content or blogs on social media?
There are various tactics which can be used to promote the content or blogs on social media platform:
Sharing blogs on various social media platforms
Pinning the post on Pinterest
Targeting the 9.00-11.00 PM traffic
Sharing the images and title of the post through Instagram
Using social sharing the schedule to post the blogs
Using the different title for the same blog
---
6) Which timings must be kept in mind for publishing the content on social media?
To generate more traffic, posts must be done as per the specific timetable. For example, in India, the perfect time to post on social media sites is in between 9 pm - 11 pm as most people tend to use social media at that time.
Similarly, the best time to post on social media to generate US and UK traffic is 4:00 am to 6:00 am as per the Indian time.
---
7) What is Facebook Edgerank and why is it important in SMO?
Facebook Edgerank is an algorithm that is used by Facebook to determine where the post on Facebook should be posted, whether in the news feed or on the follower's page.
Edgerank is important as it impacts the overall Facebook marketing strategies including user engagement through links, images, and videos.
---
8) Which tools can you use to measure the success of social media?
Some of the tools which can be used to measure the success of social media are:
Social Mentions tool to measure the mentions on social media
Social CRM Tools
---
9) What is RSS feed and why is it beneficial?
RSS, abbreviated as Rich Site Summary is an XML file that pushes content into the website so that user cans subscribe to their feed.
There are various benefits of RSS feed, such as:
Getting a wider audience for the content
Better feeding of content to users
Email subscriptions
Live Bookmarking
---
10) How do you demonstrate the elements of a viral video?
A viral video must have a proper targeting audience before creating. Also, the first 20 seconds of the video must be compelling enough to engage the users in the video.
The video must also have attractive titles and descriptions to attract the target audience. The video must also consist of proper tags and seeding to reach out to targeted bloggers.
---
11) Mention some of the Twitter best practices.
The posts on twitter must not be longer than 100 characters. It should be direct and crisp. The post should also not contain more than two tags per tweet.
TweetDeck or Buffer should be used to properly schedule the tweets.
Twitter Advanced Search must be used to enhance marketing strategies on Twitter.
Finally, the analytics on Twitter must be regularly monitored to analyze the best SMO tactics.
---
12) How can Facebook reach be boosted?
Some of the popular strategies to boost Facebook reach are:
Elimination of third-party tools
Buying ads
Improving Facebook Edgerank
Increasing and building Website and email list
---
13) Name some of the advanced Social Media Marketing tools.
Some of the advanced Social Media Marketing tools are:
Sprout social
Hootsuite
Zendesk
Radian6
Crowdbooster
TweetDeck
---
14) How can one earn through Facebook Marketing?
Different strategies can be adopted to earn through Facebook marketing such as:
Selling Facebook group
Selling Fan page
Employing a few costs over the Facebook fan page, etc.
---
15) What is an online reputation crisis?
An online reputation crisis is a situation where the reputation of the company over social media is destroyed due to some negative consequences or wrong SMO strategy adopted.
---
That was all in terms of SMO Interview Questions. Visit our Coding Tag page to learn more about Technical Interview Questions.