Twitter Marketing Interview Questions
Hello Folks,
Today, I have tried to prepare a blog on the updated Twitter marketing interview questions to help the job seekers in cracking their interviews. Before proceeding, as we all know, Twitter Marketing is one of the best ways of online marketing of the business, products, or services.
So, without wasting any more time, let's dig into the Twitter Marketing Interview Questions for 2020. These questions will probably help you to get your dream job. Just read them carefully.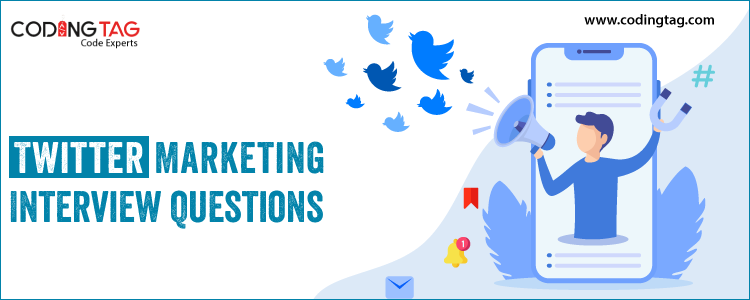 Let's get started with the first question, that is:
1) Is twitter essential for business growth?
As we all know, there are many social media platforms that are essential for business growth while it is surely possible to have growth in business without getting active on Twitter Marketing.
There are huge amounts of superb open doors you could be passing up, including expanded referral traffic, the chance to build your brand image, professional network and administration, and the capacity to contact a worldwide audience.
---
2) Can we find our ideal customer on Twitter as well?
If you want to find your ideal customer on twitter, then you need to find it actively on twitter, or else you won't find your ideal customer twitter. But there are ways via which you can find your ideal customer on twitter, they are:
Ideal customers can be found by using the tool Twellow. This tool will search via public tweets.
Searching for relevant keywords for talks related to your brand, products, or services.
---
3) How can we get more followers on Twitter?
We can get more followers on twitter by following these tips:
Post unique and new content that the public wants to share
Use of relevant keywords in bio for the right person to search you
Short tweets that can be easily retweet
Use of relevant hashtags for the people to find your tweet
Interacting with people in your niche
---
4) What are the things that are necessary for a profile to include?
Mainly, the role of your profile is to grab the attention of your audience, thus there are few things that are required for a profile such as:
Professional Profile Photo
Custom background
Very well defined bio
Geographic location
A branded handle
link back to your website
---
Personal recommendation: you can be an ace in (subject) by reading this book. Grab it now
---
5) How frequently one should tweet?
Well, this totally depends on the business's niche. But according to the research one must tweet on an average 4 to 5 times a day.
The major factor that is important is how much you are consistent in your posting frequency.
---
6) Whom should we follow back on Twitter?
Firstly, take a look at your new followers and think if they are relevant to your business or not. If they are relevant then you can follow them back.
As we all know that there is a very fine line between being selective and being too picky... When in doubt, follow them back. And also, if you want you can always unfollow them anytime from your account.
---
7) What is the reason behind using hashtags on Twitter?
The hashtags work similarly to the keywords. Hashtags on Twitter allow audiences to find their relevant products or services. That is why it is very necessary to put hashtags in all the posts on Twitter.
Hashtags assist you with building your audience, as they permit individuals who aren't tailing you to discover your tweets and conceivably tail you. They are additionally valuable for you to discover focused on individuals to pursue and tweets that you can share and remark on.
---
8) What are some of the ways by which we can get more retweets?
It really feels great when someone retweets your tweet and it also helps in increasing the customers. So here are some of the ways by which we can increase our retweets, they are:
Post unique and interesting content that will connect with the targeted audiences
Locating a retweet button
Use of hashtags in tweets
Asking for a retweet
Short and concise content so that one can easily retweet it
Retweet by yourself
---
9) What is the difference between A Direct Message And A Reply?
The difference between a direct message and a reply is
Direct messages are the messages that are private while a reply is a public message that can be seen by everyone.
Secondly, replies allows others also to make a contribution in the conversation whereas, a direct message only includes the sender and the recipient.
---
10) What is a Twitter impression?
Twitter impression examines the sum of the numbers of times a tweet has shown on any user feed over the twitter platform.
---
Conclusion:
In a nutshell, Twitter Marketing is striving to lift up with the other social marketing platforms as it is not that effective in the present time. Yet career opportunity is a good option. So you can prepare for your interview with the compilation of above mentioned Twitter Marketing Interview Question.
I hope these questions will help you through your interview.
If you have faced any Twitter Marketing interview, you can share your views with us, and also if I have missed any important questions, you can comment below.
Share this blog with your friends and comment below how to do you like my blog.
Till then all the best!
Discount Coupons