This jQuery method is used to check weather a class is attached to any of the selected HTML element or not.
Return type of this method is Boolean means this method returns TRUE if any of the selected HTML element have the given class otherwise returns FALSE.
---
Related Topics:
jQuery position
jQuery addClass
---
jQuery hasClass
Syntax:
$(selector).hasClass(class_name);
Parameter description:
class_name: This parameter represents the name of class or classes to be check to attach to any of the selected element. It is mandatory.
Example:
In this example we check the try class is attaching to any of the given heading or not.
<html>
 <head>
 <title> jQuery Example </title>
 <script type = "text/javascript"
        src="https://ajax.googleapis.com/ajax/libs/jquery/3.5.1/jquery.min.js">
      </script>
<style>
h3{
background:yellow;
padding:10px;

}

button{
background:green;
padding:10px;
color:white;
border:1px solid green;
}
</style>
<script>
$(document).ready(function(){
 $("button").click(function(){
    $res=$("h3").hasClass("try");
	if($res){
	alert("one of the given heading has class try");
	}else{
	alert("No heading has class try");
	}
});
;

});
</script>
 </head>
 <body>

<h2> jQuery hasClass() Method Example </h2>
<h3> This is heading 1 </h3>
<h3 class="try"> This is heading 2 </h3>
<h3> This is heading 3 </h3>
<h3> This is heading 4 </h3>
<button> Click me! </button>
 </body>
</html>
Output: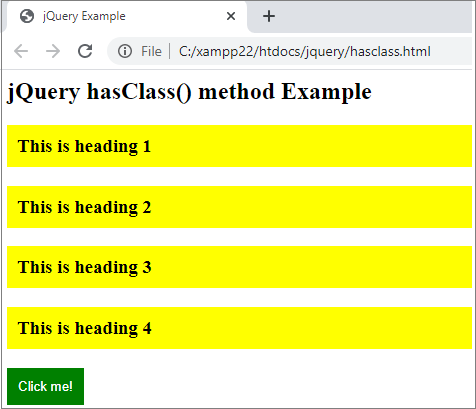 When you click the button,

Discount Coupons