This jQuery method is used to fetch the direct parent or ancestor element of the selected HTML element.
If we talk about the DOM traversal tree, this method can only traverse the DOM tree at single level upward.
To traverse the all grandparents or ancestors of the selected element, use either the parents() or parentsUntill() jQuery methods.
If you want to traverse the direct child or descendent elements of selected HTML element use either find() or chidren() jQuery methods.
---
Related Topics:
jQuery wrapAll
jQuery unwrap
---
jQuery parent
Syntax:
$(selector).parent(filter) ;
Parameter description:
filter: This parameter is used to represents a selector expression to narrow down the parent search. It is optional.
Example 1
In this example we will return the direct parents of all <b> elements and highlight them.
<html>
 <head>
 <title> jQuery Example </title>
 <script type = "text/javascript"
        src="https://ajax.googleapis.com/ajax/libs/jquery/3.5.1/jquery.min.js">
      </script>
<style>
div{
background:pink;
padding:10px;
margin:10px;
font-size:20px;
}
p{
background:yellow;
padding:10px;
margin:10px;
}
button{
background:green;
padding:10px;
color:white;
border:1px solid green;
}
</style>
<script>
$(document).ready(function(){
 $("button").click(function(){
       $("b").parent().css("border","2px solid red");
});
});
</script>
 </head>
 <body>

<h2> jQuery parent() method Example </h2>
<div>
<p><b> Hello Friends!! </b> </p>
<p><b> Welcome to CodingTag </b> </p>
</div>
<button> Click Me! </button>
 </body>
</html>
Output: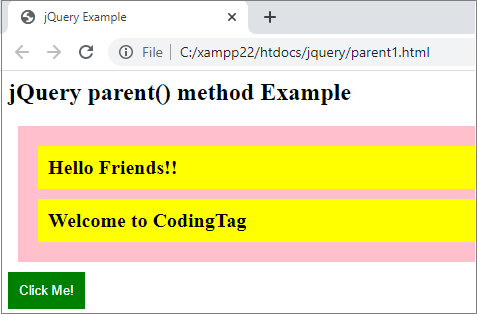 When you click the button,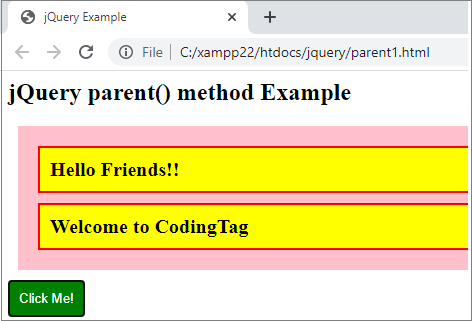 ---
Example 2
In this example we return the parent of the list item which has the class demo and highlight them.
<html>
 <head>
 <title> jQuery Example </title>
 <script type = "text/javascript"
        src="https://ajax.googleapis.com/ajax/libs/jquery/3.5.1/jquery.min.js">
      </script>
<style>
div{
background:pink;
padding:10px;
margin:10px;
font-size:20px;
}
p{
background:yellow;
padding:10px;
margin:10px;
}
button{
background:green;
padding:10px;
color:white;
border:1px solid green;
}
</style>
<script>
$(document).ready(function(){
 $("button").click(function(){
       $("li").parent("ul.demo").css("border","2px solid red");
});
});
</script>
 </head>
 <body>

<h2> jQuery parent() method Example </h2>
<div>
<p> List 1 </p>
<ul>
<li> Maths </li>
<li> Science </li>
</ul>
<p> List 2 </p>
<ul class="demo">
<li> Ram </li>
<li> Shyam </li>
</ul>
<p> List 3 </p>
<ul>
<li> Seeta </li>
<li> Geeta </li>
</ul>
</div>
<button> Click Me! </button>
 </body>
</html>
Output: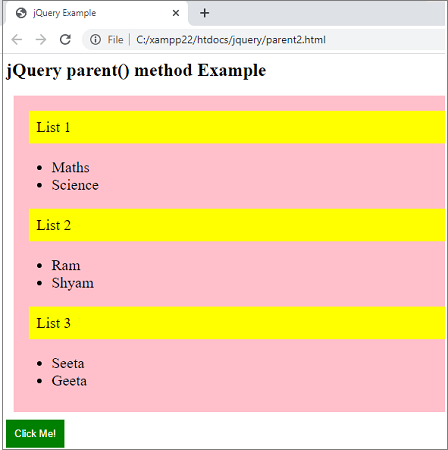 When you click the button,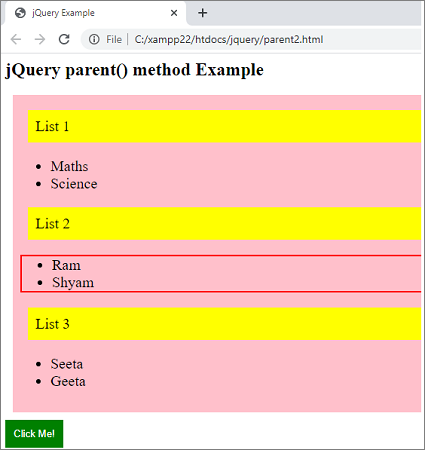 Discount Coupons