This jQuery method is used to attach one or more class to the selected HTML elements.
This method only adds the given class to the element without removing the existing classes.
In case of more than one class, they should be separated by comma(,).
---
Related Topics:
jQuery position
jQuery offset
---
jQuery addClass
Syntax:
$(selector).addClass(class_name,function(index,currentclass));
Parameter description:
class_name: This parameter represents the name of class or classes to be attach to the selected element. It is mandatory.
function(index, currentclass): This represents a user defined function which returns the names of one or more class to attach to the selected HTML element.
index: This parameter is used to get the index position of the element in the set.
currentclass: This parameter is used to return the current class name of the selected element.
Example:
In this example we attach the para class to all paragraphs and head class to all headings.
<html>
 <head>
 <title> jQuery Example </title>
 <script type = "text/javascript"
        src="https://ajax.googleapis.com/ajax/libs/jquery/3.5.1/jquery.min.js">
      </script>
<style>
.para{
background:yellow;
padding:10px;
font-size:20px;
}
.head{
background:pink;
padding:10px;
}
button{
background:green;
padding:10px;
color:white;
border:1px solid green;
}
</style>
<script>
$(document).ready(function(){
 $("button").click(function(){
   $("p").addClass("para");
   $("h3").addClass("head");
});
;

});
</script>
 </head>
 <body>
<h2> jQuery addClass() Method Example </h2>
<h3> This is heading 1 </h3>
<h3> This is heading 2 </h3>
<p> This is paragraph 1 </p>
<p> This is paragraph 2 </p>
<button> Click me! </button>
 </body>
</html>
Output: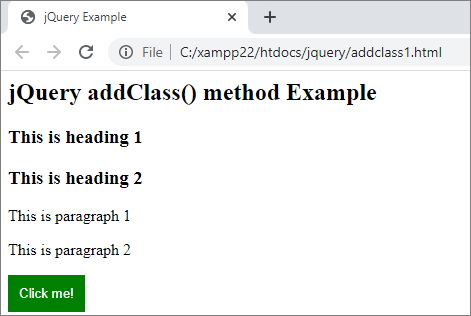 When you click the button,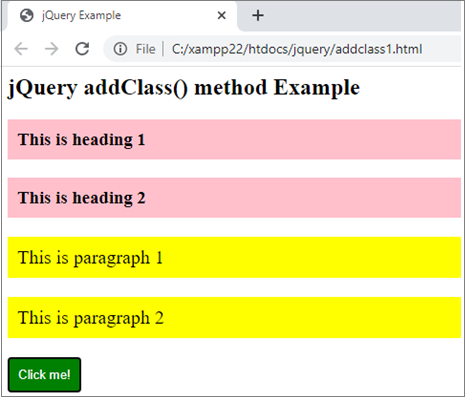 ---
Example 2
In this example we attach para0 and para1 classes to the given paragraphs by using a function.
<html>
 <head>
 <title> jQuery Example </title>
 <script type = "text/javascript"
        src="https://ajax.googleapis.com/ajax/libs/jquery/3.5.1/jquery.min.js">
      </script>
<style>
.para0{
background:yellow;
padding:10px;

}
.para1{
background:pink;
padding:10px;
}
button{
background:green;
padding:10px;
color:white;
border:1px solid green;
}
</style>
<script>
$(document).ready(function(){
 $("button").click(function(){
    $("p").addClass(function(x){
      return "para" + x;
    });
});
;

});
</script>
 </head>
 <body>

<h2> jQuery addClass() Method Example </h2>
<p> This is paragraph 1 </p>
<p> This is paragraph 2 </p>
<button> Click me! </button>
 </body>
</html>
Output: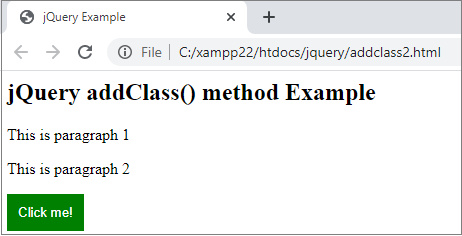 When you click the button,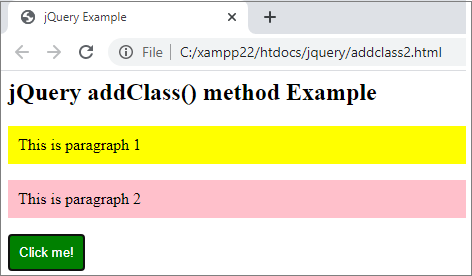 Discount Coupons