This jQuery method is used to fetch the current position of the selected HTML elements in respect to its parent element.
It returns an object which contains two properties top and left in pixels which describe the top and left position of the element respectively.
---
Related Topics:
jQuery offSet
jQuery prop
---
jQuery position
Syntax:
$(selector).position() ;
This method has no parameter.
Example:
In this example we find the position of the heading inside a div element.
<html>
 <head>
 <title> jQuery Example </title>
 <script type = "text/javascript"
        src="https://ajax.googleapis.com/ajax/libs/jquery/3.5.1/jquery.min.js">
      </script>
<style>
div{
padding:50px;
margin:20px;
background:yellow;
}
.head{
background:pink;
padding:10px;
}
button{
background:green;
padding:10px;
color:white;
border:1px solid green;
}
</style>
<script>
$(document).ready(function(){
 $("button").click(function(){
  pos = $("h3").position();
  $text="<p>Position of this heading relative to div is: Top:"+pos.top+" and Left:"+pos.left+"</p>";
  $($text).insertAfter("h3");
});
;

});
</script>
 </head>
 <body>

<h2> jQuery position() method Example </h2>
<div>
<h3 class="head"> This is heading </h3>

</div>
<button> Click me! </button>
 </body>
</html>
Output: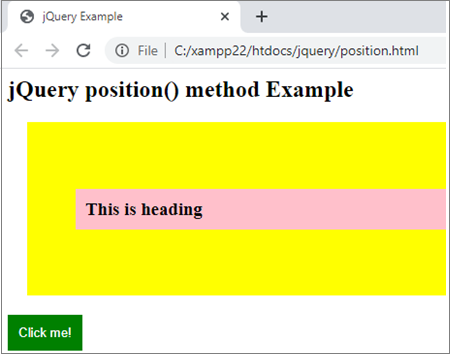 When you click the button,
Discount Coupons