It returns the outer height of the very first matched HTML element from the selected elements.
Outer height means the height including only padding and border. We can also include margin in special case.
---
Related Topics:
jQuery hasClass
jQuery innerHeight
---
jQuery outerHeight()
Syntax:
$(selector).outerHeight(include_margin) ;
Parameter Description:
include_margin: This parameter is used to represents whether the margin include or not by this method. It is an optional Boolean parameter and has two possible values:
1 false: if this is set then margin will not be included. By default it is selected.
2 true: if this is set the margin will be included.
Example:
In this example we will return the outer height of the paragraph with and without margin.
<html>
 <head>
 <title> jQuery Example </title>
 <script type = "text/javascript"
        src="https://ajax.googleapis.com/ajax/libs/jquery/3.5.1/jquery.min.js">
      </script>
<style>
.para{
background:pink;
padding:20px;
margin:20px;
font-size:20px;
}
button{
background:green;
padding:10px;
color:white;
border:1px solid green;
}
</style>
<script>
$(document).ready(function(){
 $("button").click(function(){
      $outerheight1=$("p").outerHeight();
	  $outerheight2=$("p").outerheight(true);
	  alert("The height with margin is : "+$outerheight2+"px and the height without margin is: "+$outerheight1+"px");

});
});
</script>
 </head>
 <body>

<h2> jQuery outerHeight() Method Example </h2>
<p class="para"> This is a paragraph </p>
<button> Click me! </button>
 </body>
</html>
Output: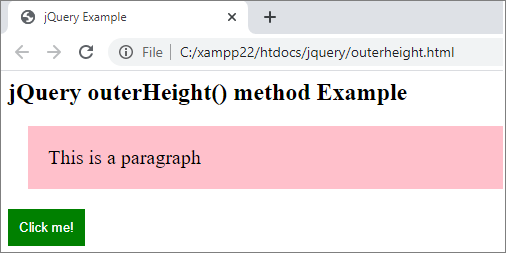 When you click the button,

Discount Coupons