This jQuery function is worked when the mouseover event occurs or it binds a function to run when a mouseover event occurs.
A mouseover event happens when a mouse pointer over to the selected element.
Most of the time this method is used together with mouseout() method.
Unlike mouseenter() method, mouseover() method also worked for the child elements of the selected HTML element.
---
Related Topics:
jQuery mouseenter
jQuery mouseleave
---
jQuery mouseover()
Syntax:
$(selector). mouseover();
Or
If you want to trigger a function in it, the syntax will be:
$(selector). mouseover(function);
Parameter description:
function: It represents the function to run when the mouseover event is triggered. It is optional.
Example:
<html>
 <head>
 <title>jQuery Example</title>
 <script type = "text/javascript"
        src="https://ajax.googleapis.com/ajax/libs/jquery/3.5.1/jquery.min.js">
      </script>
<style>
.d{
padding:20px;
background:gray;
}
.p{
background:pink;
}
</style>
<script>
i = 0;
$(document).ready(function(){

  $("div").mouseover(function(){
    $(this).css("background", "yellow");
	$("p").css("background", "green");
	$(this).css("font-size", "20px");
	$("span").html("mouseovered");
  });

  $("div").mouseout(function(){
    $("p").css("background", "pink");
    $(this).css("background", "gray");
	$(this).css("font-size", "16px");
	$("span").html("mouseout");
  });


});
</script>
 </head>
 <body>

<h2>jQuery Mouseover event Example</h2>
<div class="d"><span></span>
<p class="p">This is the child element</p>
</div>
 </body>
</html>
Output: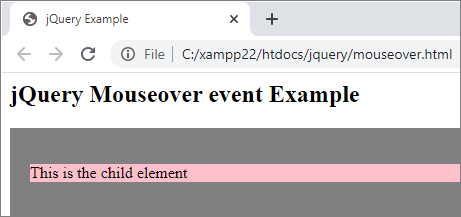 When you hover the cursor,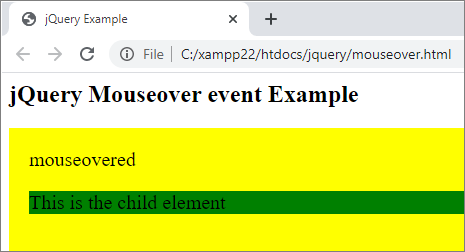 When you leave the <div> element,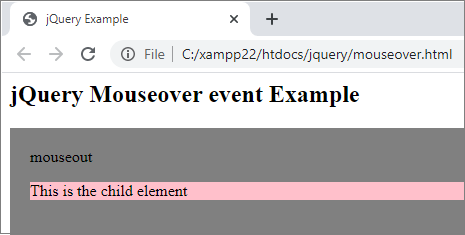 Discount Coupons