jQuery Utilities-$.inArray()
This jQuery utility method is used to get the index of the given item into an array.
This method returns the index if the given value exists in an array otherwise -1.

---

Related Topics:
jQuery Utilities-$.trim
jQuery Misc-param
---
jQuery Utilities-$.inArray
Syntax:
$.inArray(value,array);
Parameter description:
value: This parameter represents the value that we want to search into the array. It is mandatory.
array: This parameter represents an array. It is also mandatory.
Example
In this example we find the index of apple into the array of fruits.
<html>
 <head>
 <title> jQuery Example </title>
 <script type = "text/javascript"
        src="https://ajax.googleapis.com/ajax/libs/jquery/3.5.1/jquery.min.js">
      </script>
<style>
div{
background:pink;
font-weight: 700;
padding:5px;
margin:5px;
font-size:18px;
}
p{
background:yellow;
padding:5px;
margin:5px;
}
button{
background:green;
padding:10px;
color:white;
border:1px solid green;
}
</style>
<script>
$(document).ready(function(){
var myArray = ["Banana","Orange","Apple","Fig","Papaya"];
var str="";
for($i=0;$i<myArray.length;$i++){
str=str+"<p>"+$i+": "+myArray[$i]+"</p>";
}

$("div").html(str);

 $("#b1").click(function(){
   $index=$.inArray("Apple",myArray);
   alert("The index of Apple is: "+$index);
  });
});
</script>
 </head>
 <body>
<h2> jQuery Utility inArray() method Example </h2>
<div>

</div>
<button id="b1"> Get Index </button>
 </body>
</html>
Output: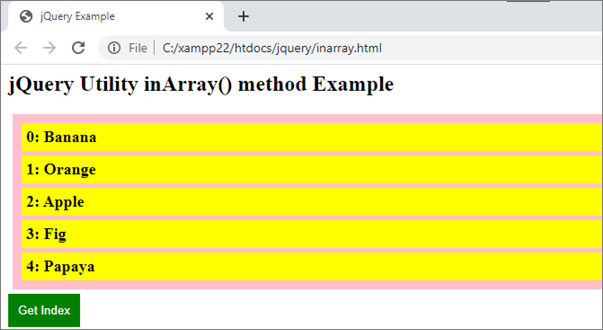 When you click the button,

Discount Coupons