This jQuery method is used to fetch the inner height of the selected HTML elements.
It returns the inner height of the first matched HTML element from the selected elements.
Inner height means the height including only padding not border and margin.
---
Related Topics:
jQuery addClass
jQuery hasClass
---
jQuery innerHeight()
Syntax:
$(selector).innerHeight() ;
This jQuery method has no parameter.
Example:
In this example we will return the height and the inner height of given paragraph.
<html>
 <head>
 <title> jQuery Example </title>
 <script type = "text/javascript"
        src="https://ajax.googleapis.com/ajax/libs/jquery/3.5.1/jquery.min.js">
      </script>
<style>
.para{
background:pink;
padding:20px;
margin:20px;
font-size:20px;
}
button{
background:green;
padding:10px;
color:white;
border:1px solid green;
}
</style>
<script>
$(document).ready(function(){
 $("button").click(function(){
      $innerheight=$("p").innerHeight();
	  $height=$("p").height();
	  alert("The height is : "+$height+"px and the inner height is: "+$innerheight+"px");

});
});
</script>
 </head>
 <body>

<h2> jQuery innerHeight() Method Example </h2>
<p class="para"> This is a paragraph </p>
<button> Click me! </button>
 </body>
</html>
Output: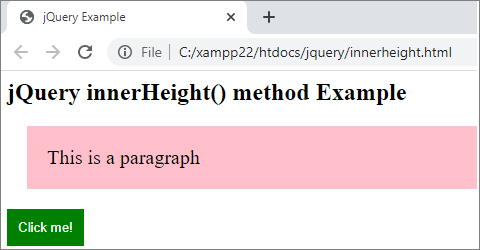 When you click the button,

Discount Coupons