jQuery form-serializeArray()
This jQuery method is used to build an array of objects (name and value pair) by serializing the values of the given form elements.
It provides the selection facility between the all form elements means we can select one or more form elements to serialize.
---
Related Topics:
jQuery filter
jQuery not
---
jQuery form-serializeArray
Syntax:
$(selector). serializeArray ();
This method has no parameter.
Example:
In this example, we create an array of objects by the name and values of given form elements.
<html>
 <head>
 <title> jQuery Example </title>
 <script type = "text/javascript"
        src="https://ajax.googleapis.com/ajax/libs/jquery/3.5.1/jquery.min.js">
 </script>
<style>
button{
background:green;
padding:10px;
color:white;
border:1px solid green;
}
</style>
<script>
$(document).ready(function(){
 $("button").click(function(){
 $str=$("#myform").serializeArray();
  $new_str="";
  $.each($str, function(i, field){
      $new_str=$new_str+field.name + ":" + field.value + "   ";
    });
	alert($new_str);
});
});
</script>
 </head>
 <body>

<h2> jQuery serializeArray() Method Example </h2>
<form id="myform">
First name: <input type="text" id="fname" name="first_name" value="" placeholder="Enter First name"> <br>
Last name: <input type="text" id="lname" name="last_name" value="" placeholder="Enter Last name"> <br>
Last name: <input type="text" id="class" name="class" value="" placeholder="Enter Class"> <br><br>
<button type="button"> Serialize </button>
 </form>
 </body>
</html>
Output: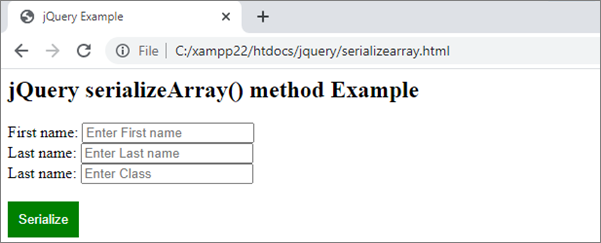 Enter the values and click the button,

Discount Coupons