HTML Option <option> tag is used for defining option shown in a dropdown list in <datalist> or <select> element. At least one <option> Tag should be inserted therein a dropdown list.
We usually require the value attribute but <option> tag can be used without any attribute to mention what we need to send to the server.
We can group the related options by using <optgroup> tag if we have a long list of options.
Program:
<!DOCTYPE html>
<html>
<head>  
   <title> Option Tag </title>
   <style>
      select{
      font-size:14px;
      font-weight:bold;
      color:green;
    }
    </style>
</head>
<body> 
<h2>Example of Option tag</h2>
 <form>
    <select>
       <option> -----Select your favourite Technology---- </option>
       <option value="html">HTML</option>
       <option value="css">CSS3</option>
       <option value="lenovo">PHP</option>  
       <option value="sql">SQL/option>
       <option value="mysql">My Sql</option>
       <option value="nosql">No Sql</option>
       <option value="sqlserver">Sql Server</option>
       <option value="mongodb">MongoDB</option>
    </select>
 </form>
</body>
</html>
Output: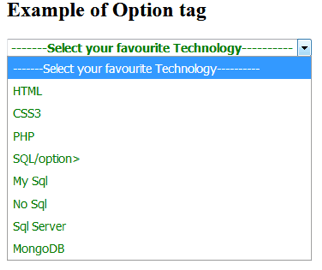 Discount Coupons