How to stop tagging in Facebook
Are you tired of unwanted tagging?
Do your friends tag you on unnecessary posts?
Is tagging becoming annoying for you?
If "Yes" is your answer to these questions, then you are at the right place. Today, we will be discussing how to take care of these unwanted and unnecessary tags. Tagging is a process in which a friend of yours uploads posts or photos and mentions you in them as you have some relevance to it.
Often, people become obsessed with something and tagging is one such thing. Many people are just obsessed with it and tag everyone in their photos and posts even though those people who are tagged have no resemblance to it. Some might ignore it but it becomes very annoying and unbearable often. So, how can someone stop it?
Well, Facebook doesn't provide any straightforward option to stop tagging but there are quite a few options that might come in handy. Of course, you can block or unfriend these annoying people but that's too mainstream. There are other simpler ways that you can use. Let's discuss these ways one by one.
How to stop tagging on Facebook?
The first and the best one will be to review every tag. Let's discuss this one and understand how can you do it and what are its benefits.
1. Reviewing
Reviewing will allow you to select the posts you want to be tagged in. You will control your tagging and can allow tagging to posts you like. You can also decide which posts you want to show on your profile and which not. Every time someone will tag you in a post, Facebook will ask you to review it. If you like that post, you can choose to accept the tag or otherwise decline it and you will not be tagged in that post.
That must have got you intrigued. Well, to start reviewing your profile, you need to follow this procedure.
1 Open the menu bar.
Login to your account and click on the icon in the top right corner.

2 Select "Settings & Privacy" option.
In the menu bar, select the "Settings & Privacy" option.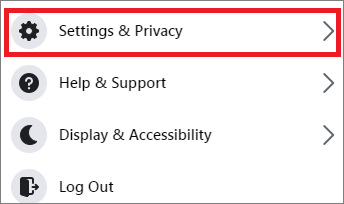 3 Go to the "Settings".
In the settings privacy section, you will find the "Settings" option. Choose this option to open all your settings related to your profile.
4 Select the "Profile and Tagging" option.
Out of the options available on the left side of your screen, choose the "Profile and Tagging" option.
5 Edit in the reviewing section.
At the bottom of this page, you will come across the "Reviewing" section.
In this section, you will see three different alternatives. Click on the "Edit" link next to the option to change these settings.

Enabling the first section will let you review every post you get tagged in.
The second option will let you see your profile as any friend of yours.
The third option lets you review tags that other people tag on your posts.
After enabling these options, you will be the one controlling your tagging and not others. If you wish to remove a tag from a post you are already tagged on. Then, this next option will help you.
2. Remove tag
This option will let you remove your tag from any post. If you find you have no resemblance to that post and you are tagged unnecessarily, then you can choose this one.
1 Open the post where you are tagged.
2 Click on the "…" icon.

3 Choose the "Remove tag" option.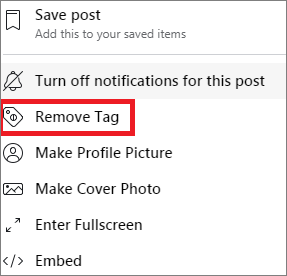 4 Click "Ok".

When you click the "Ok" button, your tag from that post will be removed and you no longer will get any notification regarding this post.
However, if tags are not a problem for you but the notifications associated with it that keep popping up are the real headaches, then, this third option is best for you.
3. Turning off notifications
If the notifications of a post keep buzzing, that post will automatically become annoying. One can simply turn off these notifications for a particular post. All you need to follow these few steps.
1 Open that post.
2 Click on the "…" icon.

3 Choose the "Turn off notifications for this post" option.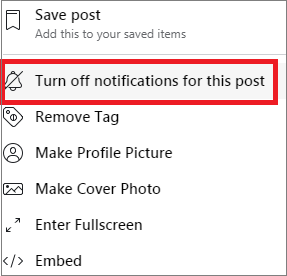 When you choose this option, you will not receive any notifications from that post anymore.
Now, we have discussed all the 3 options available for you to stop tagging. Choose any that best suits you. If you like this information, please share it and subscribe to our free newsletter.