We often come across many people posting stuff, comments, and statuses on Facebook in their native language or as of Indians in Hindi and we wonder how are they doing it. Well, using a keyboard is certainly out of options because it is so complex to use, you won't get anywhere. So,
What can be done?
How to write status or posts in Hindi on Facebook?
The answer to these questions is by using a converter that automatically converts everything you write in the desired language. Writing a FB status in Hindi will not be any difficult for you anymore, once you understand this process. It will help you write anything in your desired language. So, let's get started
---
How to write FB Status in Hindi?
You have to use a converter to write in Hindi, every other option is not even worth trying. We did the research for you and came up with a perfect and easy-to-use converter. Without wasting any more time let's see how you can write in Hindi on Facebook.
1 Go to Google Input Tools.
The very first step will be to go to Google Input Tools. Just click on the link to go to the website.

It is very easy to use and converts everything perfectly.
2 Change the language to Hindi.
After reaching the website, you need to select the language. Click on the down arrow to open the drop-down list and select Hindi.
3 Type your status.
Now, you are free to type your content. Everything you type will be converted to Hindi and you can choose from the options which word are you trying to type.

However, if you wish to type in Hindi, you can use the virtual keyboard. To open the virtual keyboards, you need to click on the down arrow as shown in the image below.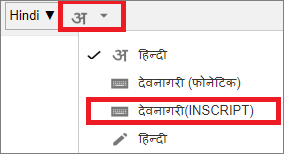 Now, choose the third option from the list.
A virtual Hindi keyboard will be available on your screen. Now, you can also type in Hindi if you want to.
4 Copy the content.
When everything is converted, all you need to do is copy the content.
5 Open your account and paste it.
At last, just log in to your Facebook account and paste the content at the place.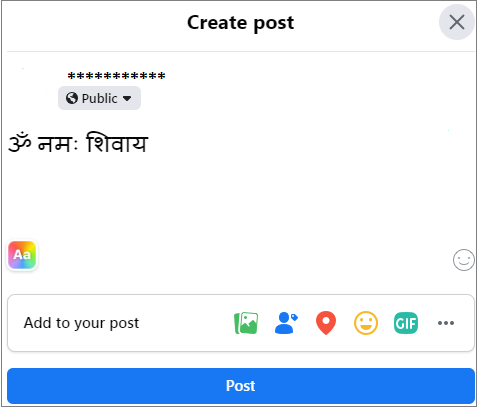 You can convert any comment, post, or status using this method to your favorite language without going through the hassle of using a complex Hindi keyboard.
---
And that shows you how easy it is to write something in Hindi. Don't get confused between the terms Converter and Translator. Both are different and work differently. If you use a converter and write "How are you?" it will simply convert it to Hindi like "हाउ अरे यू" whereas if you type the same thing on a translator, it will translate it as "आप कैसे है".
Google Input Tools is a mind-blowing tool that lets you create a visual keyboard in different languages. It allows you to generate an output of your input words or phrases into your favorite language. Moreover, it memorizes your sentences or phrases and comes up with great suggestions.
There are many other converters that can allow you to do the same if you don't like this option but nothing is better than what Google provides. Now, you have understood how to write Facebook Status in Hindi. We are eagerly waiting to hear from you, do comment and let us know how you like this information. Please share this blog and subscribe to our free newsletter.