Everyone is familiar with Instagram which is an image and video sharing social media website/application but what good is it if you can't even download anything from it. For starters, Instagram videos don't have any official download option. So, what can one do to get a video downloaded from Instagram?
Well, one can always use a third-party website or app to download videos. There are too many options over the internet to go through and wasting your time is not suggested. So, we will help you with the Instagram Downloader. You just need to follow this guide and you will be able to download any video from Instagram in a few seconds.
---
How to download video from Instagram?
Trusting any third-party website or application over the internet is like putting yourself in a lion's den and thinking it will not eat you. So, one always has to be careful while trusting such sites. That's why we did the research for you and came up with the best and trustworthy website that lets you download any number of videos from Instagram. So, let's get started and download some videos.
1 Go to the video.
First, find the video on Instagram you wish to download. You can also choose to download any reel also.
2 Click on the three-dot icon.
Click on the "…" icon on the right side of the video.
Now, from the options menu, select the "Copy link" options. It will copy the link of that video to your clipboard.
3 Visit downloadgram.com.
To download the video, you need to visit the downloadgram.com website by clicking on the link.
4 Paste the link.
Paste the link in the given space as shown in the image below.
5 Click on the "Download" button.
After pasting the link, all you need to do is click on the "Download" button.

6 Tap on the "Download video" option.
When you click the "Download" button, your video will be ready to download. Click on the "Download Video" option just under the download button and your video will start downloading. Sometimes an advt. will start when you click on the download video option but no need to worry. Go back and click again on the option.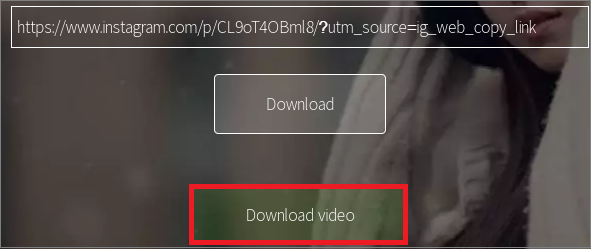 ---
Now, you have learned how you can download any reel or video from Instagram. All you need to do is copy the link to that video and just follow the procedure. Instagram gives you the option to save any post to watch it later but more often than not those posts get deleted due to various issues and leave you hanging. So, it is always better to download something if you like it. Don't take the chance by just saving it online when you can save it offline.
If you like this information, share it with others, and do subscribe to our free newsletter.