How to add FASTag in Paytm
FASTag is an election toll collection system in India that is operated by the NHAI (National Highway Authority of India). It uses RFI (Radio Frequency Identification) technology for transferring toll amounts directly from the added money in the FASTag. It was supposed to bring down the traffic jams at the toll plazas.
The Government of India made it mandatory for all vehicles to get FASTag in 2019. This move brought a lot of banks and e-commerce companies to sell FASTags via their different platforms. Paytm also started selling FASTags and provided some other features that no other bank or companies were providing which attracted a lot of customers. It lets users link FASTags to their digital accounts so that they don't have to add money to their FASTag time after time and toll will be directly paid from their account.
How FASTag works?
You have to affix the FASTag to your vehicle's front window. When your vehicle reaches the toll plaza, you don't have to stop to make the payment. Just drive through and the toll amount will be directly deducted from your account linked with the FASTag. However, if you are not using a FASTag, you will have to pay double the toll amount for every trip and also have to waste your time.
So, if you are also a Paytm FASTag user and looking to add your FASTag directly to your bank account, then, we might be able to help you. If you are one of those few who still haven't bought it yet, then also we will explain to you how to buy a new one from Paytm. Let's get started without any more delay.
How to add FASTag in Paytm:
1 Launch the Paytm app.
The first step will be to launch your Paytm application and log in to your account.
2 Click on the "See all" link.
When you scroll down on the first page, you will see the Featured section, under which you will find the "See all" link. Move ahead by clicking on this link.
3 Select the "Recharge & Pay Bills" section.
In the left menu bar, select the "Recharge & Pay Bills" segment.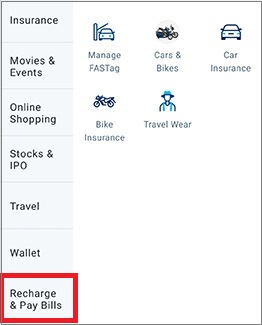 4 Tap on the "Manage FASTag" option.
Scroll down to the "Manage FASTag" option and select it.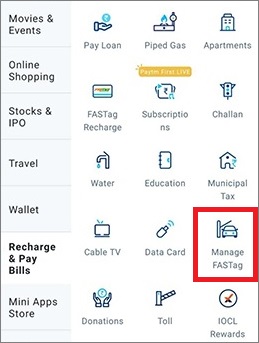 5 Select the required option.
Now, you will find all the required options for your FASTag. You can choose to add money to your Paytm FASTag, Manage it and also recharge FASTag from other banks.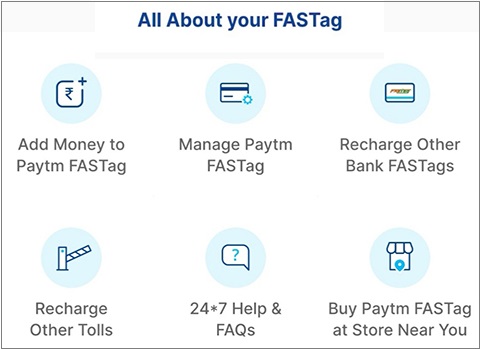 Choose the Manage Paytm FASTag option to add it and manage what you want to do with your FASTag.
If you are looking to buy a new FASTag for your vehicle, then, follow the guide mentioned below.
How to buy FASTag on Paytm:
If you are a Paytm user and you want to buy a FASTag for your vehicle but don't know where to begin. Just follow this guide and get yourself a FASTag.
1 Open the Paytm app.
Again, the first step will be to launch your Paytm app and log in to your account.
2 Choose the "Buy FASTag" option.
Scroll down to the "Featured" section and select the "Buy FASTag" option.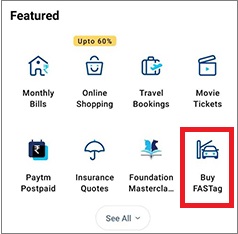 3 Enter the required details.
Now, you need to enter the details of your vehicle. Enter the registration number of your vehicle and upload a photo of your RC. Photos of both sides of RC are mandatory here.
4 Click on the "Buy" option.
Now, click on the "Buy for Rs ***" button at the bottom of the page and continue to pay the amount. After successful payment, your FASTag will be delivered to your address in a few days.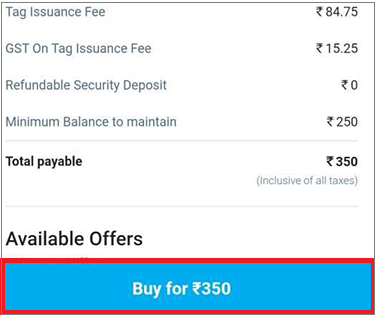 Now, you have learned to save yourself from standing in jams and saved yourself from paying double at toll plazas. If you like this information, then share this guide and subscribe to our free newsletter.