How to create a Google Form
Google form is a free web application that allows users to create and edit surveys online. It is considered one of the best and versatile tools available on the internet. It is a part of Google's online apps of tools along with Docs, Sheets, and Slides to help people get more done without much hassle.
When you need data from people, there is only one way to go and that is Google Forms. Visiting everyone and asking them for their information is so outdated and people don't like it so, it would be a great idea to send them your form online and ask them to fill it for you. It is quite hassle-free and time-saving.
For example
Suppose your college asks you to conduct a survey asking 12th class graduates which course they will want to join. It will be impossible to visit every school and ask for this data but with Google forms, it becomes very easy. All you need to do is create a survey and send it to every 12th graduate student you know and asking them to send it to their friends. All they need to do is to click a link and fill it out for you, saving you all the travel.
Google forms have many dynamic uses for students, teachers, and professionals. Schools want data to keep track of various students, companies need data to know about their customer's behavior. It lets you get feedback from various people which might not be personally possible.
So, if you also wish to conduct a survey and don't know where to begin, then, Forms is your friend. It is quite easy to use and everything you do is automatically saved. So, you don't even need to worry about collecting all the data and then saving it again and again. In this blog, we will discuss all about Google forms, how to create them? How to send it? About its settings, add-ons, etc.
How to create a Google Form?
First of all login into your Google account and then, just follow these easy steps.
1 Visit the Google forms website.
Go to the official Google forms website by clicking this link google.com/forms.
2 Click the "Go to Google Forms" option.
Start the process by clicking on the "Go to Google Forms" alternative.
3 Choose a template for your form.
You get to select the template for your form. If you're not satisfied with any of these templates, just select the blank one and you get to do all the customization.

4 Select a title.
Now, start by giving your form a suitable title and add a description clearly defining what this form is about.

5 Type your question.
Now, you get to type your question. You can also add an image as your question or to help people understand your question.
6 Select the answer type.
You can select the types for your answers by clicking on the drop-down list.

There are many options available but multiple options are considered the best as no one is interested in writing an answer for you. People don't even like to write reviews about their favorite food so what good can be expected here.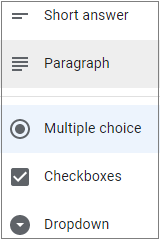 If you wish to add options, just click on the checkbox and a new option will be available. Provide the answers here and you can also add the "other" option by just clicking the add "other" link.

7 Dynamic options.
You will notice a lot of dynamic options available here and you must be wondering what these are.

The "+" icon will let you add another question to your existing form.
The second icon will give you the option to import questions from other sources.
The rest of the icons will let you add images, videos, and sections to your form. Hover your pointer over any option and you will get the required information.
8 Start sharing.
Now, your form is ready to be shared. Click on the "Send" button that you will find in the top right corner. You can also copy the link of your form and send it directly using any app you prefer.
If you want to see the settings related to your form. Click on the Settings icon and you will see all the settings. You can control how you want your answers.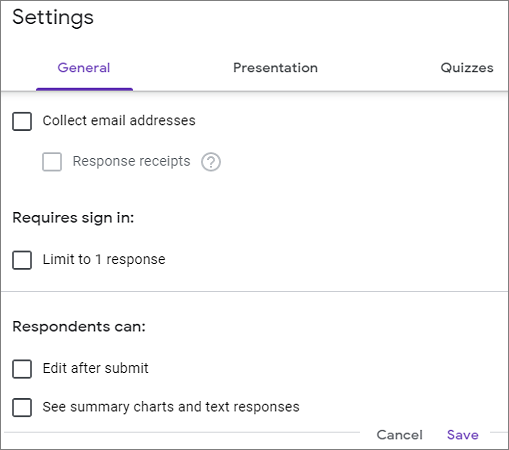 Now, just start sharing and reach out to everyone. If you are still here, congratulations, you have mastered the art of creating a Google Form. If you like this information, please share it and subscribe to our free newsletter.